It was 1999 when Britney Spears danced out to the stage with "Oops, I did it Again", costumed in now historic school-girl look. Initially tickling public's curiosity while flirting with both innocence and physical maturity, yet from one point, she seems to be pursuing the latter scenario with passion. Her music video became more suggestive and steamy, while her core-fans remain in the teens.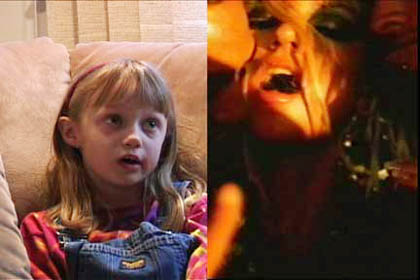 Is it her performance, her mecha-esque voice on the catchy dance tune, or could it be the ultimate form of admiration to her contradictory iconic status? Let us hope that teens' minds are not that twisted, yet in the general public you can see the exhaust towards pop-icon figure Britney Spears. This impoverished iconicism caught Tony Labat's eyes, whose a professor of San Francisco Art Institute New Genre Department.
Dedicated in pop-culture studies, Labat chose this one and only "Britney Spears" as his curational theme. Group show took place in the heart of east side Los Angeles at SPIRAL Gallery which opened its doors just a year and a half ago.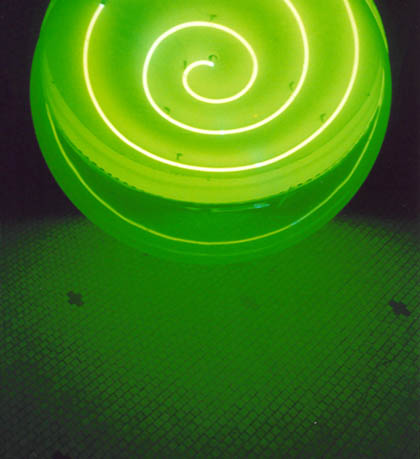 New Genres Department emphasizes in an approach or an attitude towards visual thinking and expression, rather than usual medium or material-specific discipline. "New Genres includes time-based media and computer-generated imaging as well as performance and installation, but is not limited to any single configuration or vocabruary of art. The Department strives on conceptual methods," Department describes itself. During the process, students are automatically forced to face itself as a creator, and struggle to structure their own significance.
As a instructor in critical studies, Labat also sees the importance in pushing their work field out to the real world. He mentions that this curation was actually inspired from looking at students' works at the Institute. By assigning the era's icon queen Spears, which has huge teenage girl cult followings, he only implemented the theme as a sub text and formed this group show. Half of the work in the show was specifically made for Spears' theme. However when you walk in the space, various approaches awaits there to describe pop-icon Britney Spears and you will realize that you have dived into the freedom of interpretation.

Albert Herter
When you enter the gallery up through the old staircase to the 2nd floor, the neon green spiral will greet you as a confirmation that you're in the right place. Charm of the old buildings, this space too has spacious hallways and high ceilings that will suck you in to anther world. Wouldn't surprise if there was a room or two that have secret accesses. Taking advantage of the unique space, the placements have been well calculated. First encounter (for most people who entered near the bar) will be the split-screen DVD work by Seth Myers. Young girl around the age of 10 speaks passionately about Britney Spears on the left side screen while whole different realm of reality, Spears pursuing steamy moves with well built male dancers, proceeds on the right. "I'm just showing as it is," says Myers, "I cut one footage (from Spears music video) and manipulate it… not doing anything to it." Provocative moves of Spears just throws the irony to the girl on the left, talking about Britney Spears pencil. This project accompanied posters (same split screen), and this work was placed around the City of Los Angeles, where commercial languages from the big bill boards dominate the landscapes.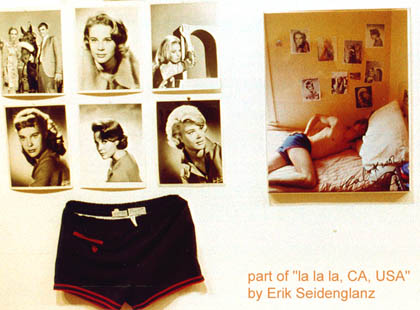 Erik Seidenglanz
In the main room, Erik Seidenglanz takes one part of wall and explores the old time Americana's school girl images. Installation varied in yearbook portraits and vintage Addidas short pants. The story suggests its conclusion with the photograph where skinny guy lays his body twisted on a bed in a flowery wallpaper room, wearing that very Addidas pants. Many attentions were paid to Albert Herter's work, where you see him (for some reason shirt less,) and his dog deep kissing in the television set at the corner of the room. The video going in loops radiates an uncomfortable quirkiness. Next to that, there's even a interactive piece. As you face the computer monitor and click the mouse, as you always do in the office or at your personal leisure, the girl may start unbuttoning her white shirt (but that's how far you get,) or might toss and turn during her sleep. Work by Victor Babieri stands in a very thin borderline of morality yet it reflects perfect on how Spears carries her image. Here you will see Patrick Rock in a vintage swim suit and performance artist Kathryn Williamson in bikinis throwing around 6 pack Budweiser cans at the beach. Patrick almost seems to be running from ultimate American figure, in here the 6 pack, which again could be reflected to Spears as icon. Or maybe she doesn't want to run away. This Mebius-esque performance suggests no end, nor any start.
What is Britney Spears? Reaching the perfection of pop-icon at her age only leaves plenty of space for audiences to wonder about this young star's future. Much more inspired work along with products will be delivered, as long as she thrives to live her image, whatever she sets for herself in the future…
The Britney Spears Show
Open: 12:00 – 18:00
Place: Spiral Gallery
Address: 1837 Arlington Ave, Los Angeles, CA 90019
Tel:+1 323 731 4542
spiralgallery@hotmail.com
Text: Aya Muto
Photos: Courtesy of Spiral Gallery

[Help wanted]
Inviting volunteer staff / pro bono for contribution and translation. Please
e-mail
to us.