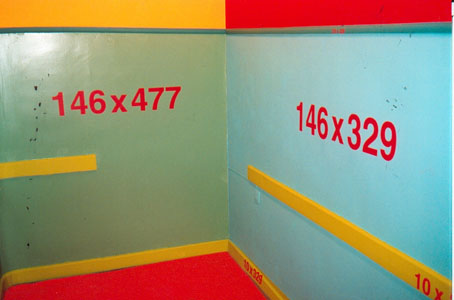 The idea is not new, but it is always pleasant to bring art out of its usual environment, those cold and aseptic galleries, and bring it closer to the public from different spaces. Domestico was born last year from the hand of Giulietta Speranza, Virginia Torrente and Andres Mengs. Its first location was an old flat in the centre of Madrid: 7 rooms, a kitchen and two bathrooms were the spaces that 10 artists used to carry out specific projects for the occasion around the "domestic" concept, whose name has finally remained as the name of the event. Last year, for the three years of Domestico's existence, around 300,000 people passed by.
This year Domestico has moved to an old academy, a former pilot's school, also located in the centre of Madrid, has been the chosen place to welcome this second edition, with the incorporation of Teodora Diamantopoulos in the organisation. Nine artists have appeared in this space with works also created for the event and with the concept of "knowledge" as the leitmotiv.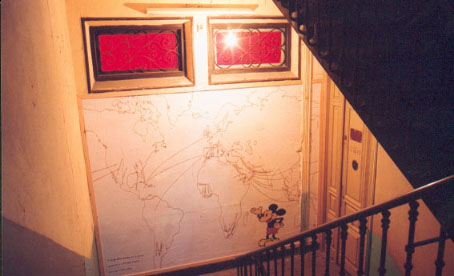 Last 15th December was the official opening. Full house. Queues to see the different rooms. Absolut Vodka everywhere. Rogelio Lopez's work, a mapamundi drawn on the landing of the stairs is the first "domestic" that we come across. Maider Lopez presents us with arithmetic problems, sums that we come across in different points of the house. Tere Recarens has set up a tent in the form of an igloo as a contribution to Domestico. A watch dissected bit by bit, each one of them hanging from a thread placed in strict order is Miguel Lorente's work, also accompanied by a video where we are witness to the operation of taking it apart.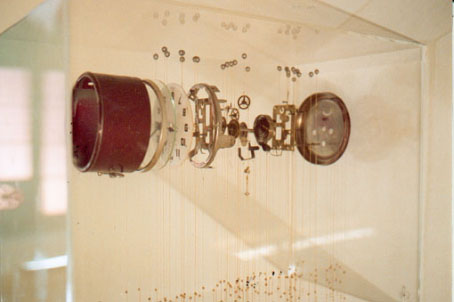 In order to enter the Campanilla room it is necessary to take a number. His "museum of horrors" awakens expectations. Objects of different origins that provoke and shock. Alicia Martin is an artist who often uses books in her works, for this exhibition she has created a waterfall of knowledge called "dyslexia" that spouts from the roof. Juan Aldeano's video shows a continuous hustle and bustle of people. From the roof of the room from time to time bubbles emerge. His approach revolves around happiness- ephemeral or real? The interactive sound installation from Jesus Palomino and the pictograms for elephants from Jorge Barb* complete this year's "domestic" offer.
As well as these appearances, during its three years of existence, Domestico will offer other activities, such as performances, experimental music, theatre and video.
As could be seen on the day of the opening, it is possible that the 300,000 visits last year will be easily beaten this year. If the walls of these rooms could speak, I am sure that they would complain about never having awoken as much interest as now.
Domestico 01
Date: Will be active until March 2002
Place: c/ Ventura de la Vega, 9 1′ D. Madrid, Spain
Text and Photos: Terevision Ruiz from Neo2 Magazine
[Help wanted]
Inviting volunteer staff / pro bono for contribution and translation. Please
e-mail
to us.