The cover of this month was designed by Moccu, a young design agency based in Berlin, Germany which is run among others by Jens Schmidt. He also is the creator of the Yenz.com and its highly frequented secret garden. After they were awarded the Cyber Lion in Cannes for their self promoting site in 2001, they became known to a wider public, too.
Here you can find a whole world of different characters based in a surrealistic environment. It all seems to be a bunch of organic live which developed out of tin and plastic. Everywhere one goes one finds interactive games like the moccu reef and the moccu lab. We asked moccu about their work and the future of experience environments.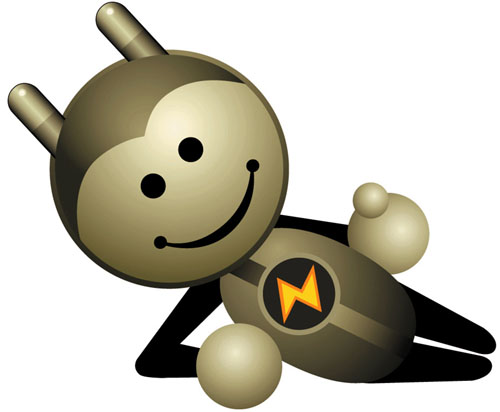 First of all tell us who you are?
Moccu is a web design and entertainment company situated in Berlin, Germany. We are specialised in designing and producing interactive applications and interfaces with a focus on Macromedia Flash and Generator. Apart from working for our clients, we have started to develop our own ideas and concepts for entertainment content such as games and interactive story-telling, experimenting with both – the design and the programming .
How did moccu start out?
Moccu was founded by Jens Schmidt (Secret Garden of Mutabor), Christoph Petersen, Heiko Freier, Thomas Walter and Bjoern Zaske as a company for outstanding web-design and- animation, bringing together expertise in graphic-design, animation, illustration and advanced programming to provide a one-stop-situation for our clients. We, the founders, were working together on different projects before the founding and thought that we have to start something on our own where we could contribute our different skills and develop innovative stuff for the web.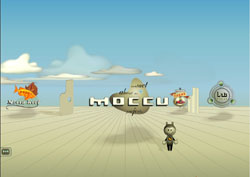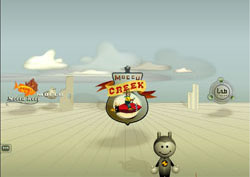 You got a lot of honors for your own web presentation in which other projects are you involved at the moment and what is the special challenge about it?
We are currently working on the new website, intra- and extranet for Neue Sentimental Film AG, one of Germany`s biggest commercial film production companies. The relaunch of the site will be on Monday 3rd December 2001. Beside that there are some smaller client jobs we are involved in and a few own projects such as a Online-Multiplayergame, a cool greeting card system a Moccu shirt-shop etc.
Tell us more about the projects on your site Moccu.com. You especially experiment with a game like environment to communicate. So, how do you define space in the age of the internet and how does the future of site environments look like?

The site presented by us is special in every respect. It cleverly combines a true-to-life graphic world with a number of user-friendly features. The result is an interactive entertainment value hardly seen on the Web until now. The visitor moves – accompanied by Mick, our mascot – through an ever-changing virtual landscape, and is intelligently and playfully guided towards all the pertinent information about Moccu.
At the same time, several Flash animations and games demonstrate our technical and creative potential. In the elaborate Moccu Reef, for example, visitors can explore a colourful undersea world and compose an original rhythmic groove by evoking sounds from the fishes swimming about. In the Moccu Lab, users can create a virtual test-tube egg, then download the result of the experiment and hatch the egg on their own computer to reveal a unique, individually designed creature. Last but not least, Moccu Creek takes the visitors back to the days of the Wild West: in this jump-and-run game, the rocket-powered Pony Express rider Early Morn must complete a secret mission and defeat the evil professor Bad van Mad.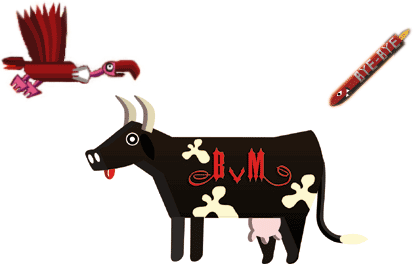 In the Moccu site, interactive contents, fantastic animated games and innovative user interfaces demonstrate the full range of our artistic, stylistic and technical expertise. This production expands and almost redefines the concept of corporate information.
The site itself was created in just three months to implement our ideas about the structure, the design and-last but not least-the entertaining value of an Internet site. On our way from experimentation to application we had a playful approach of both the interface design and the navigation, and endeavoured to find and go beyond the limits. The moccu site is characterized by its navigation and animation features, and by a complexity far beyond the standards of the entertainment mainstream.
Finishing the development of www.moccu.com for us, was not the end but the beginning. The web will develop and the positive reactions on the site show that the Web is ready for much more innovation, however.
You are a staff of 5 persons so how does the production process look like and how do you share your tasks?
We were 5 in the beginning but now we are 9 persons. We started as three graphic designers and two technicians. Since then some of us founders became more and more involved in the organisation and management. Now, there are two more programmers and two others, responsible for assistance and the handling of projects.
Vital to the functioning of the Moccu principle is the absolute synthesis of creativity and competence in a harmony of design and technology, concurrent with the research and development of new concepts. Puh. Means, that there for example not only designers participating in the development of ideas but technicians two. Moccu`s creativity is the result of a good teamwork.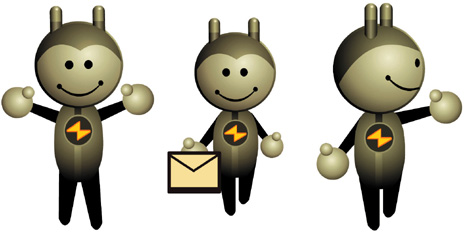 Where do you get your inspiration?
From design history, the Internet, Art books, Films, Nature and the live in the City. It is very important to have a close look at the things that surround us. Nature for example teaches you so many things if you observe it carefully. The way people live in the city, their habits and their dreams influence our work. If you take care of the things that happen and all the funny details live consists of you have all you need to be creative.
Who are your favorite designers and artists?
Lorenzo Mattotti, Cassandre , Mambo / Reg Mombasa, Tamara de Lempicka / Art Deco Period, J.Dubuffet, A .Franquin. P.Klee, G.Darrow, Hans Arp, J. O. Seibold and lots off others.
What do you think about shift and what did you imagine when you created the cover for shift this month?
The inspiration for the cover of Shift Magazines edition Shift061 is the beautiful but stressful Christmas time. Everybody hurries to find some special gifts for his friends and all his family members. Sometimes it becomes really difficult to choose something useful so you end up with classic gifts like a tie or some perfume. Gift Industry instead is constantly thinking about new products such as electric can openers, electronic dogs, and redundant technically advanced junk – an authentic expression of our weird modern lifestyle.
In the cover animation of Shift061 Mick receives a parcel from Shift Japan with a funky inflatable music making popup Christmas tree. He is obviously enjoying this gift very much and shows his appreciation.
The animation is a part of the Mick's Message Series that will soon be featured in the animated online card section we are about to launch on our website.
At the Moccu office we often come up with weird ideas as a reflection of the culture we are living in. Sometimes they become starting point of future Moccu developments. Humour and exaggeration are a fundamental concept of Moccu's entertainment concept. We like to entertain our friends and clients and though working on funny concepts means to have more fun at work.
Two months ago, we asked 200Ok: What is the special thing about Berlin at the moment. What do you think about it and is there a communication between Berlin based design agencies ?
Berlin is a City in transformation and a permanent alternation in cultural entertainment. There are also a lot of people from other nations moving to Berlin who definitively give some new flair to the new German capital. There is a fast growing steadily transforming subculture in Berlin due to the reorganisation of the former eastern part. Berlin has a lot of new areas that are not already organised, which is a good base for design companies.
There is a communication between the companies but it could be better. Sometimes we meet companies from Berlin at conferences in other towns or countries but not in Berlin. We should improve that in future.
What's your opinion about the German multimedia scene at all?
Germany as a country for multimedia work has become very interesting. There has been a period of German design that was very rigid and boring, but now – especially in the online sector – work has become interesting because clients dare things they would never have dared in former times. Unfortunately there is still a lack of public consciousness regarding design and aesthetics. Sometimes it seems that Germans look very much at the usability and the service a web site can offer to them. They do not understand that a web site can be much more than that. A lot of applications have to be very serious and it is always a struggle to convince a client to develop applications that entertain and inform people because they fear that it might not be serious enough for their customers.
What's your impression of Japan design and culture and is there any design agency or artist you prefer?
We like Japanese culture and think of it as very inspiring. There is a strong appreciation for visual messages, character design and eyecandy in general. Unfortunately in Germany we do not have such an easy approach to funny stories. From the design agencies we like Furi Furi and Mono*crafts.
This is the last question. What are your plans for the future?
At Moccu, we're always in search of the best ideas, and trying to implement them as well as technically possible. At the other end of the line, we'd like to have a happy user, discovering the Web as a place of fun and entertainment. We would like to go on with that philosophy and produce high-quality entertaining contents and advanced applications for the web.
Moccu
Address: Christburger Street 46, 10405 Berlin, Germany
Tel: +49 30 4403 2985
http://www.moccu.com
Text: Joerg Radehause
[Help wanted]
Inviting volunteer staff / pro bono for contribution and translation. Please
e-mail
to us.