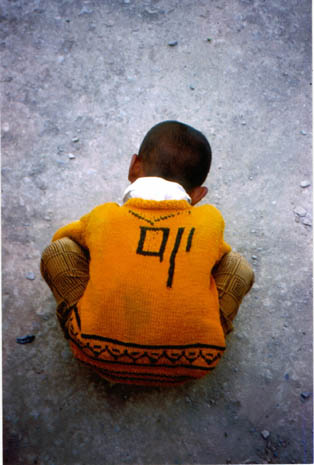 Just over forty years old, Alberto Zanone is considered an innovator in high quality knitwear, on the strength of over twenty years of experience combined with a great desire to invest in design. It is first and foremost a way of thinking rather than a business approach, leading to the creation of not only Zanone – set up in 1986 – but also Opos – with the famous competition for young designers, Under 35 and exhibitions on different themes which have been takingplace since 1991 – and Fibre Tibet – a knitwear collection in cashmere and yak wool which was born out of a non profit making scheme by the Bridge Fund.Fromtextiles to product design, always in the name of high quality design, "of a certain desired marginality" – as Alberto Zanone takes pleasure in defining it – "from following a personal path without submitting to the particular conditioning brought by the logic of the market" Utopia? For many yes. But in the case of Zanone it is a utopia which also works from a commercial point of view.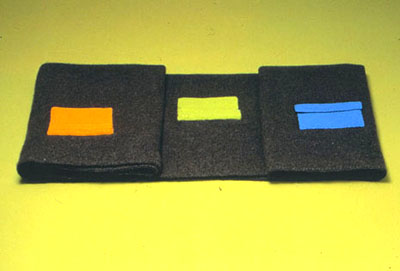 Shawl with pockets, Fibre Tibet collection
A passion cultivated since high school lead Alberto Zanone to become artistic consultant for various fashion houses, specialising mostly in knitwear but also in textiles. This was up until the presentation of his first knitwear collection for men and women in 1987, characterised immediately by a discreet and "understated" style of garments using only natural fibres dyed in modern but subdued colours and made using a sophisticated technology which has been the result of research and experimentation. The design office and showroom are in Milan, whilst the factory is in a village near Biella, Zanone's place of origin.
"Ours is a brand with a strong identity – explains Alberto – but orientated towards people who have a certain awareness about product quality. A characteristic which is little present in the world of high fashion where one tends increasingly, also in terms of communication, to compensate for the lack of individual personality with strong statements. Our buyer wants a product which is not intrusive, that maybe you don't notice so much but inside there is something. It is a different approach from that requested, even though our brand is present in the same shops where Armani is sold".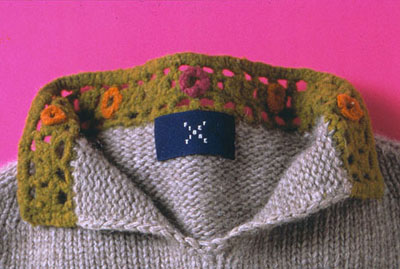 Woman sweater of the Fibre Tibet collection, 80% yak and 20% wool
The same style is seen in the Zanone shop windows (in Milan in via della Spiga and in viale Elvezia), where the display is a version of the notion of the glowing picture with the knitwear folded within it – to isolate and place attention on the product on display – and fluorescent lights which highlight the colour and texture of the garments.
Opos was created in 1991 from the desire to explore another field of design. From Alberto Zanone's love of architecture and design, and the chance discovery with a friend who teaches urban planning at the University of Florence, of an industrial space on the outskirts of Milan ready for conversion.
"I have always been interested in the outskirts, I have always liked the industrial archaeology …" explains Alberto."I found this place, a big place and the idea came about of doing something with it. Starting in architecture was not easy, I didn't have the contacts. We began with design. There was a desire to make comparisons with a different world from that of fashion. In terms of approach I moved, on a design level, towards that of product design, products which don't have a season. Where as paradoxically the approach now of product designers is more akin to fashion, to create trends: take the Alessi range for example…"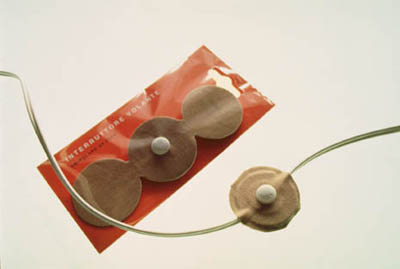 Interruttorevolante loose switch, designed by Donata
Paruccini for Opos, 2001
"Discovering the world of product design broadened my horizons: I detail some of my products as if I were designing a table, a chair or any other object. An approach which is not easy to follow in the world of fashion because I work more on the product, I invest in something which lasts, with research into materials, certain characteristics, in something with a longer life".
The Opos experiment has certainly reaped rewards, also because at the end of the eighties the city didn't pay much attention to young talent and the Opos exhibition space therefore covered certain gaps.
As the response of young designers demonstrates. "It has been exceptional since the first Under 35 competition, with proposals which highlight new design directions touching aspects such as use of materials with a low environmental impact, recycling, reuse, irony, the idea of emotion even in small things… I have to say also that industry has only in a few cases picked up these signals and still today at a distance of over ten years, there are few producers who look into the research and proposals at Opos"
"the world of the furniture industry is not so careful and tends to trust in well known names, taking few risks. Structures are being created which have their own design team which is then backed up with a famous name".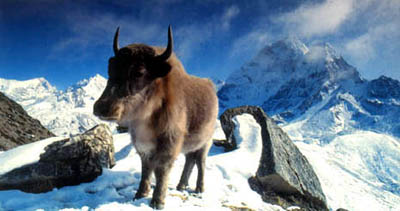 Tibetan yak
Ten years have passed and the picture has changed. The young have now other opportunities where they can present their work, other outlets, first and foremost the Salone Satellite at the Milan Furniture Fair and the space offered by the Comune di Milano at Arengario. And perhaps also the production world as reached saturation point in a certain young style of design.
What does Alberto Zanone see in the world of design, in terms of design and production? "I see less outlets for a young designer. Technology is prevailing therefore it is more difficult to work on materials… the idea is not enough. And the use of new materials and technology is not available to young designers, at least not in Italy. And to think that in countries such as Holland, Droog Design have access to materials of aerospace research to work with" "Italy in fact is at a standstill whereas the joint forces of industry, private initiatives and institutions is reinforcing the positions of single European countries such as Holland, Britian, Switzerland and Portugal".
A general lowering in the level of design that you have "recorded" also in the entries to the Opos competition? "Unfortunately yes: they are less captivating compared to those of the first years, less surprising. Now the young are less stimulating. It is a difficult job though. It's enough to ask oneself, how many of those manage to really make it?
The latest project created by Zanone is called Fibre Tibet and began three years ago, even though the collection was launched only last October. Born thanks to an initiative of the Bridge Fund, connected to the Rockefeller Foundation in New York which aims to give support to nomad Tibetan communities via the creation of a production reality able to give them economic growth. The project materialised in a single season collection of knitwear for men and women, scarves, shawls and accessories for the home, made using exclusively fibre from the Tibetan plateau: cashmere and yak. The profits generated from the sales of the collection Fibre Tibet are invested in development programmes to support the Tibetan nomadic community.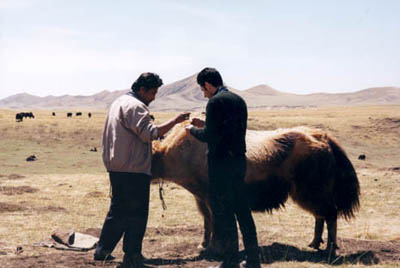 Alberto Zanone (right) inspects Yaks in the Tibetan Plateau
"Giving yak more value helps the nomad Tibetan population thanks to the sale of raw material. Even though the management of the project remains in the hands of the Chinese government, if the demand for this fibre grows, the Tibetan nomad can ask for a higher price for each kilo of yak. The intervention of the Foundation is applied also to the small structures managed by Tibetans: there are already some which treat the raw material, the first stages, the phase of selection and washing. The investment is aimed towards structures where there is a presence of Tibetans.
The yak is the true resource of the place: a domesticated mammal for over 5000 years, it is still today the principal means of sustenance for the most part of the population; its rearing guarantees meat, dairy products and combustibles obtained from the dung, whilst the lower quality wool is normally used for making rugs and tents where the nomads themselves live.

Interiors of the Zanone showroom in viale Elvezia, Milan
"This American foundation involved me because I have a general knowledge about yarn and on the finished product, on the raw materials. The most important resource of this population of farmers is the wool of the yak, an animal which lives 95% on the Tibetan high plain and up until now hasn't been widely exploited". "What was your practical contribution?" "I went to the high plains to understand the criteria for the gathering and selection of the fibre, that in the various parts of the animal has different characteristics and quality. Using the best quality parts we made various test yarns in Italy to obtain one of high quality: a very warm, strong and soft fibre, not as much so as cashmere but much cheaper. The yarn was used without the use of polyester (as is done in China) even though it is not 100% yak because yak fibre is very short: we managed though to reduce the use of another fibre (wool) to 20%. The yarn is now made in China, the raw material is all from Tibet. From the yarn we then arrived at the finished product. Working on the design part we were able to make a collection of garments which are now on sale in some of the most important shops around the world.
From textiles to design, the common denominator is a certain "attitude". Highlighted by the search for overall quality, a certain integrity of design vision. "For me quality is the emotion that manages to transmit the meeting of intuition and work", he explains.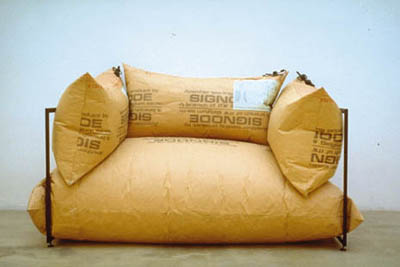 Divatrona armchair by Paola Bonfante and Filippo Fantini for
Opos, 1992
An ingredient which is not so easy to find, especially in the world of fashion… "in Italian fashion one finds good quality in the production, in the communication. Made in Italy garments are recognised as world leaders and so have quality at a global level. As far as single products are concerned perhaps today many other countries can also create the same quality in materials and workmanship. What counts is to maintain the quality in Italian design, which has always been based on the work of Italian designers and the quality of Italian textiles. At the moment, many of the big names in clothing use foreign designers whilst our textile companies are threatened by countries such as China, India or Eastern Europe. What will make the difference will be the design or the communication".
So what about naming some companies which come under the heading of quality design. In terms of design research at one time it was Cappellini. In fashion there are small companies which have a good quality product: many unfortunately don't have the strength to put themselves forward, to communicate. In big names such as Prada, you find quality in certain product lines that the company boasts a certain tradition for (leather goods), but not for knitwear, that acquires quality because it is communicated well.
An emphasis research and experimentation leads to quality design… "It is very important to invest in technology. We have always done so. The latest we have developed (editors note: chosen by the Museum of Science and Technology in Milan and shown in an exhibition dedicated to the capacity for technological innovation of small and medium sized Italian companies) is Hi-Q (High Quality Cotton) on which we have worked for many years with the desire to produce a cotton for men and women which was fresh, light, could breath and withstand washing. We began working on the thread then we made the fabric in a laboratory, using special treatments".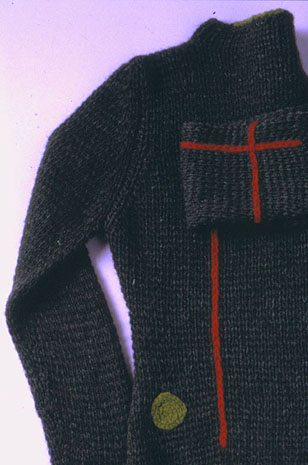 Woman sweater of the Fibre Tibet collection, 80% yak and 20% wool
"The thread is very important in our work. The design content then often takes account of what's in fashion, in terms of colour and line…especially in the women's collection: women need to be continually excited also because they are solicited more by advertising. In the menswear collection there is not such a need to change as often: starting with a particular product, it can be perfected over two or three seasons".
Is it risky or difficult economically for a company to invest in technology?
"Only if you don't know how to balance the 'investments' with other important factors: company organisation, control of production and distribution, communication. In other words: if you don't know how to manage a project".
Text: Loredana Mascheron from Domusweb
[Help wanted]
Inviting volunteer staff / pro bono for contribution and translation. Please
e-mail
to us.