How would you define the personality of 'package'?
The personality of package is in the background of the product, its not just clothing there is a way of thinking behind it, and only a few people see this.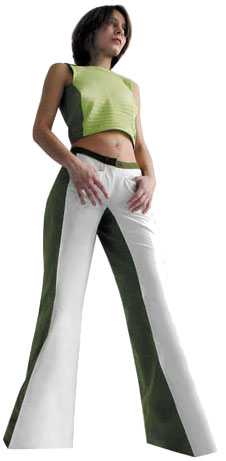 Do you have any plan to arrange collections or exhibitions?
Well of coarse the plan depends on the offer, if it was up to us whe would open a store with exhibitions and everything, mixing the graphics with the products creating a whole environment, but… (no way we can achieve this without help, were just to persons without money).
How do you think about the design scene in the Netherlands.
I think they are very good, professionally, but there is a lot of jealousy it's like they see everyone as a competitor, and we don't we like other peoples work and we respect it, over here they just criticise each other to make themselves bigger, we think that's a shame because you can't work together.
Are there any interesting movements in the Netherlands?
Interesting movements, I don't know, maybe in the music (club scene) and a few in the furniture design business, but they are not really movements just the right guy's in the right place with the right connections there are no powerful messages or ideas behind.
Please tell us noteworthy clothing designers and artists in your country.
Well there you have us because we are very dissapointed in clothing designers globally, they just make stuff, they don't have a concept or message or even the line they say they have, isn't there!!, for us its a bullshit world, that we don't want to mix with, because we take our stuff seriously, and with the spirit.
Please tell us your plan near future. Any message to readers of SHIFT?
Our plan for the near future, is to make the things we like and how we like them to be free in what we make, how to achieve this we don't now!!
For the readers of shift, as creative people witch ever discipline music, art, designer, etc… the most important thing is to be free in expression and to be free in your own expression you have to respect this freedom in another expression to, unite all disciplines to make beautiful things together were all in the same business, politics is for ruling a country, not for design.
Jesse & Eulogia
Address: 29 Marconistraat, 2562JB Den Haag, The Netherlands
Tel: +31 (0)70 392 4211
http://www.73553.com
Text: Naoko Ikeno


1
2
[Help wanted]
Inviting volunteer staff / pro bono for contribution and translation. Please
e-mail
to us.