Jesse and Eulogia are artists in the Netherlands working on a clothing project 'Package'. Their concept is that clothes are packages which protect the human as a fragile product. Their new free style suggestion on clothing design is remarkable. We asked Jesse about their 'package' clothes and design scene in the Netherlands.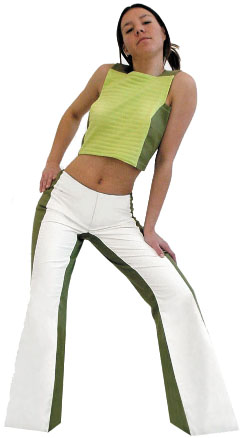 First of all, please introduce yourselves.
My name is Jesse so 73553 is my name (if jou flip the 3's). I use that for my personal work. I'm a graphic designer (origin) but we also do furniture etc.. My partner is Eulogia and she does fashion design. When we work together we create a project name like (Package). We try to combine all disciplines and do things together that we like (without restrictions from clients).
Please tell us about your brand. What kind of activities are you currently doing?
Package is a free interpretation of package and clothing. We are preparing an exposition together with some other artists to present this proyect and separate I have my work as a graphical designer.
How do you start your 'package' project?
I dont really now it just happenes Eulogia started questioning why is package so simple and why are clothing patterns so complicated, and then we saw packaged people and protection.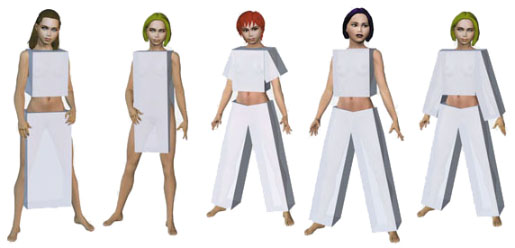 What made you start your brand?
It's not a brand yet!! To make a brand like this would be eulogias dream but over here to start something like that is almost impossible.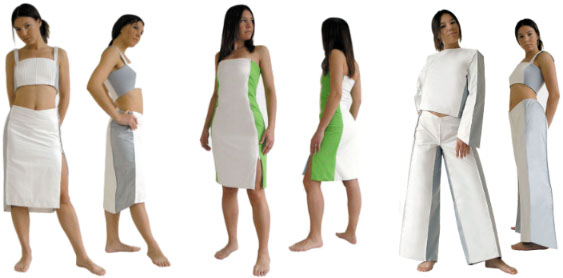 Please tell us about your new 'packaging clothes.'
The packaging clothes are very basic and simple, like packaging the funny thing about it its that if you put them on, it doesn't look like they were made like you make a package for a box but its the same principle.
How would you define the personality of 'package'?
The personality of package is in the backround of the product, its not just clothing there is a way of thinking behind it, and only a few people see this.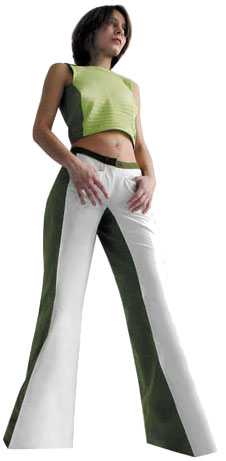 Do you have any plan to arrange collections or exhibitions?
Well of coarse the plan depends on the offer, if it was up to us whe would open a store with exhibitions and everything, mixing the graphics with the products creating a whole environment, but… (no way we can acheive this without help, were just to persons without money).
How do you think about the design scene in the Netherlands.
I think they are very good, proffesionally, but there is a lot of jealousy it's like they see everyone as a competitor, and we don't we like other peoples work and we respect it, over here they just criticise eachother to make themselfs bigger, we think that's a shame because you can't work together.
Are there any interesting movements in the Netherlands?
Intresting movements, I don't know, mabe in the music (club scene) and a few in the furniture design buisiness, but they are not really movements just the right guy's in the right place with the right connections there are no powerfull messages or ideas behind.
Please tell us noteworthy clothing designers and artists in your country.
Well there you have us because we are wery dissapionted in clothing designers globaly, they just make stuff, they dont have a concept or message or even the line they say they have, isnt there!!, for us its a bullshit world, that we dont want to mix with, because we take our stuff seriously, and with the spirit, here are a few dutch links.
www.riffraff.nl
www.bam-b.com
www.fashionfugitive.nl
www.studiopko.nl
Please tell us your plan near future. Any message to readers of SHIFT?
Our plan for the near future, is to make the things we like and how we like them to be free in what we make, how to achieve this we don't now!!
For the readers of shift, as creative people witchever discipline music, art, designer, etc… the most important thing is to be free in expression and to be free in your own expression you have to respect this freedom in anothers expression to, unite all disciplines to make beautifull things together were all in the same buisiness, politics is for ruling a country, not for design.
Jesse & Eulogia
Address: Marconistraat 29, 2562JB, Den Haag, the Netherlands
Fax: + 31(0)70-3600745 Tel: + 31(0)70-3924211
www.73553.com
Text: Naoko Ikeno
[Help wanted]
Inviting volunteer staff / pro bono for contribution and translation. Please
e-mail
to us.