This month saw the launch of the MeX 2001 project, including a live 3-hour webcast from a studio in the Tokyo suburbs, and a group exhibition of interactive and computer graphic artists at Axis Gallery. MeX was established with the intention of establishing channels of communication, distribution and creative collaboration between artists from different disciplines between Japan and Europe.
The project was formed by producer Hiromi Ito, who with the aid of a team of curators and advisors intends to link projects and creators by media exchange, showcasing works from web-based and video designers and directors, allowing access to information only available in a particular language, and developing a network of support and promotion during 2001.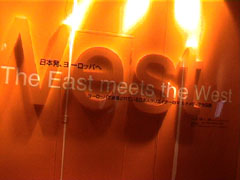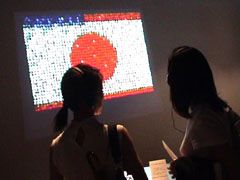 The opening webcast event – MeX Virtual Open Studio Live – at the TV studio of a technical college in Kamata, Kawasaki began with an energetic Japanese drum and dance performance, announcing the launch of MeX 2001.
Taking the basic format of a TV art variety programme, live phone and webcam links were set-up between different creators studios in Europe, with a brief introduction of their works, as well as interviews with guests at the Tokyo studio. Among the highlights were a screening of selected animated films by Macoto Shinkai, as part of a presentation from Tokyo-based manga and anime portal site Manga Zoo; a discussion with Olivier from Lille-based (France) Team cHmAn, who are currently in production of the Japanese versioning of their on-line interactive game interface Banja and presenting their web design jam event Vector Lounge in numerous locations around the world; and an explosive performance from the absurd sonic mechanics of Maywa Denki.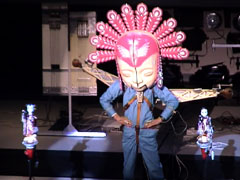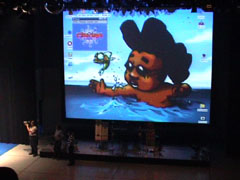 In a cross-promotional link with MeX 2001, "The East meets The West" exhibition opened at the Axis Gallery in Roppongi. The show features works from 5 Japanese creators whose work has been presented and award-winning within international events Siggraph, Ars Electronica and Milia. CG director Morino Kazuma's animated works as Stripe Factory feature collaborations with DJ Ken Ishii for a Space Shower TV on-air promo, metallic freak wrestlers in combat, and sequential runners, a study in body and motion. The 'Micro Plantation' exhibit created by Akinori Oishi was initially developed as animated content for mobile phones, with simple monochrome blocks and characters which interact with the user. Another of Oishi's works composed of a layered cityscape of animated elements with organic movement and interactivity according to the users actions. There is obvious potential commercial use for many of the interfaces within the featured installations with young artists able to emulate the success and innovation of other multiple media creators like Toshio Iwai.
SHIFT interviewed Hiromi Ito on her aims and inspiration for MeX2001.
First of all, please could you introduce yourself.
I'm working as a freelance media exchange producer. I introduce European CG short films and animator to Japanese people. Also I do Japanese images and talented creators to Europe. Before doing this job, I was in Alias-Wavefront, a 3DCG software company, as a marketing communication's manager in Asia Pacific section.
Tell us more about MEX 2001. What were your inspirations, and what are your aims with the project ?
MeX is a plat form to promote the exchange between visual creators and other people involved. If you would like to produce new and creative contents, you should know each other. So, you should know the partner and introduce yourself in order to explore the chance for collaboration.
Personally, I have encountered the chance to see CG works in and out of Japan since I was working in Alias-Wavefront. I always felt Japanese creator is not recognized abroad even by among parties concerned. After becoming a freelance, I contacted more people involved in CG images and young creators. Then I found the reason why creative Japanese people are not marked is their way of appeal is wrong. While, I learnt there are a lot of people who want to work with Japanese among European CG or animation industry. I also saw there are many young people in Europe who love Japanese subculture such as animation, games and comics, and respect Japanese culture. They would like to work in Japan as well, however, they do not know where or whom they should approach. There seem to be an invisible wall in Japan. It is not only wall of Japanese language. In short, they require connection in Japan. Many of them seem to prefer to gather and work with their own vocabulary, and their particular way to do. Much less there is no official trade fair for business dealing contents or projects.
Then I made up my mind to start a platform for exchanges contents, creators, projects and contests. It would be the best goal for me if MeX evolve opportunities for trade fairs of contents.
Read more ...

1
2
[Help wanted]
Inviting volunteer staff / pro bono for contribution and translation. Please
e-mail
to us.