Svensk Form, The Swedish Society of Crafts and Design, organizes an exhibition at their design centre 7th of July to 26th of August that are worth visiting. You find the design centre on Skeppsholmen, Stockholm.
"The step from computer mouse to the calligraphic pen does not seem to be that great as the interest in calligraphic courses never been as big as right now", says HC Ericson, Professor in Graphic Design in the catalogue introduction of this exhibition at Svensk Form.
This exhibition feels very important as the awareness of this craftsmanship is fading away as computers makes it easy for anyone to become an 'artist' these days. There is something very powerful and legible about skilled written words, types and logos. The difference between the beautiful and the rigidity in a shape easily show the level of craftsmanship behind it.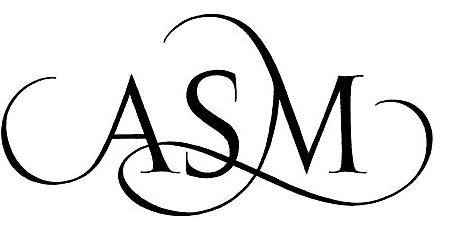 Annika Larsson
It strikes me when I see this selection of both old and working calligraphers that the distance between contemporary graphic design and old knowledge is getting bigger as calligraphers has a quite stereotyped way of using their skills, almost as they try to protect their art from watering-down, but with great exceptions of course.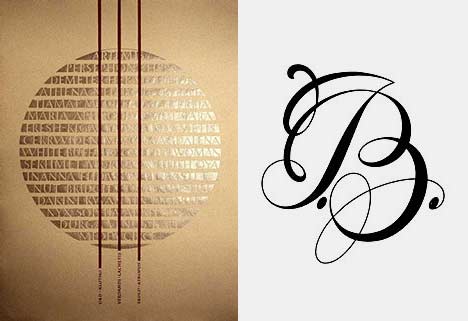 Left: Marie A Gyori, Right: Lennart Hansson
Handwriting becomes more and more neglected, as we simply don't need to use this old fashioned way of communication anymore- or do we? I remember an old teacher telling me that the body is the most complex shape you can draw and for that reason I should practice this technique over and over again in order to understand form it self! Later on when I started working with the shape of types I realised that the connection was obvious. But the connection was physical rather than aesthetical- I was able to 'feel' the abstraction of movement and body in the type and the symbol.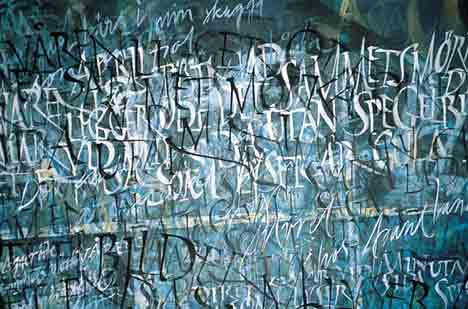 Marianne Pettersson-Soold
As a spectator I think we consider the two dimensional graphic forms in a three dimensional way much more than we think hence making the simple form quite hard to bring to life. That's why the knowledge of calligraphy is interesting- it's the graphical way of drawing the human body, and perhaps this is simpler than (if I am to believe in my old teacher) drawing the body of a woman but it demands a lot of practice for sure. That's why the exhibition feels necessary, as the organizers goal is to stimulate a young generation to learn about the basic shapes of the types and acquire a readable handwriting.
Calligraphers represented in the exhibition: Kerstin Anckers, Susan Duvnas, Karl Erik Forsberg, Mona Gordon, Ludvig Grandin, Marie A Gyori, Lennart Hansson, Helene Henningson, Erik Lindegren, Florian Kynmn, Gun Larson, Lars Laurentii, Marianne Pettersson-Soold, Annika Rucker, Ylva Ostberg, Cecili Skogh.
17 Calligraphers
Date: July 7th – August 26th, 2001
Place: Svensk Form Design Centre
Address: 13 Svensksundsvägen, Skeppsholmen, SE-111 49 Stockholm
Tel: +46 (0)8 463 3130
https://svenskform.se
Text: Joel Broms Brosjo

[Help wanted]
Inviting volunteer staff / pro bono for contribution and translation. Please
e-mail
to us.