VIDEACY – MOVING IMAGES, SOUND AND MUSIC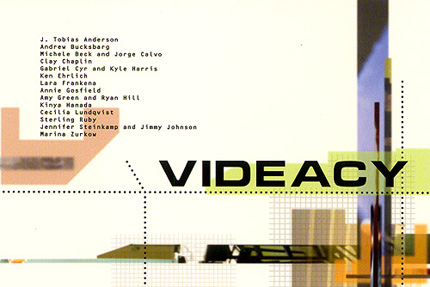 EXPANDED MEDIA: Video Technology Across Disciplines
There are more events to revaluate video as an art medium, for something which used to be indeed commercial and or otherwise spread mostly by word of mouth. Even big movie productions are going for DVs. The evolution of technology have definitely familiarized the digital world to public. However, there remains a fact that video might have gone too close to the consumer side, and in return lost the dignity as an art medium. That was the exact same dilemma that photography got stuck in for the longest time. But considering of the mesmerizing status that photography has won in last 10 years in the art world, now it might be video's turn to be put on trial. If succeeded, the future is bright.
Andrew Bucksbarg, who calles himself a designer of media experiences and modalities, was one of the first ones to see the potential of this affordable and accessible medium. "It is from my experience searching for a space to support my own artistic interests that my need to curate arose, " says Bucksbarg. It was only a year and a half ago that he went on to found adHocARTS.org.
"It was created by the need to create opportunity for artists across disciplines and creative workers, persons who do not adhere to any particular "sect" in the arts. The idea was to encourage work outside of the traditional format of galleries and museums as well as forms of work that are under represented in these formats or are overshadowed by large money making industries. adHocArts.org uses the web/internet technology, an amazing tool for independent and experimental artists, to reach the arts community and share work in Los Angeles and around the globe. adHocArts' mission is to promote the exploration of creative modalities through artistic resistance, expanded media, art and technology, cultural perspective, and diversity and difference by sponsoring events that encourage these practices," states Bucksbarg.
For VIDEACY, the first to-be-annual event that was sponsored by adHocARTS.org, 12 groups of artists were called in from all over the world. The intention was simple.

"Video and animation were a natural choice for an initial event because of the coupling of moving images and sound and music. Many artists manipulate video in installations and performance, composing interesting hybrids of these as well. I think it is wonderful there are visual artists and designers creating sound for their video imagery and music composers creating music videos with visual material. Video supports crossover. Because video is financially manageable and accessible, you have more artists from different backgrounds making work with it and sharing that work with each other." Through the curation of Bucksbarg, Sarah Roberts (works in large scale interactive installations and was founding director of the Integrated Media Program at Calarts) and Sheila M. Sofian (award-winning experimental animator working with sociopolitical documentary whose work has been shown internationally), various types of work were presented. Very suggestive, yet their brochure remains humble closing the introductory saying "…I hope you like what we came up with,".
"The capture or creation of moving images coupled with sound snd music, installation, performance and other hybrids will stimulate artists far into the future. The digital arts guarantee that these intermingling of genres. Patterns emerge in this process. Artists make choices that reflect their humanity through the relationship of their work and the work of others, often exposing the sublime or the treacherous," brochure enforces. VIDEACY is and will remain as an activator of this creative interaction.
ARTISTS
J. Tobias Anderson – "879" (01:52), "My Name Is Grant" (01:52), "Active Passive Conversation" (02:04) From Stockholm, Sweden. Anderson began his art career as a painter, but has been working with video and animation since 1993. His work unites a variety of mediums including video, painting, illustration, sound and music. "879" is an 879 drawings from the scene of Hitchcock's "North by Northwest", brilliant work questioning the dignity that Hollywood holds. Anderson has participated various European film festivals.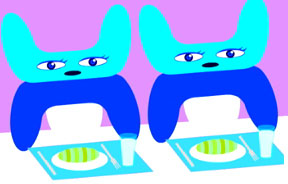 Kinya Hanada / Mumbleboy (www.mumbleboy.com) – "Crossing" (01:48),"Kompendium" (02:34), "Powers that Lurk" (03:05), "Enfant!" (01:44) Hanada was born in Yokohama, Japan and resided to Southern California at age of 13. He moved to NY after graduating Rhode Island School of Design, where he freelances as web animator and print illustrator.
Michele Beck and Jorge Calvo – "Untitled" (01:09), "9;01" (3:00)
Beck and Calvo are multidisciplinary artists working with performance, video, photography, and sound. They have been working together for 2 years using their bodies and simple materials from their daily lives, such as rubber bands, packing tape, noise of even a kiss, to give a visual form to the impulses and bindings of daily life.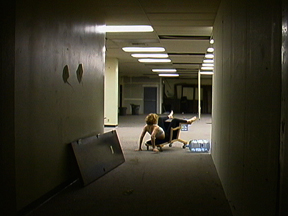 Andrew Bucksbarg – "Untitled" (06:00), "Chair" (06:53)
Bucksbarg's work embodies the purpose and the cause of the event, both approached from almost an opposite vector. His work encompasses a large range of interests in the realm of new media and the inter disciplines. Bucksbarg has freelanced as an animator for video games, developed interactive products and worked on web animated contents. He is apparently producing an audio CD project "Better Living Through Technology." Founding director of adHocARTS.org.
Lara Frankena – "To Ache Sharply From Time To Time" (06:00)
The sequence of the close-up body parts suggests the pain. Frankena is an artist and educator, and works primarily with video, sound and photography. She is also skilled in traditional hand bookbinding and letter press printing.
Sterling Ruby – "Human Touch" (02:11)
Born in Bittburgh, Germany and currently resides in Chicago. Ruby produces sculpture, photography, drawing, audio and video work concerning emotional attachment, hunting, sexuality and predation as ritual.
Cecilia Lundqvist – "Rebus" (06:17)
From Stockholm, Sweden. Lundqvist was originally a construction engineer but switched careers in 1991 to become an artist. She has worked with animated video since 1994, many of which have been screened worldwide in festivals.
Clay Chaplin – "Thanks, Sharon" (approx. 06:00)
Chaplin is a composer and digital media artist in Los Angeles. He has composed and collaborated on many projects involving new music, video, dance and theater in the U.S., Canada, and Europe and Asia. Chaplin's recent work explores improvisation in real time performances setting using live sampling, processing and video imaging techniques. He recently completed a residency at Steim in Amsterdam, developing a wireless, interactive instrument called Stupid Thing, which can remotely control audio and video data in real time.
Gabriel Cyr and Kyle Harris – "Mannered" (04:00)
Cyr is a film/video maker and musician in Chicago. he has performed and exhibited in New York, Los Angeles, and San Francisco. Harris is a video maker, writer and curator who has exhibited work in a variety of festivals in the U.S. and abroad.
Marina Zurkow / Braingirl (www.braingirl.com) – "Eye Test" (03:39),
"Braingirl's Brain" (03:55)
Creative director and founder of O-Matic. Zurkow is an artist and filmmaker. Since 1985, she pursued experimental film while working as an production designer for couple of years. Zurkow's film and video work have won both domestic and international awards.
Amy Green and Ryan Hill – "How To Build Your Own Plastic City of the
Future" (07:51)
Green is a Los Angeles based artist and educator. Her work specializes in abstract paintings using plastic, molds of cherries, jello molds, and candy sprinkles.
Jennifer Steinkamp and Jimmy Johnson – "X-ray Eyes" (05:00)
Courtesy of Acme, Los Angeles
Steinkamp is an artist and Johnson is a composer working in computer animated projections and sounds. Their architectural installations are exhibited in museums and galleries internationally.
"As curators we worried about fatiguing the viewer (on some works), but we felt it is important to include work of this nature however difficult it may be for the viewer," points out Bucksbarg. The very first event for adHocARTS.org announced successful. The less-fancy downtown location was warmed by many audience. Bucksbarg also enforces the importance for the artist to be part of the (re)development of downtown Los Angeles. Side Street Projects (a non-profit arts organization) offers a small theater space downtown to artists and performers which he found it perfect for the launch of the forthcoming annual event VIDEACY. "L.A. has such a weird relationship with the downtown… but we had a great turnout for the show." Bucksbarg confirms. "L.A. is a great place for video and animation, but there really weren't any media arts non-profits organization supporting this type of work. Perhaps it is because the huge entertainment corporations cast an enormous shadow over L.A.. But people are excited by the video and the digital arts and will continue to investigate reflections of their experiences in the technology."
Keep an eye out for this re-evolving medium.
Text: Aya Muto from New Image Art Gallery
All Images; Courtesy of VIDEACY / adHocARTS.org
Please contact Andrew Bucksbarg for further imformation on all the artists above and upcoming events.
[Help wanted]
Inviting volunteer staff / pro bono for contribution and translation. Please
e-mail
to us.