This is not a fiction. Broadband is in our hands without doing or thinking anything. In the same way, broadband will soon be here without thinking anything. When you were aware of it, there would be already all sorts of standardized services and expressions, and even if you want to do something on it, a ticket for a vacant seat of expression would become a platinum ticket. Don't hesitate to start doing it right now and don't lose your energy to do it hearing the voices of big brothers who have already got reserved seats saying that 'it's too early to do that'. It's time to stride along the 'Broadway' of broadband and aim to be spotlit.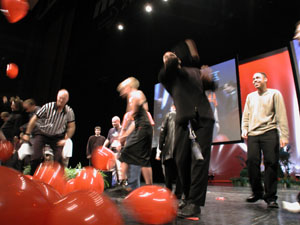 Cannes, France. In this city where seagulls are flying around and cocktail parties with champagne and raw oyster are being held, a quiet battle for seats has been held in every February. Milia. It used to be a market for people who wanted to sell and buy licenses of PC contents like CD-Rom. Needless to say, such trend has been over now and Milia has been regarded as an unnecessary thing. However, in the current situation that everyone can receive and transmit the huge data personally, it has changed into a circus of demonstration where you can look for an expression or content through broadband, and get a share of the interface that decides your way in broadband. Now, let's see the battle for seats.
'Still more'. This is the most suitable phrase for this year's Milia. There must be more. We must be able to expand the edges. Both companies provide infrastructure and companies/creators provide contents and platforms showed such feelings.
Interactive digital TV broadcasting, broadband Internet, contents for mobile phone like WAP and i-mode, and the new generation mobile phone. The latest technologies that have been regarded as something special are becoming very popular all over Europe, growing rapidly as a real service for the public. In such a situation, a feeling of 'still more' will continue until it's finally realized. The feeling of 'still more' is reflected by the approach that keep their business and content development plans close to their chest as they try to find out each other's real intentions.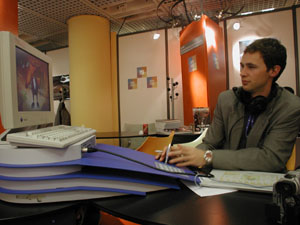 Tera Group , based in Spain, provides Internet and mobile phone services for the vast Spanish and Portuguese-speaking world. In the thinktank summit that was held during Milia, Eliseo Sanchez, CEO of Tera Mobile (the mobile phone department of Tera Group in Spain), presented their idea for the next generation mobile phone service that corresponds to the amount of the data, and mentioned that they were looking for a partner to realize this idea. The service that corresponds to the amount of the data means a service that provides information based on text and can be connected from the mobile phones now in use. It would also be a service that enables banking, checking WWW and downloading games for the next generation mobile phone. They need a partner who provides that content.
They also aim to distribute moving images and to realize a complete-realtime videophone on the next generation mobile phone. The latter will be started next year (or they don't have any other ideas but this).
Read more ...
[Help wanted]
Inviting volunteer staff / pro bono for contribution and translation. Please
e-mail
to us.