In the evening on December 18th, I was on the subway in Tokyo. There was a strange woman wearing the green pleated one-piece dress of Issey Miyake and making herself up to look younger. But when she turned to me, I found she was a young girl. I tried to figure out why she was filled with so strange atmosphere. An aura surrounding her was outstanding and it might have been because she was wearing such a one-piece dress that was designed for middle-aged ladies to cover the shape of their body lines. She had rather cheap lace-up boots on and because of it, she looked like a junior high or high school student. It seemed she was trying to look herself smart for her first date or something like that. But she had no intelligence, taste or elegance, and her face was slackened. She created a strange atmosphere with the inappropriate clothes for her age.
Anyway, I hurried on my way to the interactive concert of Susumu Hirasawa which would be held in Hamamatsu-cho.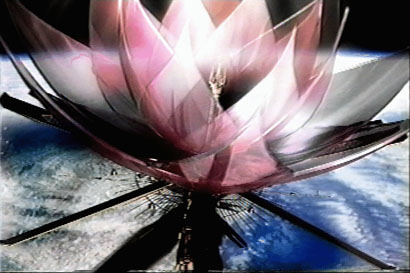 © 2001 Masaru Owaku (A-Shield)
Interactive Live is a multimedia live concert started in 1994 by Susumu Hirasawa who is a leader of 'P-Model', the originator of Japanese techno-pop. Speaking of the year 1994, there was a mad boom of 'virtual reality' and 'interactive' in Japan, and at the same time, the CD-Rom business was enlivened. At that time many artists were groping for a point of contact between their expressions and the possibility of technology, Hirasawa's attempt for this interactive live was really notable for its activity and the experimental spirit.
This live performance is a kind of entertainment that reflects the audience's wills through computers. In these years, some audiences has participated positively in this live performance being at home via the internet. On the huge translucent screen partitions the hall into stage and seats, all kind of text messages and realtime CG images are reflected, and the story of live performance is related by the audience's reaction. It's a kind of roll-playing game.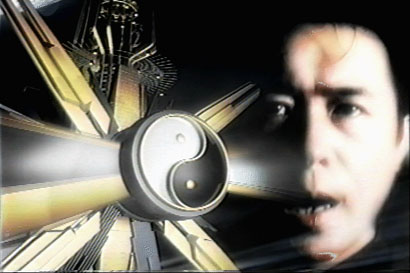 Most of fans of P-model (and also Hirasawa) are generally in middle or high age group. Most of them were first found their sound in 80's and apparently there's few possibility that they acquire a new fan. Hirasawa is the original originator of 'Techno-pop' exists in totally different dimension from the current stream of club music from 90's house music to techno.
This is also the definitive difference from the techno artist 'Denki Groove', though they also had their starting point in 80's. In Denki Groove's live performances, performers on the stage are never spotlit and the audience never look at the stage carefully. It's generally all-standing and the audience behave as they like except they experience the space in common. You can dance if you want and you can go and buy something to drink whenever you want. One of the special features of club sound is started from denying the past rock-star system. The past show business by rock stars is a kind of system where performers and the audience can unite through a common sign or symbol, and have an enthusiasm, intoxication, excitement and strong emotion in common by playing each part. It sometimes created temporary charismatics.
Read more ...

1
2
[Help wanted]
Inviting volunteer staff / pro bono for contribution and translation. Please
e-mail
to us.