The 'Buro 30: Electronicaccident Experimental Express 2000' event was held for three days from November 3rd to 5th at CAY (basement of Spiral Hall) in Aoyama. Buro is the event which has showcased 'new forms of electronic music' in cities in Europe around Paris since 1998. It presents multimedia live concert with not only artists' live performances but also videos, films and installations. This time is the 30th event of Buro.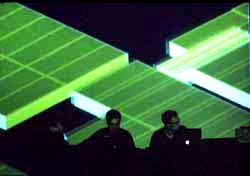 Featured artists are: Ryoji Ikeda, Merzbow, Nobukazu Takemura, Carsten Nicolai, Thomas Brinkmann, Chicks on Speed, Pita, Hecker, Discom, Port Radium and Vladislay Delay.
This month I interviewed with Perrier Cedric and Naomi Tamamura from Midgetvideo who collaborated with Discom on the 3rd day of the event.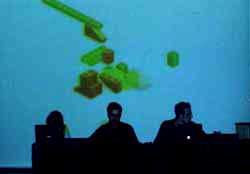 Please tell us your profiles.
About one year has passed since we started working together. Before that, we were working separately for video, graphic design, illustration for print, animation and television ID. As a result, we've become to work for all sorts of fields and been involved in many TV programs.
Currently, we work for illustrations for record labels, CD jackets, video clips and web sites (maybe live videos in the future). We also work for French TV programs, record labels, magazines and live videos regularly. Live performance is just one of our activities and hopefully we'll work only for creative and original projects. We don't think we'll be just as a VJ, but the Sonar Festival in Barcelona this summer was a really good experience for us. The mixed video with Richie Hawtin as Plastikman, and more than ten thousand crazy audiences were really exciting.
The visuals you performed at the Buro30 was really interesting. How did you start the collaboration with Discom?
The performance with Discom is one of the work for Discom's record label called 'deco'. We're working for flyers, CD jackets and web site (under construction) for this label maintaining the uniqueness and originality of the label. The live video is one of the process of the music video which will be made in the future.
For the live video, we've had a substantial communication with Discom to combine each sound to each visual. On that point, this performance at Cay was different from a VJ performance. There's no beats in Discom's music, so it's difficult to do a VJ performance along to his music. Our visual (and Discom's piece) is a 50 or 60 minutes film composed of 7 or 8 abstract stories. If it's changed slightly, the story is still clear. But as a process of music, visuals sometimes change by each live performance.
Read more ...

1
2
[Help wanted]
Inviting volunteer staff / pro bono for contribution and translation. Please
e-mail
to us.