With the slogan "Subvert the Future," Faze Festival opened its curtain to a sold-out audience last Sunday. Showcasing fifteen-plus new and exclusive commercials and music videos, some of which are banned from the mainstream MTV and such channels, this one-time event presented a variety of strong works that "subvert the mainstream formula," as stated by festival executive producer Aden Ikram. The program included videos by acclaimed directors like Chris Cunningham and lesser-known new comers such as Little X of New York City.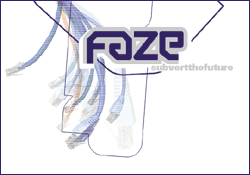 While a few of more infamous music videos (a classic Aphex Twin video "Come to Daddy" directed by Chris Cunningham and a banned Metallica video "Turn the Page" by Jonas Akerlund) were included in its line-up, this festival showcased a good number of never-before-seen videos. All the pieces, both new and previously released, were quite worthwhile watching. Among the list, the two particularly caught my eye: Unklel's "Rabbit in the Headlights" by Jonathan Glazer known for his brilliant Jamiroquai video and Björk's "All is Full of Love" by Chris Cunningham, which made its US debut at this festival.
In "Rabbit in the Headlights," we see a man, somewhat rumpled and untidy, walking alone in a tunnel, mysteriously chanting and mumbling to himself, paying no attention to his surrounding. Cars pass by, honking and sometimes drivers yelling. Then, suddenly, the man gets hit violently. After a short moment, the man recovers and starts walking. He gets hit again. And again. This disturbing clip is no ordinary video. "Unflinching and unforgettable, this you cringe." Literally it does. The ending is even more memorable but I shouldn't give it away here.
The stunningly beautiful "All is Full of Love" by Chris Cunningham for Icelandic diva Björk is simple yet complex, elegant but disturbing. With a mixture of two subjects, sex and robots, Cunningham exquisitely portrays "love" in the most poetic but unnerving way.
The festival organizer made an attempt to emphasize the fact that the commercials and videos featured here "subvert the mainstream." This was, to some degree, depicted by the work showcased and talks by guest speakers. During the Q&A session after the showing, however, one audience member harshly criticized a new, not-so-strong Jamiroquai video premiered at the festival that was purely commercial and solely advertising.
Another element that might have weakened the festival was the selection of the work. Although I do admit that it was quite a strong line-up, selecting four Chris Cunningham videos in a list of less than twenty works seemed a bit too biased and favoring one artist too much. Also, a few videos, which had "sex business" as their main theme, weren't as subversive as they appeared on the surface. It is to a certain extent shocking to see things that we normally don't see but in those videos, it was more of a cheap surprise than a deep moving effect.
Despite some unfavorable areas, Faze Festival was a brave and worthwhile event. And "subversion" doesn't have to be limited to broadcast or film industries. I sure hope to see more events like this, even more expanded into other areas, in the near future. Subvert the mainstream! Subvert the future!
Faze Festival
Date: May 16th, 1999
Place: Cantor Film Center
Address: 36 East 8th St., New York, NY 10003
Ticket: $10
Tel: +1 516 888 9000
Text: Rei Inamoto

[Help wanted]
Inviting volunteer staff / pro bono for contribution and translation. Please
e-mail
to us.