Brussels, year 2000. The Continent exhibition takes place in the city center, in a building specially renovated for the occasion and dedicated to become a modern art center. The event runs from September 8 until October 12 in the context of the year 2000 celebrations with other exhibitions, one on architecture and another on the memory of the City. But the specificity of Continent, besides the fact that it only shows multimedia works, is that it is held simultaneously in two towns : Brussels and Helsinki. They both have the same settings so they keep in constant communication.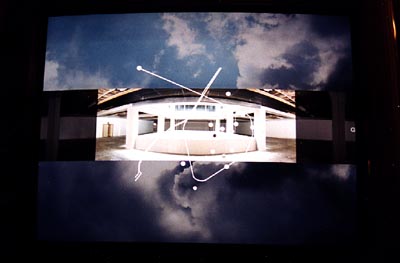 The exhibition was organised thanks to a large collaboration amongst four decorative arts schools: the Medialab of the Art and Design University of Helsinki, the Decorative Arts National Superior School of Paris, the University of Paris 8 and the Hoogerschool Sint-Lukas of Brussels. It brings together about fifteen works of young and confirmed artists. Visitors therefore meet different appoaches of multimedia art. Nevertheless, almost every piece of work displayed tries to put the user in direct interaction with an entity, whether it is the program or a person connected via the Internet, and the work itself ensues from this interaction.


Michel Francois, a notorious Belgian artist, who took part in the last Venise Biennial, presents a wall of films, in all a thousand little videos, witnesses of short periods of reality, displayed in an interactive grid. Experience allows the visitor to mix these video moments in a personal and original cut, the display of the video clips in the grid varying all the time.
Franky DC, an artist from Brussels, works on multimedia by means of settings and performances. He took up an area in the room with a shamble of miscellaneous objects that he made himself in real-time on the net via a web-cam. He then suggests to dematerialize it's value, by putting it's image on sale on the net, as a screen base.

Another example of a piece of work involving the viewer to make his choice is the one of Tomi Knuutila, who with its collagerator suggest that the visitor makes a collage based on his own personnal image bank and that he then downloads it on a web site to exhibit it.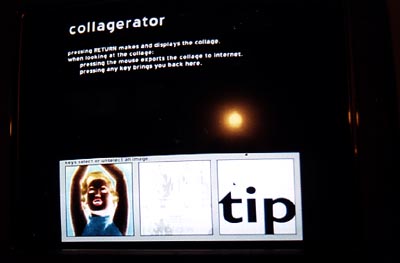 Several young Finnish and Belgium artists offer an urban experience and a totally different look on the city and its space. Mia Makela for example, suggests that we meet some people in different areas of Brussel and Helsinki by following some soundtracks on a map combining the two cities. It gives a feeling of moving in a superior dimension. Two students holding a Sint-Lukas of Brussels degree present two sets of ways to discover their city.
Bart Vandeput introduces us to his town by giving the visitor several panoramic and mobile scenes that he goes over via a map of the town. With "Bronxelles", Frederic Feyfer designs a CD-ROM in which we travel around the city through four interconnected screens showing a map of the town, a time indicator, a car race and a look on the street.

Several sites present an exchange via Internet. It is the case of Kristian Simolin who intends to create a universal monument for Brussels, after the ideas and drawings sent on his web site. Emmanuelle Castillon also suggests to visit a computer's collective memory made up of image fragments.
At last, the Continent exhibitions meant to be a creation of events and several events where organized there as artists performances, discussions and on October 7 a big party gathering people from the two cities at the same time in a different place. We can also underline that such an exhibition is interesting because it allows us to concentrate only on the creative aspect generated by the new media. Nevertheless, we sometimes feel sorry because of the lack of poetry and the coldness of the exhibition space, the different works being separated by partition walls. After all, isn't the cyberspace above all a place for sharing?
The Continent Exhibition
Date: September 8 – October 12 2000
Place: Brussels – Helsinki
http://www.continent-imaw.net
Text and Photo: Julien Villaret
[Help wanted]
Inviting volunteer staff / pro bono for contribution and translation. Please
e-mail
to us.