Urbanworld Film Festival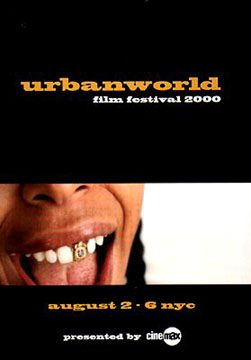 Titled Urbanworld Flim Festival 2000, this was a "film festival solely dedicated to redefining and enhancing the role of minority films in contemporary cinema." Over a course of 5 days, the festival featured 61 films, including 13 features, 20 shorts, and 10 documentaries at the Cineplex Odeon Worldwide Plaza in New York City.
Founded in 1997 by Executive Director Stacy Spikes, this festival has grown to be the largest internationally competitive festival of its kind, with an advisory board with such well-known figures as: Samuel Jackson, Kenneth "Babyface" Edmondo and Andre Harrell.
The Grand Jury Prize winner of the festival was "One Week" which premiered in the U.S., a film about a soon-to-be groom who learns that he may have contracted HIV. Waiting seven days for test results turns out to be the most hectic week of his life. It's the independent films like this one that are rarely shown in major theaters these days. The film "The Visit" was the winner of the Audience Award: a powerful drama revolving around a young man who is visited by family members and a childhood friend which triggers his spiritual awakening and redemption.
"Voice of the Voiceless - the life, the words, the movement" was one of the 10 documentary films shown at the festival. Portraying Mumia Abu-Jamal, a death row inmate whose imprisonment has become an international movement, it's a collection of interviews which explore his career achievements, trials, and movements surrounding the man.

Rei Inamoto From Interfere.