The Salon of objets d'art and furniture titled "Now!" and "Salon de Meuble" was held at two places in the suburbs of Paris. The former was held in Villepinte, close by Charles de Gaulle Airport, and the latter was held in Porte de Versailles located on the southern end of Paris, at the same time.
Let's go to "now!" This salon exhibits the works of Reso Design who has been featured before. It's convenient to take a free shuttle bus from Porte Maillot, Paris. Going away from Paris, a scene of trees that had blow down because of a rainstorm in December opens up before our eyes. Trees without deep roots like cryptomeria couldn't be proof against the wind blowing at 200km/h.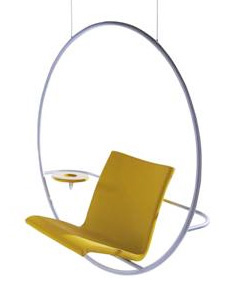 "Now!" is an annual international trade fair and only professionals are admitted. It divides into each area such as decorations, tables and the interior etc. In addition, there are some other special planned sections, a section of sofas and chairs of contemporary design on the pure-white stage, and a section of objets d'art of the latest design. I think there was a problem in displaying the latter section.
I managed to catch Philippe from Reso Design at the place like a huge maze and spoke to him.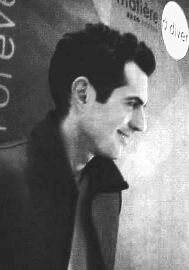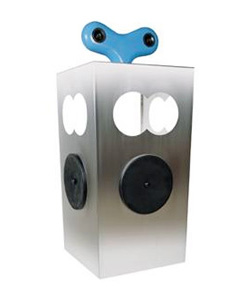 Hello Philippe, how's everything at the salon?
Fine, thanks. I especially had lots of contacts from the press on Friday.
Please tell me how Reso Design was founded.
I founded it just when I graduated from the school. I signed the contract on the day of receiving my diploma. I wanted to make my debut as a professional as soon as I could. I won prizes at some contests and established contacts with some fashion related designers while I was at school, so I already had clients.
How did the name Reso Design come about?
It means wired. It came from reseaux (it means relationship in French). I wished to develop the creation with all sort of people and talents.
On the Reso Design web site, there are some designs of bags along with the objets d'art.
That bag was made for Birger Christensen, a furriery artist in Denmark. I think it's important that the objet d'art makes 'a world' regardless of genres. Just like Planet 8 of "10 diversion".
Please tell me about your future projects.
It was most important for me that Reso Design started the edition of objets d'art. That is, the establishment of the division called "Reso Diversion" to make our original objets d'art and sell them, different from made-to-order. In addition, we will do the exposition at Le Concept Store Jean-Charles de Castelbajac*.
*At "Le Concept Store Jean-Charles de Castelbajac", they invite creators and display their works in their shopwindow and inside of the shop.
At half past 5 pm, got on a shuttle bus for Porte De Versailles to move to "Salon de Meuble". Only professionals are admitted. I inevitably felt like seeing the works of Radi Designers because I have heard that they won a grand prize of this year. I didn't have an invitation, but I told the reason why I wanted to enter in to a guard and then he let me enter in with a smile. So I did come in!
As the closing was getting close, I hurried on my way to the 'place to see' where I've heard in advance. I could find out lots of new talents, to say nothing of Radi Designers. What the most noteworthy among them was the stand of V.I.A.. V.I.A. is an organization doing a mediation for contemporary furniture design, and they are well-known for holding this annual contest as a gateway for rising designers in the world.
The display of V.I.A. consists of 13 exhibits, small-sized liquid crystal monitors located on their side and a large-sized main screen. 3D animations on each small-sized liquid crystal monitor enhances the image of each exhibit and leads us to the world of imagination. That is to say, it becomes a point of contact between 'objet d'art' and 'different dimensional world where objet d'art should primarily be'. When I found out the relationship between those two, it gave me a pleasant shock, just like an excellent artwork.
Le Concept Store Jean-Charles de Castelbajac
Address: 26 rue Madame 75006 Paris
Tel: +33 (0)1 4548 4055
https://jeancharlesdecastelbajac.com
Text: Aki Ikemura

[Help wanted]
Inviting volunteer staff / pro bono for contribution and translation. Please
e-mail
to us.