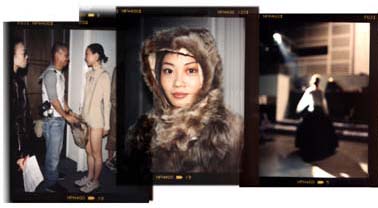 Welcome Gary Mui to the Internet world. He has worked with me on a few projects with Chalk, as a photographer. Last week, Gary and I met up again at the HK Fashion Week. He asked me to shoot some video of the fashion show whilst he was to take some photos as well, clothes from designer William Chan. It was nearing the final stages of the week, so most models looked quite dead. Needless to say, it didn't stop Gary and I to check them doing their thing back stage.
We walked in, both of us with big grins. No response from the models except a few in these pics. So we started our work. I couldn't help noticing the dead silence in the room, as if our lenses have cut off their communication. All I heard were voices from the stylists, mainly swearing, and the "tzz tzz" of the hair spray. The male models in Hong Kong need polishing up, big time. The mixture of street models and glamour models side by side was a bit too uncomfortable for me. One particular model kept trying to do his utmost best to jump in front of the camera every single time I removed the cap. But I managed to dodge him. He figured out after a while and gave up.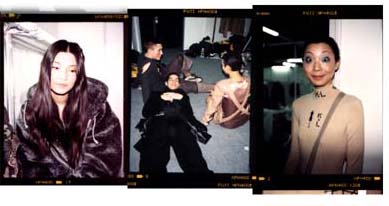 Gary Mui has the suaveness of a successful playboy all male photographers seem to have, in front of women anyway. I kept my mouth shut like most of the people in the room (remember that silence) but you'll always hear Gary's voice talking to some untouchable femme fetale. Just when you think he is not doing his job, his reflexed arm, snatches the perfect angle and feature of the model. Wow. I call that experience. Lucky for me, I can edit this whole film I took, but being Gary, catching that "now" action was his intention all along.
After the show, I grabbed his camera. His attention finally focussed on me. So I got out my pen and asked a few things about him. Same sort of style as all the Chalk interviews I have done in the past.
NAME / Gary Mui.
FAME / Photographer, a horny one.
LOVE / Photographing women, good music, soccer, video games, collecting magazines
WEAR / Now? Street fashion -Oakley jacket, Carharhtt jeans, Adidas sneaks, Seiko watch.
BEAR / Sweating. The huge amount of sweat when it's in the summer at a club.
GROOVE / 80's-Duran Duran, Spandau Ballet. As well as Jazz Fusion, hip-hop. Fave song that comes in mind "Question of Lust" -Depeche Mode.
SOOTHE / Air condition because of my sweat. Iced drink. Ella Q-Shanghai model…
EAT / Chicken, any kind-fried, steam, etc.
CHEAT / High school, argued with teacher, so I smashed the mirror in the toilet, but no one knew.. until now.
GOALS / Successful photographer.
BAD HABITS / Messy, never clean up the home…
DRINK / Ice cappachino, iced tea.
THINK / Day dreaming.
Text: Calvin Ho From Chalk Magazine
Photo: Gary Mui
[Help wanted]
Inviting volunteer staff / pro bono for contribution and translation. Please
e-mail
to us.