Jeremy Hollister is a visual effects artist living in NYC and working mainly for music videos and television commercials. He sent us a videotape. It's a promotional video for the ColdCut track titled 'Music for 18 Musicians' on the Reich Remixed album, and the beautiful visual soundscape fascinates viewers' eyes. He has done a number of promos. We interviewed him about the broadcast design scene in the US etc.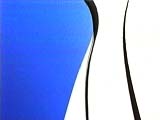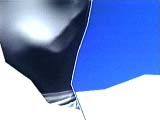 First of all, please tell us who you are.
My name is Jeremy Hollister. I am a visual effects artist and designer/director at Manhattan Transfer Inc. in NYC. I've been here since 1997. Prior to moving to NYC for work I was in graduate school in Chicago.
What mediums are you doing work for?
My work is mostly broadcast and television commercials, I have also done some projects in film and hi-def. For broadcast recent projects have included the redesign of the Sci Fi Channel, HBO promos, and ESPN International. These were very design driven and allowed for a great deal of experimentation. There was also some work I did for Informix and tag, as well as simple and classic typographic animation for a new Mercedes campaign. It's also given me the chance to work with directors such as Simon Taylor, Joan Raspo, Bob English, Todd Mueller, etc.
How and where did you learn motion graphics?
In college I studied political science but got bored with just writing theoretical papers, so I took some traditional animation classes. I've always been interested in time based arts such as music and sports like skateboarding, surfing and skiing. Animation is less spontaneous but similar in principle. After doing many projects using traditional methods I started mixing in editted and found footage, and was very influenced by Emergency Broadcast Network (EBN). Around this time I also started exploring software based editing programs such as Premiere and 3-D software to do graphic compositing.
The real bulk of applied experience has come from working on the job learning from some of the amazing designers that I work with, and those design projects that let me push my limits.
Which personal principles do you follow in creating motion graphics?
It is necessary to approach each design challenge with as open a mind as possible. This lets you come up with the best solution for the product. It's also important to admit that the designer is really in service of the product. That's the trade off. As designers we get to do exciting and fun work but at the end of the day it needs to be appropriate for what is being advertised.
That said, an equally important challenge is to push the boundaries of the medium. American television tends to be very heavy handed in it's goal to appeal to the "lowest common denominator". I find that insulting. People are much more intelligent and sophisticated than what is the stereotype. As a designer I try to create works that have layers of subtlety than stand up to the multiple viewings when shown at every commercial break.
As for actual working process I tend work as I go. Sometimes the mistakes that happen while working produce the best results. I am also quite hands on, an ideal project is to get a brief, come up with an idea either by myself or working with another designer, pitch the treatment, shoot the footage with a director of photography, and then start the actual execution of the design on the Inferno*.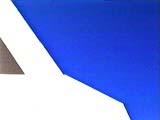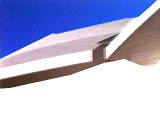 Could you tell us about the video for Reich?
The Reich video was a unique opportunity. The commissioner from the label approached me to do something interesting for the ColdCut track on the Reich Remixed album. He was also very loose about style or direction, basically carte blanc. This was a nice change from restrictions of other more commercial work.
The combination of ColdCut, of whom I am a fan, and Reich who is a major figure both in 20th century American composers and as an innovator in sample and loop based music was appealing. Approaching the song I felt it needed to be minimal and elegant, yet reflecting the electronic 90's vibe of ColdCut's remix. I also wanted to avoid the temptation to overload the piece with too much.
Architecture always fascinates me and I think that modernist buildings such as those by Saarinen and Niemeyer (even though he seemed to a have certain level of disregard for how some of the buildings would work in practical use) are beautiful studies of form and contrast in space. I thought that it would be interesting to explore these ideas of form and space through the live action using different architectural icons, vast spaces and minimal action from the model/actress to enhance this. We used the white fields of color to anchor the visual theme, restricting the palette to white and blue.
The goal was to create an abstract visual soundscape of repeating key themes with slight changes, mirroring the tonal variations in Reich's compositions.
Read more ...

1
2
[Help wanted]
Inviting volunteer staff / pro bono for contribution and translation. Please
e-mail
to us.