Recently, Apple has been on a roll. Since the introduction of the iMac last Summer, this company has turned itself around 180 degrees and has gotten back on its feet. This year, with the introduction of the iBook, an offspring of the iMac, or the "iMac to Go" as Apple positions it, Apple is going strong. Going stronger than ever.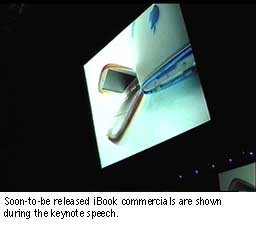 On the morning of the keynote speech by Steve Jobs, Apple's interim CEO, Javits Center was absolutely packed with thousands of attendees. The line, in fact, literally wrapped around the building and the block. The speech, opened by the younger Steve Jobs (impersonated by Noah Wyle, who played Jobs in made-for-TV movie "Pirates of Silicon Valley"), was both entertaining and captivating, not at all short of expectations that the audience had.
Jobs introduced many new products and alike during his speech, such as Quicktime TV, MacOS 9, and Toy Story 2, yet the most fascinating was, of course, the iBook. Designed by Jonathan Ive and his team (it was disappointing that his name was not mentioned), the iBook is not only beautiful and charming, it's fast and powerful (300 mhz G3 processor, 6 GB drive). And it's selling for $1599.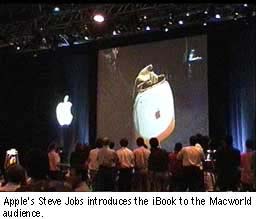 The common theme behind recent Apple computers, besides the translucency and delightful colors, is the handle. While the previous two lines of desktops, iMac and G3 PowerMac, had handles, they did not utilize them as much. Not anymore with the iBook. The handle makes the most sense on the iBook, a portable device that you would want to take everywhere.
Other ground-breaking news from Apple was the introduction of AirPort, a wireless telecommunication device that enables a laptop to become portable in its true sense. Up to now, a user would have had to plug in to a phone jack or an Ethernet outlet to connect to the Internet. With the use of AirPort and its accommodating card installed on your iBook, users can now enjoy being truly unplugged and completely wireless.
Unlike some company who claims its freedom to innovate as an excuse to dominate the market, Apple is trying to come up with products that are not only innovative and ground-breaking but also lovable and irresistible. While doing so, it is changing the course of our lives. Slowly but surely.
Macworld Expo New York '99
Date: July 20th – 23rd, 1999
Place: Jacob K. Javits Convention Center
Address: 429 11th Ave, New York, NY 10001
Tel: +1 212 216 2000
http://www.macworldexpo.com
Text: Rei Inamoto
Photos: Rei Inamoto

[Help wanted]
Inviting volunteer staff / pro bono for contribution and translation. Please
e-mail
to us.