RESfest is a digital film festival in its third year. In each year lots of digital films are collected from all over the world and showcased in various cities. It spotlights the future of filmmaking and continues to grope for new technology with the different approach with any other film festival. We interviewed with Jonathan Wells who is the Festival Director of RESfest and the co-founder of RES Magazine.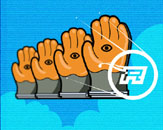 First of all, please tell us who you are.
My name is Jonathan Wells. I am the Festival Director of RESfest and the co-founder and editor of RES Magazine of Digital Filmmaking.
What is RESfest?
RESfest is a digital film festival. All the films that we showcase at the festival have been produced with DV cameras and/or computer editing/effects/animation software.
From the beginning of RESfest we have presented these films at truly unique film centers – not your everyday movie theater. We believe that these desktop productions (many of which have not been seen except on a 15 inch computer monitor) should be seen by many people on a large movie screens with state-of-the-art digital projection.
Beyond the film screenings, RESfest presents panel discussions, exhibits and parties with the goal of building networks and communities of digital filmmakers.
These are the things that make RESfest unlike any other film festival.
This year is its third year. How did the event start?
While RESfest didn't start till 1997, the festival has its roots in an event I co-founded in 1995, The Low Res Film Festival. My former partner (Bart Cheever – now of D.film) and I decided to screen digital movies that we and our colleagues were making around San Francisco. We discovered that people were beginning to make these desktop digital movies all around the world, and Low Res became the first festival dedicated to showing them.
Is there any differences in each city?
In each city on our tour we present the same films, yet it is exciting to see how audiences interpret the films differently. Each city lends its own vibe to RESfest. We do present a panel series, "The Future of Filmmaking" – and we have different guests speakers/panelists in each city. Our opening night parties and events also feature different guest DJs unique to the city we are in.
This year it will be held in SF, NY and LA. Do you have a plan to hold it in other country?
We held our first overseas RESfest in spring of 1997 at the ICA in London in conjunction with the first onedotzero.
We believe RESfest would be very popular in Japan and are currently working on putting something together in Tokyo.
How many submissions do you have at the present stage?
In our first year we had 75 entries, last year we had just over 350. This year we expect to have 500. We are currently seeking digital short films, digital features and interactive work – we've just extended our final deadline to June 15th 1999 – so there is still time for you to submit!
How will this year's event be?
We expect great enthusiasm at this year's tour. After the widespread success and visibility of three digital feature films last year (The Celebration, The Cruise and The Last Broadcast), the awareness and possibilities of digital filmmaking are out there.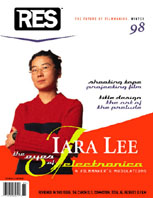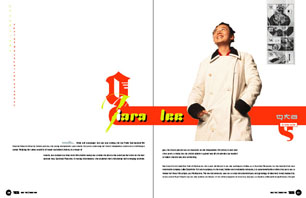 Besides the event, you're publishing RES magazine. What kind of things are you doing there?
I think that the magazine captures the spirit of the Festival on paper. The staff of the festival – John Scalise (Managing Director) John Turk (Production Manager) Colin Metcalf (Art Director) are instrumental in the production of the magazine.
Just as with the Festival we put the attention on the individual artist. Unlike other digital video trade magazines we don't put products on the cover, rather people.
Each issue we profile filmmakers, broadcast and web designers, music video directors and other that are pushing the envelope of the moving image.
Who are the remarkable artists for you?
The 1997 festival featured an exceptional film, "Wood Technology in the Design of Structures" by Eric Henry.
1n 1998 we showcase an equally stunning film, "Roadhead" by Tommy Pallotta and Bob Sabisiton. This film was an animated documentary – AND Bob wrote his own software that was used to make the film!
These two films represent in my mind the types of films that could not have been made without the digital technology that was used. And yet they are not defined by that same technology. This is a glimpse into the future, as more artists grasp the technology and begin to use these tools in ways that no one has imagined.
What do you think about Japan?
I get very excited by all the new digital tools/toys that emanate from Japan each day. What is more exciting though is how filmmakers and artists use these tools in ways their creators could not have expected. Who at Sony would have thought that Thomas Vinterberg would shoot a feature film (Festen aka Celebration) on a one-chip Sony PC7 camcorder, transfer it to 35mm film, and win the top prize at the Cannes Film Festival? I look forward to presenting RESfest in Tokyo (I got to visit several times as a child when my Father lived there) – and seeing innovative Japanese digital films submitted to RESfest!
What will RESfest be like in the future?
The challenge is to stay ahead of the curve. Two years ago few people had heard of digital filmmaking, in the next two years we expect that most film festivals will begin using digital projection to present some films.
RES
Address: 109 Minna st., Suite 390, San Francisco, CA 94105 USA
Tel: 1.415.437.2686
submit@resfest.com
http://www.resfest.com
Interview and Text: Mayumi Kaneko
[Help wanted]
Inviting volunteer staff / pro bono for contribution and translation. Please
e-mail
to us.