This month's cover design is produced by Andy Slopsema who makes beautiful and very subtle stuffs with Flash. You can see them on his own site Combine and also Remedi Project etc.
Andy is based in San Francisco, where things are always moving and new talent like Juice Design and Tree-Axis are being born. etc.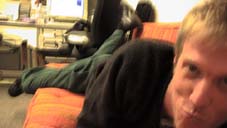 First of all, please tell us who you are.
Yep, Andy Slopsema: Graphic designer, living in San Francisco.
I like candlelight dinners and long walks on the beach… uh..。 just joking.
Can you tell us more about the activity of Combine and combine.org?
Sure, Combine has alot to do with having a place to experiment and deal with things like ambiguity, and information that requires exploration.
We've always seen it as a place to nuture collaboration (combine = bringing together) and that has happened to some extent, but has potential to be much more.

You've produced a lot of interactive designs for Remedi Project, etc. What are your ideas on interactive design and which personal principles do you follow in creating a design?
I'm interested in the idea of exploration (this refers both to the process of creating and the way people experience a piece). I think its interesting to make things that aren't always obvious, and sometimes requires people to play, and in that they can get different things, read things in different ways. Theres no right or wrong, theres no one true read, its about the way you approach it, what you bring to it.
When you made the cover graphic for Shift this month, what did you image?
Oh, I was thinking about "shifting" and how that can be random kinds of changes in things… so something starts some way, but over time it becomes slightly different. I was playing with flash trying to make it "randomize" things. The end result isn't truly random, but gives a sense of slight "shifts" over time (I think).
What are you most interested in now?
I'm working at a place called Construct, and there are all these brilliant people there… designers and programmers.
I think it would be very cool to do some things with these programmers and think about the strengths of other tools (Java) that I know nothing about.
We'd like to ask you about the web design in San Francisco and U.S in general. What's hot at the moment?
Oh, I think Tree-Axis is pretty cool, they just started, and Juice design does really nice stuff.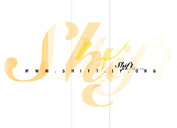 In San Francisco, there're a lot of excellent web development companies. What do you think about you're based in SF?
It's a great place to be. Its a center of activity for all kinds of things, not just the internet or design. This city has the perfect pace… things always moving, but not at the level of insanity, very inspirational.
What do you think about Japan?
I've never been, and I want to go really bad. Its seems to have an a very exciting accelerated energy, and tons of visually interesting stuff.
The last question. What are your plans for the near future?
Take a nap… start a band.
Text: Mayumi Kaneko

[Help wanted]
Inviting volunteer staff / pro bono for contribution and translation. Please
e-mail
to us.