LOT/EK, a New York based creative unit, presents its design installation at CCAC Institute – Tecoah & Thomas Bruce Gallery. Founded by two Italian architects, Ada Tolla and Giuseppe Lignano, LOT/EK (pronounced as "low tech") produces unique environmental systems with their experimental, yet well conceptualized approaches.
At the first presentation in San Francisco, LOT/EK brings "TV Tank," an interactive architectural space made of a recycled waste from 70's – a large, steel tank that used to be mounted on a semi truck to transport gasoline. Set up with black light, the gallery has a relatively dark ambient with a series of oval shaped, human scale cubicles lined up on the floor.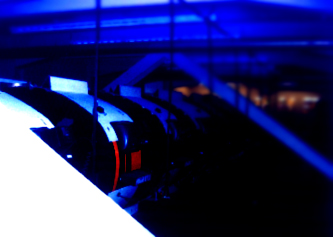 These oval objects, which appear as if the whole structure were a space-age lounge, are actually segments of the gasoline tank sliced into 6 feet sections, creating the cave-like pods where the audience can participate. Inside each pod is equipped with one or two TV monitors mounted on the wall, and covered with a comfortable cushion made of industrial foam tubes where the audience can lie down and experience the visual and audio stimuli from the monitors.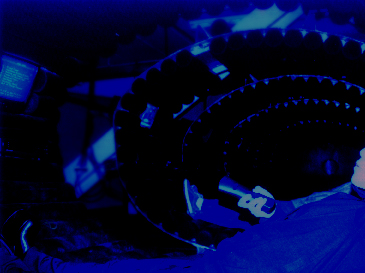 As I entered one of the dark pods there were several CCAC students already lying down and enjoying these cyber chill-out rooms, which could be placed in a next-generation night club. Some appeared to be meditating themselves, or possibly taking a nap during a break from a tough class.
The multiple TV monitors air news, MTV clips, comedy shows, home shopping network, and other vernacular TV programs, and generate flickering lights reflecting on the wall, creating rhythmic and almost hypnotic light sequences. Sinking my body onto the pleasant cushion for a while, I found myself experiencing a slight shift in my perception as the daily seen, ordinary TV programs transformed into a new different medium that brings meditative therapy effects. TV Tank may not be suitable to be categorized as an artwork; it is rather a simulated environment more focused on the interaction with the users and their perceptions.
The gasoline tank used for this project was found and adopted by LOT/EK as it was being discarded as a oversized garbage at a small town near Patterson, New Jersey. Andy Warhol played with the value shift of daily common materials such as Coke bottles and Campbell Soup cans in the 60's. LOT/EK's creative process of infusing new life to dead materials – manipulating the value and the functionality of purposeless wastes – resembles the concept that Warhol once explored on canvas.
LOT/EK: TV Tank
Date: January 16th – April 4th, 1999.
Open: 9:00 – 16:30 (Saturday and Sunday 12:00 – 16:00)
Place: The Oliver Art Center Tecoah Bruce Gallery
Address: 450 Irwin St., San Francisco, CA 94107
Tel: +1 415 703 9500
https://lot-ek.com
Text: Kanya Niijima

[Help wanted]
Inviting volunteer staff / pro bono for contribution and translation. Please
e-mail
to us.