"Between Worlds".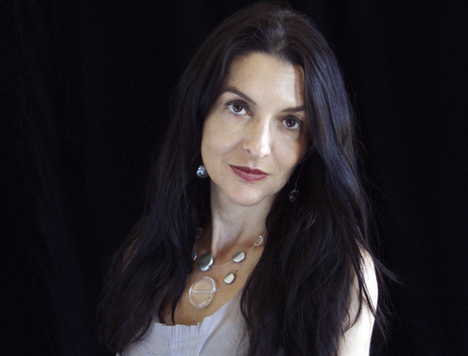 Polixeni Papapetrou is a photographer based in Melbourne, Australia. Her latest series of photographs "Between Worlds" were exhibited at LM D Gallery in Paris in May and June. Intrigued by magical essence that children holds, Papapetrou explores the ambiguities of various worlds by photographing children wearing animal head masks. SHIFT interviewed Papapetrou who revealed her thoughts about photography, children, and Melbourne.
Please introduce yourself including your background.
Polixeni Papapetrou. I was born in Melbourne to Greek parents and have lived in Melbourne all my life. I have been making photographs for about twenty years, but since 2002 my work has involved making images that tell stories about childhood. I started making pictures about childhood because I wanted to express ideas about our culture that are best portrayed through the symbol of the child, but more importantly, I am intrigued by the world of childhood.
The main protagonists in my work have been my two children, Olympia (born 1997) and Solomon (born 1999).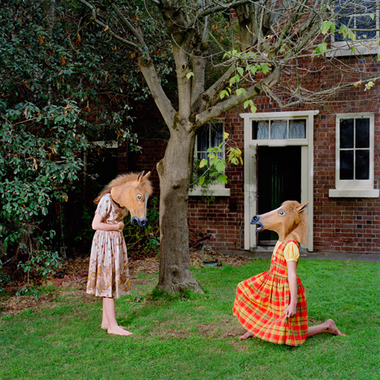 © Polixeni Papapetrou "The Players" (Between Worlds) 2009
When and how did you start your career as a photographer?
Growing up as a child, I was not especially good at drawing and always felt inadequate during art classes so I focused on other academic interests that came more naturally to me. After leaving school, I studied law at Melbourne University and began my professional working life as a lawyer. I worked as a lawyer until 2000. However, while I was a law student I met an artist who introduced me to the world of art and photography. My interest in photography went beyond looking at it and I wanted to start making pictures. I began studying photography as a part-time student at RMIT University Melbourne in 1993, while I was still working as a lawyer. In 2000 I left legal practice to work as an artist. In 2007 I graduated with a PhD in fine arts from Monash University, Melbourne.

© Polixeni Papapetrou "The Harvesters" (Between Worlds) 2009
Could you introduce your recent series of photos "Between Worlds"?
To make Between Worlds, I drew upon some of my most favourite things such as masks, dress ups, story telling, historical art works and the landscape. In Between Worlds I photographed the children acting as animals in the landscape. To realise this idea the children wore animal head masks. I photographed the children as animals for a number of reasons, but mainly to introduce the idea of a 'between space' that children occupy. I see children as being between worlds: between the world of infancy and the world of adulthood. Though in a sense absurdist, I portrayed the children as animals because I see parallels in their worlds. Animals enter our consciousness in mysterious ways and we look at them in order to understand ourselves and our emotional realm. For most of the history of philosophy, it's what we don't share with animals that defines us as human. In a similar way, children are the 'Other' that defines adulthood; and for that reason, children pervade our consciousness, at times adorably and at times threateningly.

© Polixeni Papapetrou "The Ambassadors" (Between Worlds) 2009
I also wanted to explore the idea of what separates human beings from animals and children from adults? The animal/human body is a theme that has been explored in painting such as in the hybridized creatures of Hieronymus Bosch. Indeed, some of the images in Between Worlds were based upon some of paintings that I have long admired whereas other images happened spontaneously while I was experimenting with how to make them.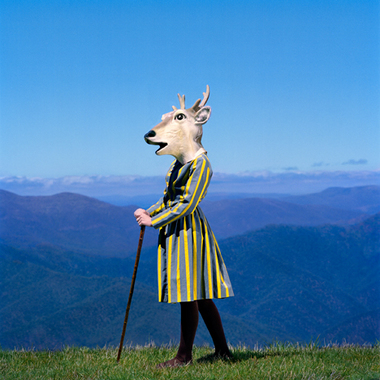 © Polixeni Papapetrou "The Wanderer" (Between Worlds) 2009
For instance, The Wanderer was inspired by Caspar David Friedrich's Wanderer above the sea of fog (one of the most mysterious and inspiring paintings I have seen) and the The Harvester's, was inspired by another favourite painting, The Gleaners, by Jean François Millet. I have always loved Hans Holbein's painting of the The Ambassadors upon which my photograph of two the penguins as The Ambassadors was based and The Caretaker references James Whistler's portrait of his mother known as The Artist's Mother. My photograph ironically becomes a portrait of the artist's child.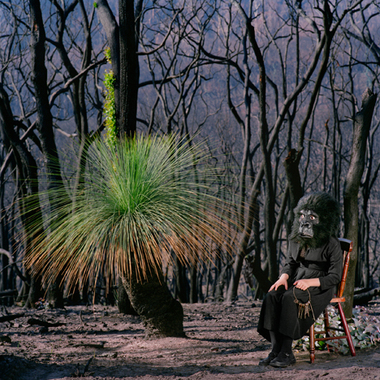 © Polixeni Papapetrou "The Caretaker" (Between Worlds) 2009
In Between Worlds, how did you come up with the idea using various animal masks, hiding faces?
While I was in Tokyo in 2008, my family and I went to the market in Ueno. My daughter saw some horse head masks hanging outside a toy shop and urged me to buy them saying that it would be good prop for my work. I wasn't sure about buying the masks, but because she insisted I went ahead and bought them. When I made a photograph of my daughter and her friend as horses it held a certain mystery for me and I became tempted to explore this idea further. Then I went on quite a search to find different types of animal head masks and also the clothing that these animals might wear if they came to life.
The animal masks have the curious function of enabling the children to inhabit an intermediary position that separates them from adults and human from animal. I like how the mask conceals the identity of the wearer, but also expands the identity as it transforms it. So the mask has the effect of hiding and concealing and allowing the wearer to look both, familiar and unfamiliar.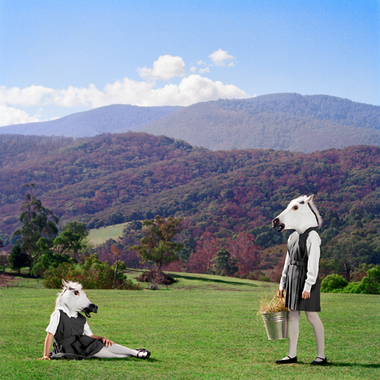 © Polixeni Papapetrou "The Provider" (Between Worlds) 2009
The transformation of identity caused by the masks, creates a shift from the 'real' to the 'imaginary'—both body and photograph transformed and fixed by the mask. The mask cannot be taken off in the photograph and has therefore fixed the wearer with a new identity. We immediately recognize the subjects as children, yet they uncannily present as animals. They have been fantastically hybridized, losing their child identity and adopting the sublime identities borrowed on the terms of the mask.

© Polixeni Papapetrou "The Watcher" (Between Worlds) 2009
I like using masks as they fit into the whole idea of dressing up, theatre and acting, themes that I have been exploring in my work from the very beginning. When you look at my early work of drag queens and body-builders, you can see that I was already questioning how make up can act as a mask in itself transforming male to female identity and how the built up muscles of a body builder can act as a mask over the body that lies beneath.
Also, where did you shoot the photos of Between Worlds and how and why did you choose the locations?
The photographs, with the exception of one, were made in the state of Victoria where I live. Most of the landscape locations I used are within a short driving distance from Melbourne. I selected some of the landscapes because it felt as if they were at the edge of a space or at the end of an epoch—conveying some of the wonder that children might entertain in entering the animal kingdom. I think that the use of landscape in the work allows the image to have a wide range of interpretations and encourage contemplation of where these child/animal beings might live.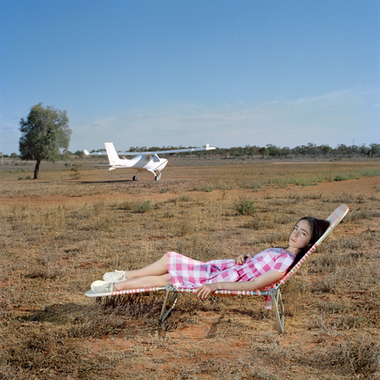 © Polixeni Papapetrou "Miles From Nowhere" (Games of Consequence) 2008
As we can see your past works including Games of Consequence and Haunted Country, you photograph children. Why do you think you are fascinated by children and fantasy stories?
Photographs of children hold a certain magic for me because, when I look them there are things I cannot yet know about them and their future is a mystery. I wonder about the unknowns of that child's future, the unknown experiences and fate that lie ahead for that child. Even before I started photographing my children (now aged 11 and 13) I was drawn to images of children. Having my own children, however, deepened the desire to make photographs about the condition of being a child.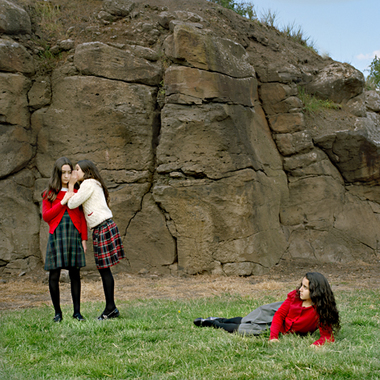 © Polixeni Papapetrou "The Fall" (Games of Consequence) 2008
I started making pictures about childhood because I wanted to communicate ideas about our culture that are best expressed through the child. I like to look at the construction of childhood from a historical and contemporary perspective to understand what the child means to our culture. As a society, we can measure ourselves by our advances in science and technology, but how do we measure the spirit of any society? I think that the child carries the essence or soul of the culture and it may be for this reason that the condition of childhood is loaded with adult desires and expectations and invested with qualities that adults want to see in them (such as innocence).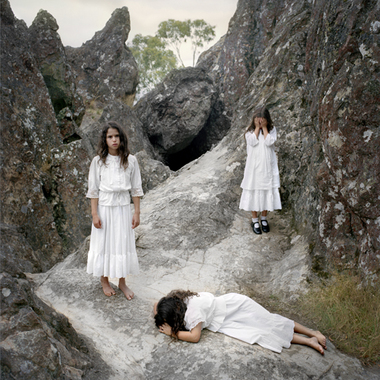 © Polixeni Papapetrou "Hanging Rock 1900 #3" (Haunted Country) 2006
In my photographs I try to create a context within which we can think about the meaning of childhood and our culture. While my work takes the viewer into the realms of fantasy and story telling, it also challenges our expectations regarding the portrayal of childhood in photography. Whether I am drawing upon ideas about the representation of childhood from 19th century photography, such as in Dreamchild (2003) and Wonderland (2004), exploring the power of dress ups as in Phantomwise (2002), revisiting the experience of childhood in colonial Australia as in Haunted Country (2006), reflecting upon a lost freedom and the regulated lives of children growing up in the world today as in Games of Consequence (2008) or looking at what separates human beings from animals and children from adults as in Between Worlds (2009), it is within these ambiguities, that I am trying to fathom the space that children occupy in our under standing and how they might bestride the stage of art. Making photographs about my children and their friends in their various roles and guises, acting and performing, traces a journey of exploration for me connecting myth, works of fiction and my own personal experience.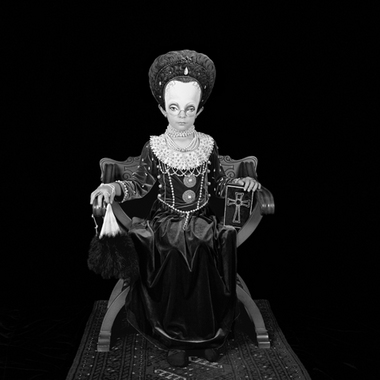 © Polixeni Papapetrou "Elizabeth 1" (Phantomwise) 2003
Could you pick your most favorite fantasy story? And why?
This is a difficult question. I love the European fairy tales because the world and nature are painted as potentially threatening, harsh and cruel. Although the forest has been imagined as sacred and lofty in European imagination, in fairy tales, it can also be a horrible and sinister place. The forest, in fairy tales is a spooky site, but it can also be a place for introspection, development and change. Even though the deep, dark woods represent danger, children may experience the woods as an imaginary haven, as full of psychological autonomy that initiates self-discovery and transformation for the child. So the fairy tales are very inspirational and appealing. If I had to single out a writer, I would choose Lewis Carroll for his imagination, sense of the absurd, play with words and use of logic. I especially love, Alice's Adventures in Wonderland because it is surreal and I think that the story accurately reflects the experience of children growing up in an adult world.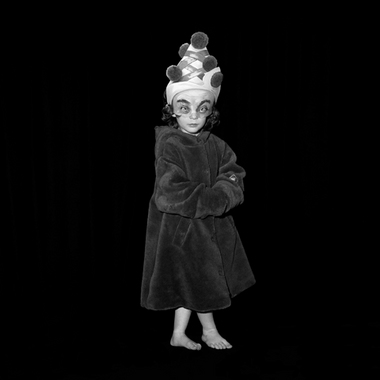 © Polixeni Papapetrou "Winter Clown" (Phantomwise) 2002
What or/and who do you think you get influenced by the most?
I have been greatly inspired by 19th century photographers such as Julia Margaret Cameron, Charles Dodgson (more commonly known as Lewis Carroll) and Oscar Rejlander, all of whom understood photography as performance in the tableaux tradition full of illusion, symbolism, the imaginary, theatre and performance. . Some favourite artists include, Jeff Wall, Cindy Sherman, Joel Sternfeld, Martin Parr, William Eggleston, Diane Arbus and Ralph Eugene Meatyard. There are also films that are totally uplifting and transporting such as Alice in Wonderland (1966, Jonathan Miller), The Others (2001 Alejandro Amenábar), The Innocents (1961 Jack Clayton), The Night of the Hunter (1955 Charles Laughton), Imitation of Life (1959 Douglas Sirk), A Streetcar Named Desire (1951 Elia Kazan) and Andrey Rublyov (1966 Andrei Tarkovsky).
How do you like to live and work in Melbourne? How's is the city like? Please introduce your favorite part of Melbourne.
I can't imagine living anywhere else in the world. I love to visit places all over the world, but I work best in Melbourne. The city is amazing because it is accessible and interesting and I don't have to go very far to experience vast differences in landscape such as the coast, the farm districts or the high country. The landscape varies from wet and semi-tropical in parts to dry and dusty in others. I especially love the old gold mining regions and their surrounds. The variety of the food and wine in Melbourne is also fantastic and I haven't even started on the cultural scene.
What are your upcoming plans? What would you like to explore in the future?
I am embarking upon a new project where the children are again wearing masks, but they pose as adult characters. This work will continue my exploration in using masks as a way of portraying identity. The children inhabit the faces and identity of older people, but they do not become caricatures of adults. Rather they adopt the characteristics of personalities such as those that you would find in a Lewis Carroll book or poem.
Text: Mariko Takei

[Help wanted]
Inviting volunteer staff / pro bono for contribution and translation. Please
e-mail
to us.