You made a patch design as well, did't you?
Kajsa: Yes, this trouser is one of the products we have designed especially for this show. The patch and it shows our fathers.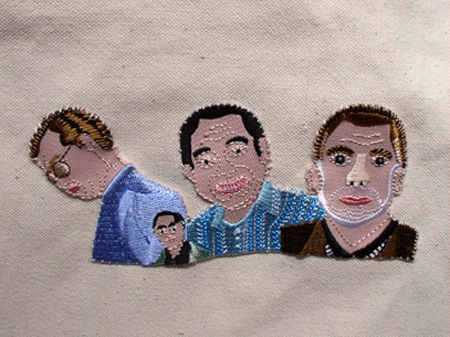 Maki: The reason why we chose our fathers is that if you think about medium of a patch, then the first thing could be Lacoste's logo. It has really a universal power. However, we wanted to go towards the opposite direction and take something, which is not universal, but extremely personal. So we had a choice between mums and fathers….
Benjamin: This is really particular project we collected pictures from our fathers. We sent them to again a man in North of England who is doing then by hands. So he sent them back like this and we didn't really design at all, because it was nice exchange with him. So hopefully, we collaborated more with him.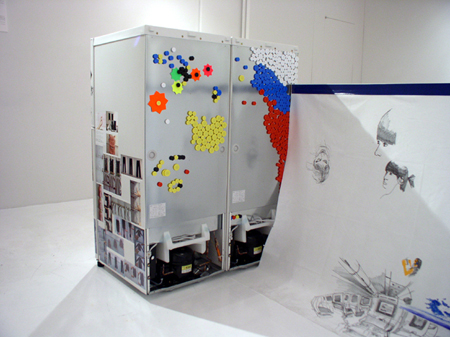 Maki: If we come back to the general idea about the exhibition is that we always find it quite difficult to represent graphic designs or designs in a museum or gallery, because the context is so strong. For example, if you get a rack of sleeves, then you should be at a record shop. That's how you see it. So what kind of thinking how we can represent our work, where will you be satisfied with it. For example, we took our fridge and that is reprospectable but a very small one. But also we limited ourselves to the sticker medium. Normally, we can stick new stickers every now and then on a fridge. But this time is a kind of other way round. We bring a fridge with everything is already in, and the back of the fridge has magnets. The idea is that maybe if someone gets one of the fridges, then there is something, which is in the back. That is a kind of inspiration of the magnet. In order to see this, maybe we need to put a fridge in the middle of the room. It's still functional because it's new fridge.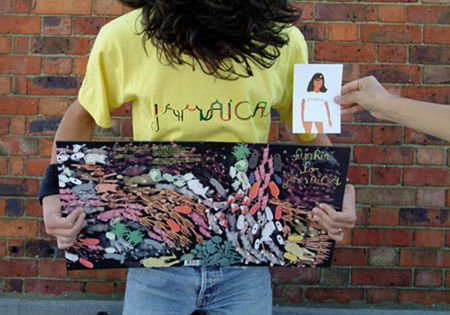 You are working as Kitsune, a fashion unit as well. Please explain us about Kitsune.
Kitsune is Masaya Kuroki, Gildas Loaec and us. Together we established Kitsune in 2001. With Kitsune we are able, because of our different fields of knowledge, to work in music, clothes and events.
Please explain about the cover design that you made for this issue.
We consider the title page of Shift magazine as a modern version of the 1000 origami crane story (Sadako Sasaki). Every time someone will visit the page, we could consider a crane is folded. If 1000 people visit the page within the time it is on line then our peace wish will come true.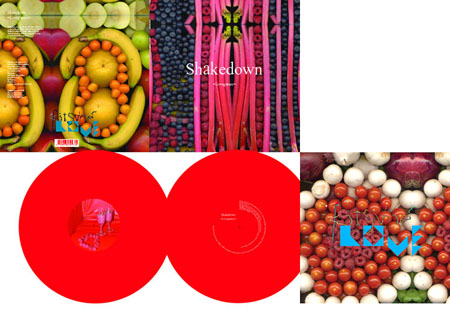 Could you please tell us your future plans and projects?
For the future, we are working with Martino Gamper, a furniture designer on a publication of his projects, as well as working with Channel 4, a British television channel, on a new project which will aim to help emerging artists. We are very happy to be continuing our collaboration with Maison Martin Margiela on the visual representation for Line 6. On our to visit Japan for our show at GAS shop we met very good people, and there is so much we still want to see, we want to visit Japan again in the near future.
Please leave a message to Shift readers.
We have made some workshops with colleges in Europe, in future we would very much like to make a workshop in Japan. If anyone can help us please contact us at a.b.a.k.e@free.fr.

Abake
a.b.a.k.e@free.fr
Text: Ayako Terashima


1
2
[Help wanted]
Inviting volunteer staff / pro bono for contribution and translation. Please
e-mail
to us.