Swedish artist and entrepreneur Karl Grandin is a good old friend of SHIFT who together with Björn Atldax collaborated with us for our curated monthly cover while working at their former design studio Vår back in 2009. Since then, Karl has exhibited his art in a swathe of places internationally developing his remarkable illustration style drawing on mysticism, hypnotism and the supernatural, with a healthy dash of humor. Furthermore, after a stellar career as a designer – creating visual identity for brands such as Cheap Monday, Absolut Vodka, MTV, The Swedish National Television, Amnesty International, Amsterdam Weekly, and many more – he met his current business partner brewer connoisseur Henok Fentie with whom started the Swedish microbrewery Omnipollo. Karl just published his book Hypnagoga which is a visual tour which walks you through his impressive career with its wide range of work to date: art, shows, commercial work, and of course, beer.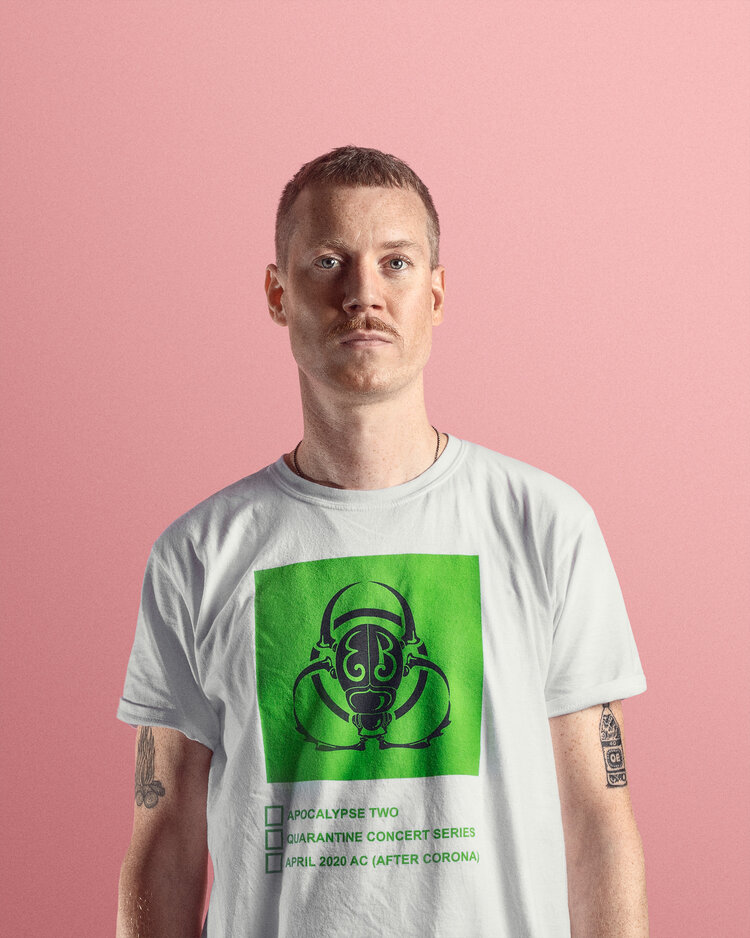 Photo © Linda Ydemar
You started your career as a graphic designer at Vår – your own design studio – which we featured in SHIFT back in 2009! – , for those who have never heard of it, could you please briefly explain what Vår is about?
Vår is the collaborative expression of me and my friend Björn Atldax. We met in the mid 90s, when I was still a teenager, and decided to do some projects together for fun. The initial idea was to work in a playful way and make uncompromising designs, experiment with different expressions and see what came out when collaborating on every single piece. We started out making some sort of 'graphic design' but our urge to draw always sipped into the work and in the end we were mainly doing images and illustrations. We still work on projects together now and then when we feel like it.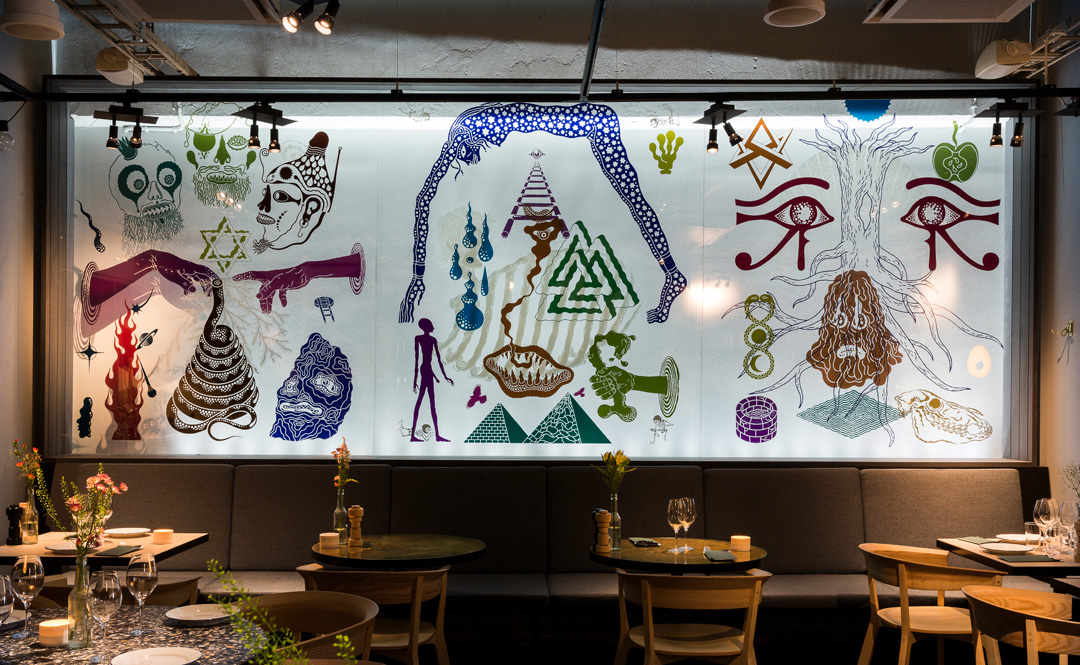 Kosmogonen, Print on layered sheets of glass, 510 × 200 cm, at Hobo Hotel in Stockholm. In collaboration with Björn Atldax, 2017 © Karl Grandin
You have worked with a bunch of great clients including fashion brands, music festivals, record labels, MTV, Absolut Vodka, Amnesty Int. etc. Could you choose just a couple of projects you did during this initial period which you still have great memories of?
Two of my favorites are Gudmaskinen and Kosmogonen, two large art pieces that are installed at Hobo hotel in Stockholm. I also really enjoyed making the annual posters for the Norwegian music festival Hove that we worked on for many years, developing the strange storyline with each new design. The biggest project we worked on together was the branding and design for the clothing brand Cheap Monday, that was quite a ride as well.
Do you still have time to do some work with Vår?
We mainly work separately but I'm sure some new Vår stuff will pop up sooner or later.

Gone, 2014 © Karl Grandin
Thereafter you decided to begin a completely new journey, the brewery Omnipollo. How did this idea come about?
In 2011 a mutual friend introduced me to the amazing brewer Henok Fentie. Our friend is a curator at a gallery and she knew about my art and Henok's brews and thought the two of us should create something together. The first time I met Henok he had recently returned to Stockholm after a year in Belgium and he told me about this strange new beer that he was working on. We ended up spending the whole day talking about art and music and never really stopped. Somewhere along the way the Omnipollo beer brand came into being.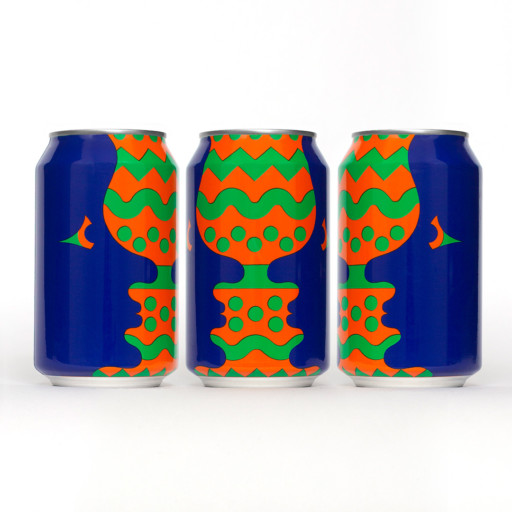 Double Double Double, Rubedo, Albedo and Flashback, three double double double porters. 2019.
As a matter of fact, you have always combined your commercial work with art exhibitions. In this spirit, your art was translated into some of the iconic bottles and cans of Omnipollo. Please explain this vision about merging art, design and commercial work.
I am interested in work that is hard to define and I try to ignore the divides between product, design and fine art. A drawing I originally did for a label might appear in an art show, as a wallpaper or in an animation. I try not to make distinctions between different types of work and instead approach every project as an opportunity to try out something new. When I first create an image, it is often personal and without a defined purpose.
It seems everything you touch turns into gold. You are a very successful artist and businessman. What's the secret? 🙂
Haha, thank you. I think it's a matter of making a lot of stuff and that you tend to notice the successful projects and that the things that are not as good are less visible.
Furthermore, before Omnipollo the brewery, you opened your own pizza parlor in the heart of Stockholm which became very popular, not just for the great pizzas but also for your special and fun pizza boxes with your art on it. Now you sell your beer and pizza in the same place. Is it a lucky coincidence that these go so well together or was there always some kind of master plan behind it?
I try to work with things that I enjoy and that I am interested in. That is an easy way to create art that is honest.
You have Omnipollo Hatt with the pizza, Flora in a central park in Stockholm, and more recently you opened Omnipollos Kyrka, located in a former church. How did this opportunity happen and what is the most special thing about selling beer in a church?
A few years ago I was invited to do a show in a deconsecrated church in Sundbyberg outside of Stockholm. The work in the exhibition was based on artwork that I had originally created for Omnipollo and Henok helped me brew a special fluorescent beer that we served at the opening. While working on the show we fell in love with the building and decided that the church would be the ideal heart of Omnipollo.
This concept of drinking beer in a church resonates with the ideal of worship, mysticism, hypnotism, very much in the lines of many of your art. Would you agree?
Definitely. We have a beer cellar for barrel ageing beer in the basement, the brewery is on the ground floor below the tap room and on the very top floor is my studio.
Read more ...

1
2
[Help wanted]
Inviting volunteer staff / pro bono for contribution and translation. Please
e-mail
to us.