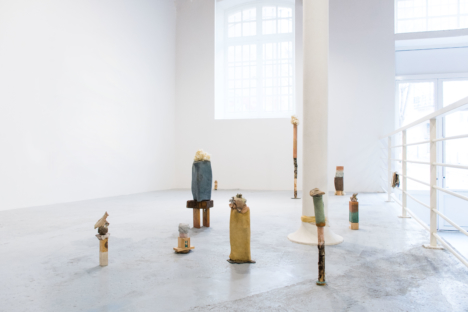 Un paysage de peintures No. 10 : nomade (A landscape of paintings : nomad)
 View of the exhibition Sud Magnétic, Recomposition of series Assemblage made during stays in Clermont-Ferrand, Luckau and Cérilly, Variable dimensions, 2019, Vidéochroniques in Marseille © Masahiro Suzuki
As you are talking about traces, I would like to ask you a question. Your vertical paintings and installation, as the one I can see now in your studio seems to point out a special place and, I would say, to highlight a sort of simulacrum, as a menhir. Is this the function that you give them?
I love this idea! And in some way I can say it is true. My idea is to give autonomy and individuality to paintings. These are probably typical words of an artist, but I have painted and I still paint so much that I reached the idea that painting already existed by itself. I don't want to fall into a spiritual thought, but I think that painting already holds something. It is not a living being, but it has a sort of individuality. That is why I decided to put it on its feet, not to because I look for a confrontation with the surrounding landscape, rather because I research a sort of harmony of shapes.

Peinture debout No. 6 (Stanting picture) 
White cement with white sand and pigments from Roussillon (Usine d'ocre Mathieu), lime, clays from Richeaume and Ste.Victoire, Poudingues de la Galante (marbles from Ste.Victoire), 240×60×60 cm, 2017. Voyons Voir at Domaine du Défend in Rousset © Masahiro Suzuki
Are you artist by vocation, dream or it is your path that brought you to express yourself like this?
The last one. I often meditated on this question. For me art is a human activity. And I reached it with time, throughout my personal growth.
Could you please give us some anticipation of future projects?
It will be a year full of collaborations with other artists, but especially of research and practice. I will participate in autumn to the residency program Shakers in Montluçon and I will work and study with an association that produces vegetal dyes. I want to learn more and deeply about the process of creation of colours throughout natural approaches. As for example the process fermentation that I am experimenting now to produce indigo blue.
Text: Ilaria Peretti


1
2
[Help wanted]
Inviting volunteer staff / pro bono for contribution and translation. Please
e-mail
to us.