At the 29th Stockholm International Film Festival they have continued pushing themselves to bring the most attracting selection of films. The festival has become a window to the world. Almost the half of the attending directors this year were female. This year women have received more attention than ever. Furthermore, this year's winner of the Lifetime Achievement Award is a woman, for the first time ever. It went to Canadian film director Mary Harron, who despite having directed cult film American Psycho or worked on TV series like Six Feet Under, she's better known for telling female stories. Stockholm Visionary Award went to Iranian film director Asghar Farhadi, who have won the Academy Award for Best Foreign Language Film twice – only two legendary film directors did that before him, Japanese Akira Kurosawa, and French René Clément. "It is an honor to receive the Visionary Award," said Farhadi, and he continued "Especially because it provided me with the opportunity to be in Stockholm and to meet and converse with students and cinephiles alike. My best wishes for Stockholm International Film Festival".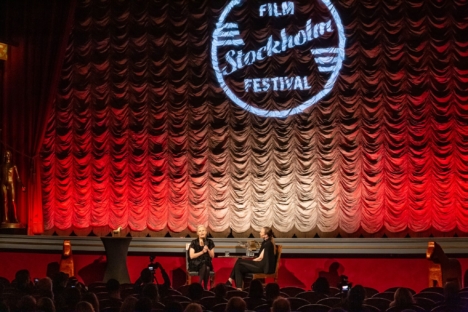 Stockholm Lifetime Achievement Award Winner, Mary Harron Photo: Katriina Mäkinen © Stockholms Film Festival
The winners premiered their latest features also, Charlie Says, where Mary Harron explores the psychology behind the three women who were sentenced to death in name of Charles Manson; and Everybody Knows by Farhadi, a thriller set in Spain. The film opened 2018 Cannes Film Festival and is screening worldwide as you read this.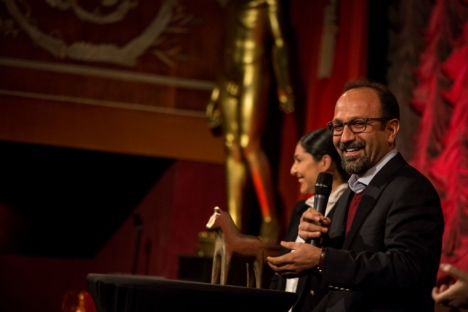 Visionary Award Winner, Asghar Farhadi Photo: Calle Andersson © Stockholms Film Festival
150 films from sixty different countries in the world screened during this twenty-ninth edition. To get just a taste of it, some of the titles which acquired greater attention this year are the already mentioned Everybody Knows by Asghar Farhadi, The Favourite by Yorgos Lanthimos, Wildlife by Paul Dano, Vox Lux by Brady Corbet, and Suspiria by Luca Guadagnino. The "The Lifetime Award is a career prize. The reason Mary is the first woman winning it is because not that many women have a career in film and when you look at her career is twenty-three productions, including TV. We are very proud of that," explain Git Scheynius, Director of the Film Festival.
In addition, the festival screened the new release of Argentine-French film director Gaspar Noé, Climax which in the timespan of a night tracks the journey of a troupe of young dancers, who after drinking sangria laced with psychotropic, they will turn into some sort of collective delirium, paranoia and hysteria. The movie was filmed in fifteen days, one single location and chronologically. The festival premiered the film with an after party when invited sangria to all their guests.
About the Stockholm Visionary award to Farhadi, Scheynius explained, "When it comes to the Visionary Award, we look deeply into the creativity, the vision that the director has. Rather than looking to his or her latest feature it is more a career perspective. It is hard to judge the vision with one film so we're looking at the career." To illustrate her words, a few examples of previous winners are: Gus Van Sant, Terry Gilliam and Wong Kar.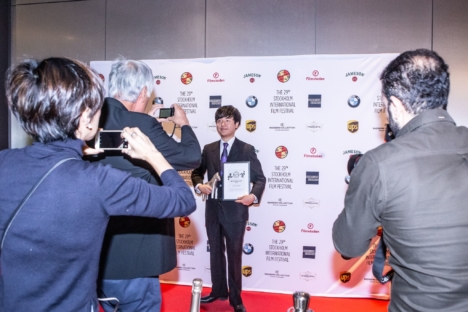 Best Photo Award, Hiroshi Okuyama Photo: Sophia Carrhage © Stockholms Film Festival
The festival is a solid platform for the film industry. Buyers from another countries comes to visit hence many films premiering gain distribution. "Out of 150 films, between twenty-thirty projects succeed and that is a very high figure. We work as a hub try to connect the buyer with the film we really believe in," indicates Scheynius. She continues "For instance one of the most acclaimed movies this year was Jesus, whose director Hiroshi Okuyama is just twenty-three-year-old. He had five sold out screenings, that's amazing.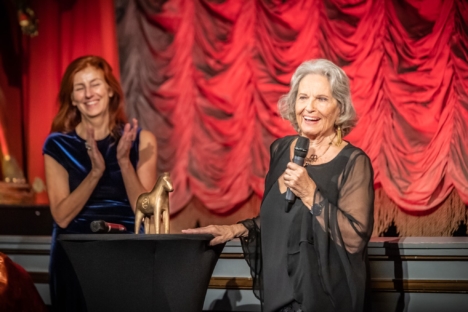 Stockholm Achievement Award Winner, Gunnel Lindblom Photo: Olav Holten © Stockholms Film Festival
Stockholm Achievement Award went to Swedish actress and film director Gunnel Lindblom, who acted for Ingmar Bergman. Some previous winners of the Achievement Award are: Francis Ford Coppola, Jean-Luc Godard, Quentin Tarantino, Susan Sarandon, among others. Capernaum by Nadine Labaki won Stockholm International Film Festival's Audience Award and Best Script. All in all, the festival keeps growing with more public going to the theaters and more international filmmakers invited. Next year the festival will turn 30 years old and it is confirmed it will be some special about it.
The 29th Stockholm International Film Festival

Date: November 7th -18th, 2018

Place: Several theaters in Stockholm

Tel: +46 8677 50
http://www.stockholmfilmfestival.se
Text: Victor Moreno

[Help wanted]
Inviting volunteer staff / pro bono for contribution and translation. Please
e-mail
to us.