NINE JOURNEYS THROUGH TIME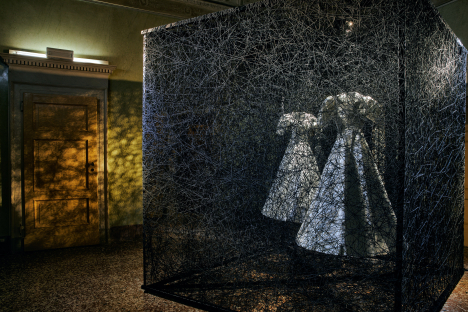 Reflection of Space and Time, Chiharu Shiota, 2018
Chiharu Shiota is a Berlin-based artist who works internationally. In 2015, she was selected as a representative of the Japanese palace for Venice Biennale and participated in the Sydney Biennale in 2016. In this exhibition. she created the large scale installation Reflection of Space and Time, which she wraped Alcantara® rope around a square box of steel like a spider's thread. Inside of the box, a mirror fills one side and a white dress displayed in the box exists as if there are two dresses because of the mirror reflection. She mentioned "It represents an illusion, which misleads viewer that the reflected dress on the mirror is the real dress. I want viewers to experience the moment that they realize the real dress and fake dress." She also commented about her style of making lines with different materials "expression keeps changing because of the quantity of lines and ways of weaving and I cannot see the end while I'm making. I always try to figure out where is the end of each piece."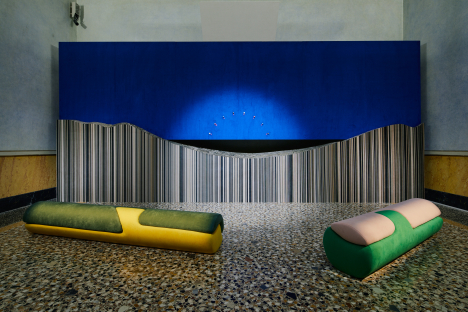 Beyond the Nuclear Garden, Zeitguised, 2018
Beyond the Nuclear Garden is an installation by Zeitguised, which is an artist group in Berlin working with conceptual design and visual art. Based on an algorithm, they created an island of digital anamorphosis with the combination of Alcantara's multiple colored media. In the next room, there is a work with the same title that is a collaboration with the Italian composer Caterina Barbieri and Zeitguised. In both rooms, unstable electronic sounds ring. Barbieri visited a factory of Alcantara in Terni, Italy and recorded a soundtrack based on the sound of different machines. This work questions the relationship between human beings and machine, nature and artificiality, and listener and sounds.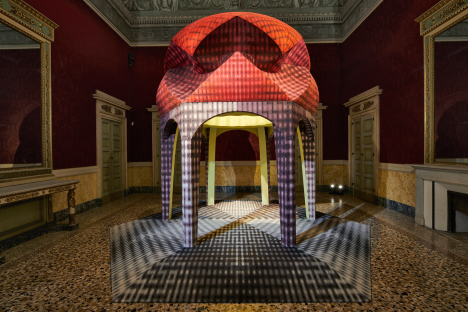 The Temple of Reverence for Knowledge Beyond Human Comprehension, Li Shurui, 2018
The Temple of Reverence for Knowledge Beyond Human Comprehension is a work by a Beijing-based artist Li Shurui who works on a wide range of media and subjects such as space, light, painting, and installation. The temple is constructed from a unique design and optical patterns printed on Alcantara® are used for the overall structure. The complex roof is carefully planned by considering light from the ceiling of the room. Even though it is a temple as artwork, it produces a solemn atmosphere similar to historical and religious buildings.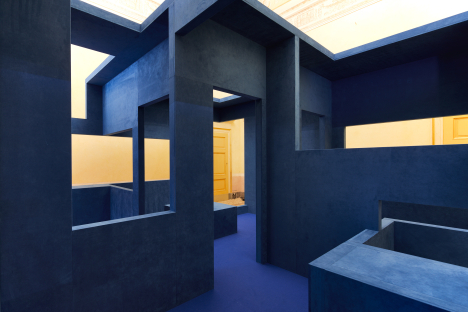 The Work for Alcantara (Blue Chair), Krijn de Koning, 2018
In the last section, there is a room inside of the room. This is an installation by the Dutch artist Krijn de Koning, The Work for Alcantara (Blue Chair). He is known for site-specific work suggesting the impact of space. The space filled with the blue Alcantara® is the last stop of the 9 travels. Doors, windows, and paths of the blue room are overlapped with the actual room and express the architecture of the Royal Palace.
In this exhibition, a contrast between the classical Royal Palace established in the 16th century and 10 contemporary artists and groups, which work globally, create a mysterious space. If these artists have something in common, it is their desire to express through artwork. Honest and simple thoughts of each artist were represented in this exhibition.
The chairman and CEO of Alcantara S.p.A. Andrea Boragno commented "Artists expressed the infinite possibility of Alcantara®. I hope that this exhibition provokes creativity and interest in art and design in viewers."

Nine Journeys Through Time
Date: April 5th – May 13th, 2018
Opening Hours: 9:30 – 19:30 (from 14:30 on Monday, until 22:30 on Thursday and Saturday)
Place: The Municipality of Milan, The Royal Palace
Address: Piazza del Duomo, 12, 20122 Milano
Tel: +39 02 8846 5230
*Free to the public
https://www.alcantara.com
Text: Aya Ono
Translation: Hanae Kawai


1
2
[Help wanted]
Inviting volunteer staff / pro bono for contribution and translation. Please
e-mail
to us.