In 2015 you had your first solo exhibition at the TARO NASU Gallery in Tokyo called "The Day After Yesterday." What kind of artwork was this?
In 2010 I participated in the Artist in Residence program at Aomori Contemporary Art Centre (ACAC – part of Aomori Public University) and I produced an art piece called "Occupants and King in the Configuration Forest." On that occasion I created an installation of a shooting set which I called a "configuration forest" and video screening. The people in the video, and those watching the installation, were the occupants, while the viewpoint of the camera that was viewing the video was a metaphor for the king.
After that, I try to reduce the video so that it can be setup in a small camera, then by trial and error, finally I decided use a 7 inch monitor for showing the video.

"Occupants and King in the Configuration Forest" Video, Installation, 2010 © Michiko Tsuda
That experience was like the original concept for "You would come back there to see me again the following day," although at that time I was using a full-length vertical frame that either had blank panels, or three different types of white panels. The installation was comprised of frames mixed together with a connected video camera and a TV monitor on which it was being livestreamed.
After that I became aware of several things, and I thought "it would be great if the video fitted in all of the frames! To show everything from the ground up is too much, and if you move horizontally it is hard to tell whether it is a mirror in the frame or something is missing, but if the frame was hanging at eye-level then the frame's contents would seem like a picture or photo. Maybe I should try a suspended 4:3 frame!" So the set installation became "You would come back there to see me again the following day."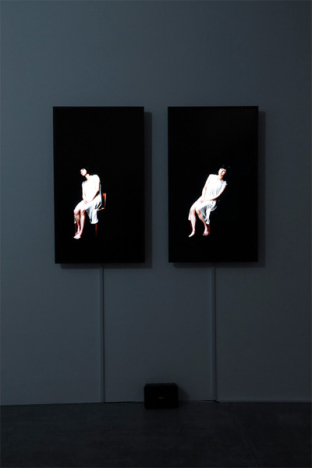 Installation view of "She would come back there to see her again at the following day." Dual Screen Video, 2014, at The Day After Yesterday, © Michiko Tsuda, Courtesy of TARO NASU, Photo: Keizo Kioku
"She would come back there to see her again the following day." was a two screen video artwork with a recording of a solitary dancer's movements shown from a changing angle and when this was looked at on the screens side by side one screen would be inverted depending on the orientation of the dancer's body. You couldn't help but notice that you were mainly seeing the same thing but there was something different being shown on the two screens. At the same time it was impossible from those two viewpoints to really see the details and I thought that it was a piece of work that left a bad taste in my mouth somehow.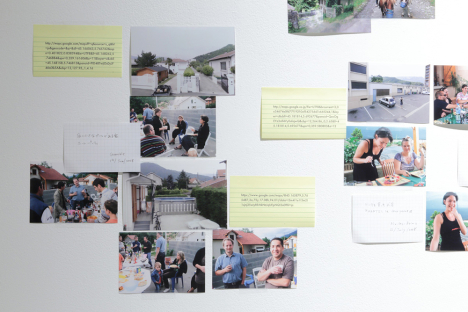 Installation view of "reward" Installation, 2015, at The Day After Yesterday © Michiko Tsuda, Courtesy of TARO NASU
I used a slightly different approach with "reward," which came from a collaborative production with French artist Caroline Bernard. Her mother picked up a dropped digital camera in the forest and she sent me the data in it. France and Japan are separate countries, but we can interact via the internet, including by mediums such as web cameras or with data material which can then be used collaboratively. We ended up talking a lot about pictures from Google Streetview (launched in 2007) which had begun mapping Japan in 2008-9.
So, from Japan I searched on Streetview areas that I had never been to, for places and people whose images had been picked up on Streetview's camera data. One area which had been photographed for Streetview was Grenoble, France, and when I looked at all of the streets of this town I discovered many interesting images like a concert hall that from the outside had the shape of a reflective mountain and a girl who appeared to be celebrating her birthday. Streetview's public images and the private images which the camera had captured were different in origin, but when looked at side by side they seemed to be showing a series of events. In 2010 I completed something like a family album which included Streetview images as well as printed copies of photos from the camera. The TARO NASU exhibition was a bit of a step forward, I had an installation that reproduced the arrangement of "reward" but which included other things that I had found.
Read more ...
[Help wanted]
Inviting volunteer staff / pro bono for contribution and translation. Please
e-mail
to us.