"Culture City of East Asia 2017 Kyoto" is a tri-national event that promotes cultural exchange between Japan, China and South Korea. Rich in cultural heritage, Kyoto was chosen as this year's venue to house contemporary artworks, performing arts, music, manga (comic books), and animation by well-known artists and to host cultural programs. The Culture City of East Asia 2017 Kyoto is held from February to November — from August to November is its core period with the "Asia Corridor Contemporary Art Exhibition", held August 19th to October 15th at Nijo Castle and Kyoto Art Center in Kyoto, as the main event. A wide range of generations of internationally renowned artists from three nations participate in the exhibition and approximately 80% of the artworks were made especially for the exhibition.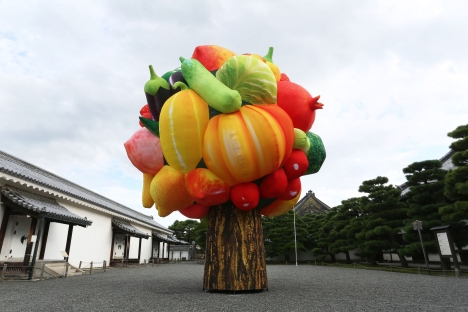 Choi Jeong-Hwa, Fruit Tree, 2015, Photo: Takeru Koroda
Nijo Castle is a UNESCO World heritage site that was constructed by the first Tokugawa Shogunate in 1603. It subsequently housed the Kyoto Prefectural government and later became a villa for the imperial family. "Fruit Tree," (2015) an enormous inflatable sculpture by Choi Jeong-Hwa, presides in the entrance courtyard. Inside the 17th c. building, an oversized daikon, "Nirvana," (2017) by the same artist, references themes in Ito Jakuchu's "Vegetable Nirvana" (1792). Entering the castle kitchen, "Statue of Venus Obliterated by Infinity Nets (Y)" (1998) by well-known Yayoi Kusama contrasts against the building's 17th c. architecture. From there the exhibition continues into a mirrored room by Kimsooja, passes through a mock-up that reproduced the president's office of a fictitious state "Xijing (west city state)" in "Chapter 4: I love Xijing — The Daily Life of Xijing Presidents", (2009) by Xijing Men, and onto a field of ceramic figurines on the floor, "Void" (2017), by Sawako Tanizawa. The side rooms have mixed-material video installations by hyslom, BISEIBUTSU – Leaving Where They Stand (2017).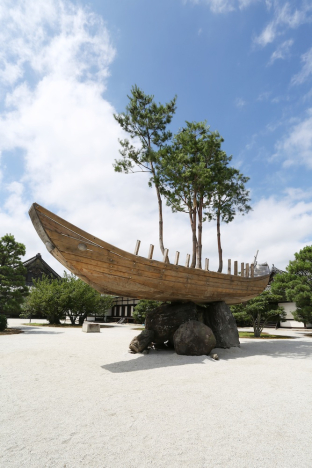 Cai Guo-Qiang, Bonsai Ship: Project for Kyoto Culture City of East Asia 2017, 2017, photo: Takeru Koroda
In the outdoor courtyard, Cai Guo-Qiang's "Bonsai Ship: Project for Kyoto Culture City of East Asia 2017" (2017) continues on Culture City of East Asia 2016, Nara's nautical themed outdoor pieces. Culturally significant to East Asian countries where ocean travel exposed cultures to each other, this piece aptly fits the concept of this exhibition. The vessel, poised on large boulders with three pine trees growing out of the top, references an ink painting by the artist. Choi Jeonghwa's "Air Air", composed of red and green plastic strainers used in the kimchi making process, is exhibited in the garden of the castle kitchen.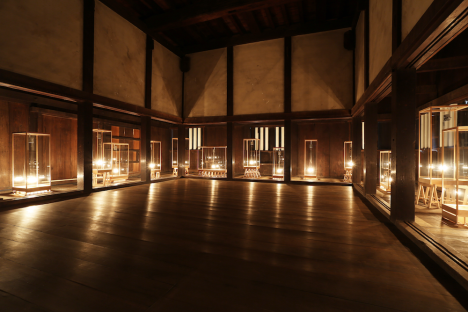 Tsuyoshi Hisakado, Gale, 2017, Photo: Takeru Koroda
After the exhibition by Tsuyoshi Hisakado in the Tonan-sumi-yagura (South East Tower) which is usually not open to public, the exhibition continues on the grounds of Nijo Castle's Honmaru Palace: stark white, seemingly flash frozen fluid sculptures by Ham Kyungah, along with wooden assemblages by Nobuhiro Hanaoka, contemporary embroidery by Zon Ito, and floating glass orbs by Ritsue Mishima in the castle moat.
Read more ...

1
2
[Help wanted]
Inviting volunteer staff / pro bono for contribution and translation. Please
e-mail
to us.