KARTELL AND MAORI ART BY GEORGE NUKU: THE NEW DESIGN FUSION
As one of Paris's main design hub, the 17th edition of the Festival of Design D'Days returned to the capital, in May, with a program that encompassed everything from exhibitions to free events attracting 14 600 visitors gathered around this year's edition theme: games! The Musée des Arts Décoratifs was the main venue for festival goers who could enjoy the 15 exhibitions praising the beautiful and useful through materials, spaces, savoir-faire, technology. All thought of in the spirit of play and discovery.
For Shift, the twelve days design festival was an opportunity to check out the "Kartell and Maori art by George Nuku: The new design fusion" exhibit in Paris, after its display in Milan. The project is curated by Carolina Orsini and Iolanda Ratti, conservators at MUDEC – The Milan Museum of Cultures –, with the assistance of Sara Chiesa and in collaboration with Elisa Storace, curator at the Kartell Museum.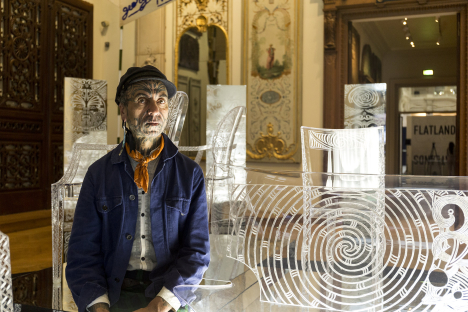 Kartell, Designer's day, George Nuku
The unexpected encounter between the Italian editor and the Maori artist surely offered an instructive and eyed-catching discovery to anyone not familiar with the Maori culture. Twenty-five pieces of Kartell furniture and accessories had been masterfully engraved by George Nuku to blend the Rococo and Maori styles. More than a reinterpretation of previously edited pieces by Kartell, the iconic pieces of furniture seemed to have been worked by George Nuku as exquisite canvas expressing his Maori culture highlighting the importance of Nature, Maori divinities and the cult for ancestors. The sophisticated transparent plastics had been embellished with meaningful graceful forms.
In a nutshell, the exhibit was inviting the public to enjoy what could be experienced as a philosophical and mystical poem at work indeed.
The artist who uses all kinds of materials like shell, stone, bone, wood or plastic, explained that he lives "a genealogical relationship" with himself and with the materials, including plastic he is famous to work with. He reminded that plastic is derived from materials found in nature, such as natural gas, oil, coal, minerals and plants and that they are very ancient. "Plastic is my ancestor," he insisted. For the artist, making sculptures is about revealing the nature of each material indeed. "Oil contains nature, like you contain Nature. You and I contain Nature. For me, plastic contains Nature. Plastic is a proof of divinity. When you look at it, you can look at two qualities: one is light, the other is water. We need these two things to exist. They are the sources of life, which means plastic is sacred. All is sacred or nothing is sacred. For the artist, in-betweenness is not an option: "You can't say I love this baby and I don't love this one, this is evil. It's contrary to life".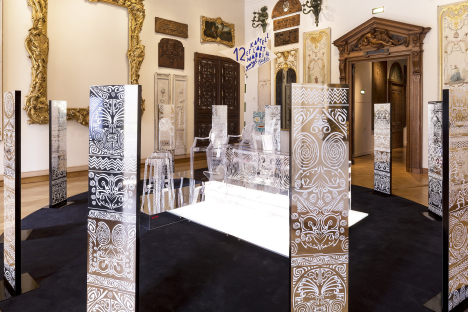 Kartell, Designer's day, George Nuku
Light is an essential element of his work and plastic is ideal. "Plastic is transparent and translucent: we can see each other in a different way through it. Sometimes, we are starring like stars on earth like George Clooney! We are made of this light. You can't escape it", as he came to a down-to-earth conclusion. About the pollution aspect of the material that could be seen as a contradiction to the ecological interest of the artist, his answer is crystal-clear: "we are the cause of pollution, not plastic". He further explained that for him "the pollution is sacred. The way we are now looking at pollution shows that we don't know how to even look at it. I take the plastic and I make it into this beautiful one piece. Because when we are in front of beauty, we can't take our eyes off it. It's about making the most beautiful things out of the most repulsive ones. The iconic pieces are made out of a material we don't value. We are the cause of pollution, not plastic".
Read more ...

1
2
[Help wanted]
Inviting volunteer staff / pro bono for contribution and translation. Please
e-mail
to us.