'Retrospective' is an exhibition conceived as a choreography of actions that will be carried out by performers for the duration of the exhibition. These actions will compose situations that inquire into various experiences about how we use, consume or produce time. This exhibition employs retrospective as a mode of production rather than aiming to show the development of an artist's work over a period of time. It seeks to recast the material from the solo choreographies in situations with live actions, where the apparatuses of the theater performance and the museum exhibition intersect.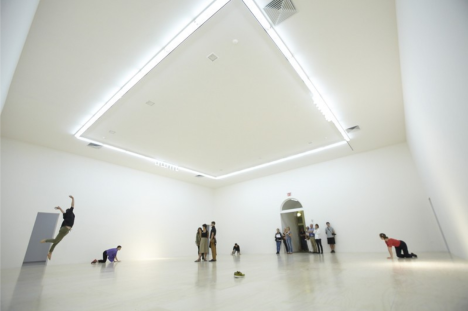 Xavier Le Roy "Retrospective", 2016
Based on solo works by Xavier Le Roy created between 1994 and 2010, the work unfolds in three time axes: the duration of the visit composed by each visitor, the daily basis of labor time of the performers and the time of the growth of a new composition during the length of the exhibition.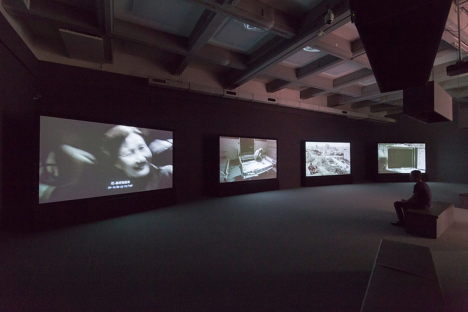 Chen Chieh-Jen "Realm of Reverberations",2014,Four-channel video installation, 23′ for each loop
The background for Chen Chieh-Jen's most recent series, Realm of Reverberations, is the Losheng Sanitarium, a complex of structures established to house victims of Hansen's disease, opposition to the appropriation of its land for use as a maintenance depot by the Department of Rapid Transit System of the Taipei City Government, and the more than 10 years of history of the Losheng Preservation Movement. In 2014 after seventy percent of Losheng buildings had been seized and demolished, Chen began filming this four-channel video based on the perspectives of different individuals: aging sanitarium residents, a young woman who had accompanied residents, a hospice nurse from China who had lived through the Cultural Revolution before coming to Taiwan, and a fictional character—a female political prisoner living in Taiwan from the period of Japanese colonization to today. Through these perspectives, Chen questions whether past events that seem settled actually ever end, and if they might set off multiple dialectics or other divergent imaginaries?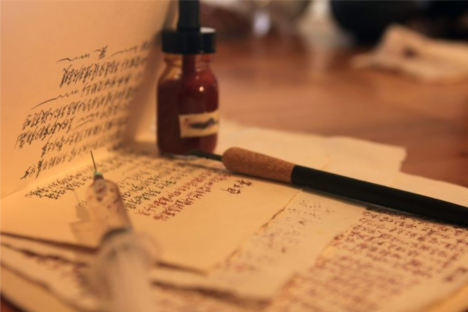 Kuo Yu-Ping "Autonomy",2016,Mixed media installation
Kuo Yu-Ping undertakes a reinterpretation of the text by re-transcribing the book with her own blood, and explores the multiple contemporary transformations and configurations of the ethical and technological derivatives of modernism. She collects and records events and objects encountered in the process of her execution, and the side-effects that accompany non-medical blood collection. In addition to self-archivalization, she also creates a faint narrative that links together the individual, the family, and the nation. The work reveals an individual "free will" that implicates not only modern scientific medical concepts, but also the set laws and contracts between the individual and the nation, and ethical relationship between the self and the Other. 
Taipei Biennial 2016 aims to not only create an art environment to all kind of people to go, regardless of their field, also an opportunity for all visitors to get resonance and sparkles after having discussion, thinking and appreciation of artist's works. It starts from September 2016 to 5th February 2017, please grab a chance to visit.
Taipei Biennial 2016
Theme: Gestures and Archives of the Present, Genealogies of the Future
Curator: Corinne Diserens
Date: September 10th, 2016 – February 5th, 2017
Place: Taipei Fine Arts Museum
Address: No. 181, Section 3, Zhongshan N Rd, Zhongshan District, Taipei, Taiwan
Tel: +886 (0)2 2595 7656
Organized by Taipei Fine Arts Museum
http://www.taipeibiennial.org/2016/
Text: Cindy Tai
Translation: Peggy Yumei Lee
Photos: Courtesy of Taipei Fine Arts Museum
Associate with FLiPER

[Help wanted]
Inviting volunteer staff / pro bono for contribution and translation. Please
e-mail
to us.