Espace Louis Vuitton Tokyo in Omotesando is currently exhibiting Pierre Huyghe's "Untilled Host". Huyghe is a leading contemporary artist. Born in 1962, he is currently based in both Paris and New York. Two video pieces from his collection housed at Fondation Louis Vuitton, which collects contemporary artwork and organizes exhibitions, are featured in "Untilled Host".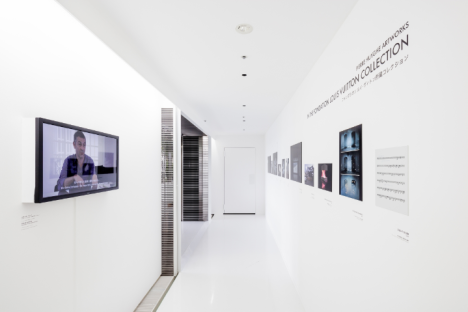 Pierre Huyghe "Untilled Host" Corridor © Jérémie Souteyrat / Louis Vuitton
Upon arrival at the venue, the staff explained that the first piece is 20 minutes long and the second piece in the back is 2 hours long, and both are on loop. After hearing how long the videos were, I considered not viewing the pieces. But I could not leave empty-handed, so I decide to go through with it. I stepped into the exhibition space.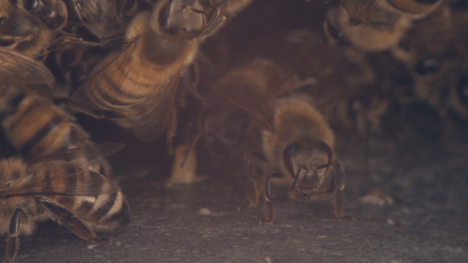 "A Way in Untilled" © ADAGP, Paris 2016
The first piece "A Way in Untilled" (2012) was screened at dOCUMENTA 13, and is a video of an installation exhibited at Karlsaue Park in Kassel, Germany. It focuses on a nude sculpture and follows the story of the flora and fauna developing around it. The piece starts with countless bees filling up the screen. The amplified buzzing of the bees vibrated throughout the venue, directing the viewer to a different perspective — that of a small insect. The swarm of bees does not fly into an apiarist's box, but for some reason, one by one, the bees land on the sculpture. Shots of the sculpture's thigh and stomach are shown, and strangely, the visuals of the bees crawling along its body transformed the inorganic statue into something seductive. However, when the entire figure came back into view, I was dumbfounded; the bees had created a nest covering the statue's entire head.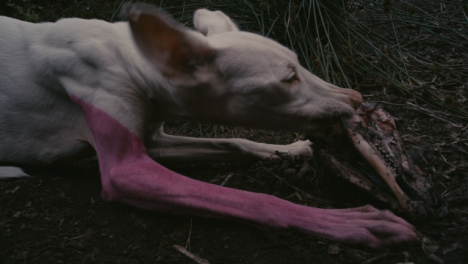 "A Way in Untilled" © ADAGP, Paris 2016
This strange scene reminded me of a description by anthroposophy founder Rudolf Steiner. He has written on the relationship between food and its influence on the human body, and considered honey as important nourishment for the brain. He claimed that the temperature of an active beehive is the same as that of the human brain. When I looked into this previously, this turned out to be true; though the temperature was a little higher for Japanese bees compared to western ones. Huyghe elegantly portrays mutts and insects digging into a rotting corpse around the active beehive/brain. It is common knowledge that beehives are easily influenced by their surrounding environments, so the existence of bees often acts as a yardstick to measure the state of natural environments. This nude sculpture ties together this characteristic of bees and our brains.
Read more ...

1
2
[Help wanted]
Inviting volunteer staff / pro bono for contribution and translation. Please
e-mail
to us.