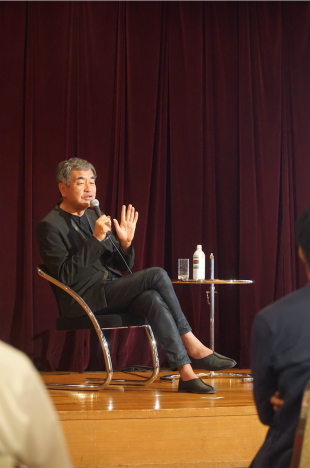 ASUKA DESIGN WEEK "Asuka Meeting" Kengo Kuma, Kashihara Jingu Kaikan(Kashihara city)
Kengo Kuma who is going to design a main stadium for Tokyo Olympics and Paralympics in 2020 talked about the relation between tradition, pioneer, and design. Architectures by Kuma are seen in the world now and those attract people to visit the place. He explains his works as "architecture connected with city and earth".
What he thinks important for public facilities is "creating spots where the region leads people". The architecture of Scottish Design Galleries, V&A Museum of Design Dundee which will be completed in this year is not only a "museum" but also a "plaza" where people experience various culture programs even in the long sever winter period.
Kuma always used for local airport and stations for his design. He walked around the town and talked with local people. This fieldwork creates "architecture which is necessary for people". There is sometimes a project with huge budget and the client often sends information materials and video to him saying "we want it complete soon so don't have to come here all the way". But he always goes to the place to understand something from his experience. This sense makes "ideal architecture" and "exciting architecture" like V&A matched with Scottish climate come true.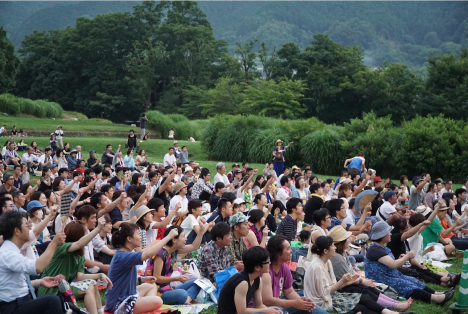 ASUKA DESIGN WEEK "Asuka Music & Story Festival", National Asuka historic park Ishibutai Tumulus Asuka Kaze Butai
"Satoyama" where people lived for about 1,500 years and appearance of temple and shrine give us much inspiration for discussing design. Asuka design week was developed for varied people to obtain rich inspiration from this cultural climate. Asuka's icon, Ishibutai Tumulus made in 7th century is a tomb of aristocracies who had extreme power. It is now a huge grass park where people enjoy seasonal landscape. Free pop music live, Asuka Music & Story Festival was held there in the end for trial of reviving the landscape.

ASUKA DESIGN WEEK "Asuka Music & Story Festival", GAKU-MC, National Asuka historic park Ishibutai Tumulus Asuka Kaze Butai
Japanese rapper GAKU-MC showed "rhythm for dancing together" and "song for singing together" to the all generation on the green field. It gave people happiness in the beautiful evening.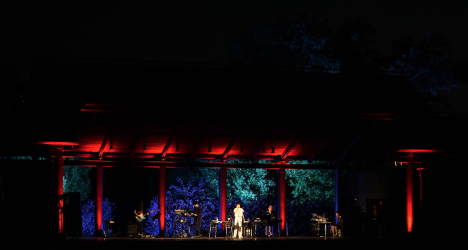 ASUKA DESIGN WEEK "Asuka Music & Story Festival", Salyu, National Asuka historic park Ishibutai Tumulus Asuka Kaze Butai
The live was handed over to the woman vocalist Salyu on the magically lighted stage in the darken forest. Yo Hitoto and other musicians respect her as "Most talented singer in Japan". Her melodious voice attracted all at the venue so much that people called for an encore for 30 minutes after the live and even though it had shower during the last song. The festival was closed with touching and comfortable live.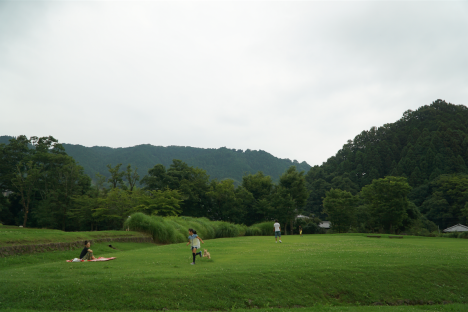 National Asuka historic park Ishibutai Tumulus
Asuka area is where Japanese leading creative people want to have much conversation. The beauty of Japanese Satoyama culture that has been brought for 1,000 years is condensed there. You only see the image of capital of 1,500 years ago through tumulus, stone and Buddhist statue left in the shrine. However as the location tells it was the first international city, nature environment where people comfortably lived has been inherited to farm filed and forest. Not authority but hands of people have protected the temple and shrine.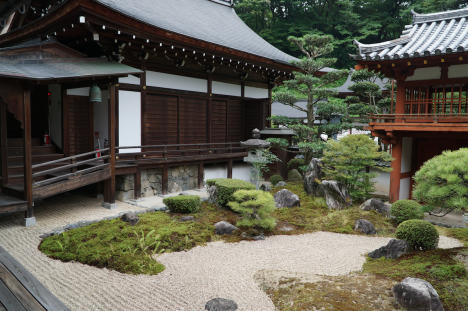 Oka Temple
After Japan's economic growth, much development has been seen everywhere and life became convenient. People have protected historic landscape of Asuka area. Regional people and business men like Konosuke Matsushita who is the founder of Panasonic encouraged to make special law: Asuka law for protecting Asuka village and its continuity. Now protection and succession of cultural climate has become trend.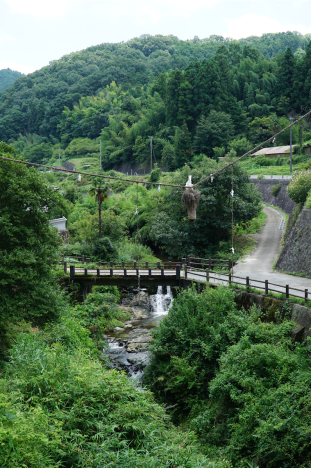 Asuka Village
Asuka area is consisted of Kashihara city, Takatori machi, and Asuka village. People can visit the cultural landscape and feel the climate, which have been protected with history, only in 1 hour from Osaka or Kyoto. People can visit the scenic area by small electric car, which is available because of the high-tech experiment and also rental bike. Why don't you consider this area for the next destination for understanding Japan more deeply?
Asuka Design Week 
2016
Date: July 16th & 17th, 2016

Opening hours depends on programs

Paticipaiting creators: Katsumi Asaba (Art Director), Toshiyuki Kita (Product Designer), Kengo Kuma (Architect), Kenichiro Mogi (Neuroscientist), Yusaku Imamura (Director of Tokyo Wonder Site), Kenji Watanabe (Professor of Keio University, Adviser of Chinese Medicine Promotion of Nara), Ururu Kaigo (General Producer of Asuka Design Week), Akihiro Nishino (Comedian), Novemichi Tosa (MeiwaDenki), Hidetoshi Nakata (Director of Generak Incorporated Association Foundation Take Action Foundation), Yasumichi Morita (Designer), Maiko Kawakami (Actress, Glass Designer), Jun Nakagawa (13th president of Nakagawa Masashichi Shoten), Yoshiko Ikoma (Fashion Designer)

Place: 4 places in Kashihara, Takatori-cho and Asuka-mura, Nara

Organized by The Committee for the Promotion of Asuka Design Week

Supported by Tokyo Design Week, Design Association NPO

http://asukadesignweek.jp
Asuka Design Week Asuka Music & Story Festival

Date: July 17th, 2016
Part 1; 17:00 – 18:00 Akihiro Nishino/one-man show

Part 2; 18:00 – 20:00 Music workshop&live

Perfomer: Salyu (Musician), Gaku-Mc (Rapper)
Text: Tomohiro Okada
Translation: Fuyumi Saito

[Help wanted]
Inviting volunteer staff / pro bono for contribution and translation. Please
e-mail
to us.