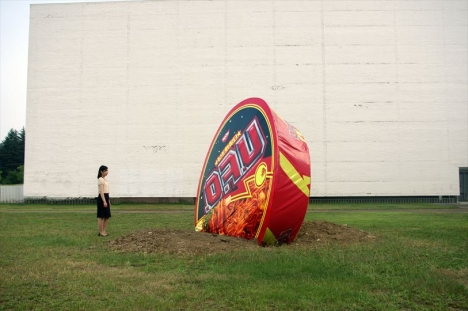 OKAMOTO MITSUHIRO "UFO -unidentified falling object", Exhibition "Bakemono: Monster", Aomori Museum of Art, 2015, 3600 x 3600 x 890 mm, oil based ink on PVC sheet, wood, and other materials
Okamoto: I'll introduce three recent works, and a piece that got me thinking about ties to society. First, I'll talk about "UFO -unidentified falling object" from the "Bakemono" exhibition in Aomori Prefecture. When I went to preview the site while I was thinking about the theme "bakemono (monster)," I heard a rumor that a UFO fell there. It occurred to me to turn the rumor into a piece. I wanted to do a play-on-words, and call it an unidentified artwork. The curator got approval for me to dig on the museum's grounds. Right before the exhibition, we were asked whether or not we needed company N's (the food company that produces UFO noodles) permission. A week before the exhibition, we were asked again, so we consulted Mr. Sakuta, who said something along the lines of, "I can't say, there is no risk, but I wouldn't think it's at a level that would require approval, and considering the role of art museums, it is almost wrong to be in fear," so I have used this line several times since. Thank you for that. I was able to exhibit the piece without checking with company N.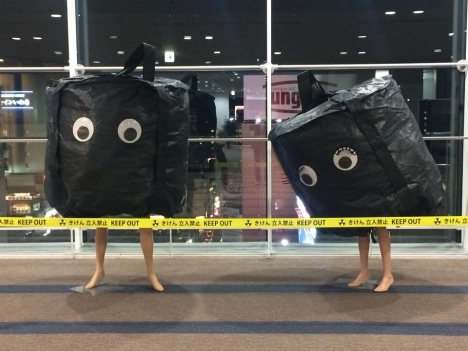 OKAMOTO MITSUHIRO "Morechand" 2015, Flexible container bag, mannequin, "eyeball" parts
Last year, I received an offer from the city of Iwaki in Fukushima Prefecture, and created "Morechand." Fukushima has been on my mind for a long time, but I didn't think I could truly understand the affected people's pain, so I had been avoiding the issue there, but finally I felt like I could face it. I was wary that the people of Fukushima would frown upon "Morechand," but unexpectedly, they were very accepting of the piece. It became popular among kids and they jumped on it, so the exhibition venue put up a fence around the space. It looked really lame, so I put up yellow tape with nuclear hazard signs around it. When I visited Fukushima to preview the site, there were black contaminated waste bags with branches poking through them; everything was really sloppy. I can't imagine that they are containing the waste properly. These (Morechand's eyes) are stickers, but they got stuck on their own, and usually just blew off easily by the wind. (Looking at Mr. Sakuta) It's okay, isn't it?
Sakuta: The stickers were blown off. That probably doesn't count as destruction of property.
Okamoto: I want to work hard next year as well, and make "Morechand" a popular character. I thank you all in advance for your support. The third piece is from my residency in Germany. It was right around the time the Euro was introduced. I planned something called "Euro Ring," creating rings by drilling holes into German coins, but this was an illegal act without question. Exhibiting this at the arts center was out of the question. But my advisor at the arts center supported my case, saying, "art stands above politics, economics and the law. I'll take responsibility, so let's do it." That was an eye-opening experience, and one that I think has brought me to where I am now.
Sakuta: That seems very German. There's a key point being made there. Saying that the wind blew those stickers off (Morechand's eyes) or the whatever-it-takes attitude artists have—and I think this applies not only to artists but also to exhibition organizers as well—acts as an anchor for when artists deal with taboo subjects. Regarding "Pika," can you tell us how it became a problem, including the production process?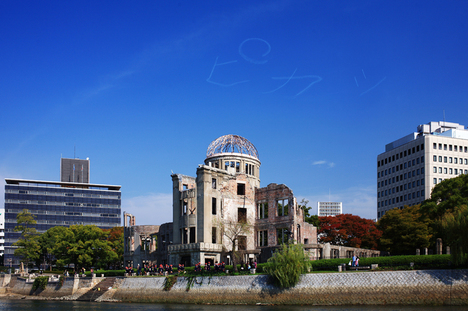 Chim↑Pom "Making Hiroshima's Sky Pika" 2008, © Chim↑Pom, Photo: Cactus Nakao, Courtesy of Mujin-to Production, Tokyo
Inaoka: We received the grand prize for an open-call exhibition at a museum in Hiroshima and as part of the prize, we were able to exhibit there the following year. We could have negotiated the terms for planning "Pika" with several people beforehand, but the museum curator didn't think the city would approve the plan — and since the plan doesn't cross any legal lines and it will only take a moment to do it — we decided to carry it out guerilla-style. The next day, there were complaints sent to newspapers and they published an unbelievably well-shot photo taken by a local housewife, so this instantly became a bigger issue. Skywriting almost disappears as the letters are formed, so it was also really surprising that a housewife got such an amazing shot of it. Right-wing organizations were calling in and we had to make a public apology in the end.
Sakuta: You were forced to apologize?
Inaoka: Stating it like that can be misleading. We had anticipated that this piece would make some people uncomfortable. We talked about it as a group and thought it was wrong not to apologize, just "because this is art." Art couldn't be used as an excuse. It's just not the case that "we can do anything, because it's art." We wanted to explain our intentions and the work itself and to seek a way to reach a better understanding with others. Therefore, we weren't apologizing for carrying out the entire piece, but we were sincerely apologizing for neglecting to inform survivors in advance, as well as their families and others involved who were made uncomfortable. 
Sakuta: I saw an online article on this, and the newspaper heading read: "Appealing for peace — artists draw with plane."
Inaoka: It's not like we stated that we wanted to make an appeal for peace during our public apology. I think the newspapers had an image of the story that overpowered what we wanted to say. It wasn't just "peace" we wanted to address, but that's what they wrote in the end.
Sakuta: After the apology, you made many contacts with the local community. Were there tangible outcomes other than the book?
Inaoka: The exhibition in Hiroshima was cancelled, but we held several exhibitions when we returned to Tokyo. We even had survivors of the bomb come and give talks as well. At the exhibition held in Harajuku (Tokyo), the survivor who came to give a talk was a very charismatic figure of the survivors' group. There were a lot of young participants there who usually wouldn't go to a talk by a survivor of the atomic bomb, so the speaker was really touched that so many young people came.
Sakuta: That must have been a big event for Chim↑Pom.
Read more ...
[Help wanted]
Inviting volunteer staff / pro bono for contribution and translation. Please
e-mail
to us.