On January 16th 2016, a talk event titled "Art given Out: Artists fighting their ways into society. How to proceed Art" was held at Aoyama Book Center in Tokyo. The event featured two artists who have been creating works that reflect the current social atmosphere, and have also been challenging existing perceptions of values and societal norms.
Led by art management expert Tomoki Sakuta who supports artists, Kyoto-based contemporary artist OKAMOTO MITSUHIRO and Motomu Inaoka, a member of the artist collective Chim↑Pom, discussed requests for changes that their works have received in the past, their exhibitions that have been taken down and cancelled, as well as new works that they have undertaken after facing such adverse conditions. The job of Japanese curators covers a range of tasks, but their position does not allow them to take the blame for exhibitions. Okamoto and Inaoka create works as artists, but the two also hold their own exhibition spaces and are expanding the spheres in which they can contemplate on activities without self-imposed restrictions and on collaborative exhibitions.
Among the 50 or so participants who gathered at the venue, some described the talk sessions — which triggered great laughter at times — as "the most entertaining dialogue I've ever attended." Witnessing the sincerity with which the two artists delved into the discussion topic also prompted audience members to commend the two, some stating that "although it's frustrating to be told that you're 'out' by blithe individuals, it's impressive how these two have gained new allies and developed further from such experiences."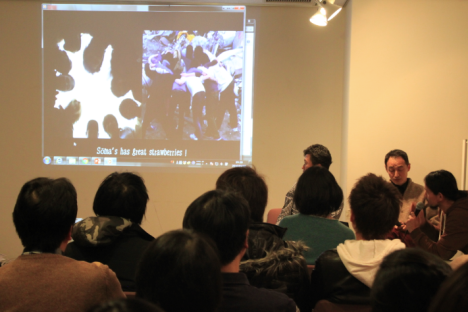 "Art given Out: Artists fighting their ways into society. How to proceed Art" at Aoyama Book Centre, Tokyo, 2016, Photo: Shoko Nakamura
Sakuta: I set up "Arts and Law" in 2004, mainly to support artists from a legal aspect. Along with Arts and Law, I've also been managing grants programs for various organizations as well as curating exhibitions. I've also been interested in regulations in the arts, so I've been researching that from a cultural policy perspective. The two speakers we're introducing their works as artists, as today's exhibitors, but they are also active as curators. Another point they have in common is that through their own experiences with self-regulation in such activities, they have come to hold spaces that they manage and where they organize exhibitions and activities without censorship. Please introduce yourselves while we look at your work.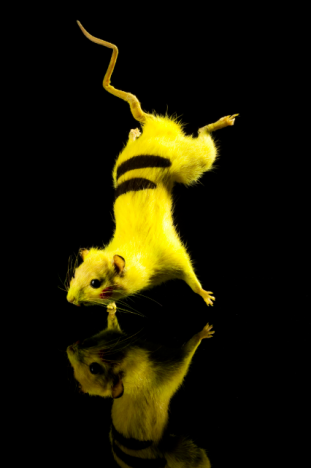 Chim↑Pom "Super Rat" Video (02'53″/02'28″), 2006/2011, Taxidermy rat caught at Shibuya Center Street © Chim↑Pom, Courtesy of Mujin-to Production, Tokyo
Inaoka: The first exhibition at the gallery was "Super Rat" (video of members capturing rats is played), which is a video piece showing all of us catching rats in Shibuya. The caught rats eventually became taxonomies of "Pikachu." Other pieces included a video we made called "Black of Death" where we gathered a massive group of crows at different iconic sites in Tokyo. "Super Rat" was introduced in several magazines, so it's been misunderstood as a simple commercial piece. The publisher Shogakukan even sent us a certificate of contents letter.
After March 2011, we made consecutive pieces that (took up) hit upon nuclear power. We made this piece called "Ki Ai 100 (100 cheers)" by creating a huddle with local youths in Soma City, Fukushima Prefecture and cheering 100 times. There was no script for this, so you can hear participants' true feelings from time to time, like "I want friends," or "I want to eat good fish." Towards the end, you can hear thoughts on radioactivity and even "fuckin' nuclear plant." We invited these youths at a local market right before filming, but they were all good kids with high spirits. It isn't exactly related to nuclear power, but prior to this we also created a piece in Hiroshima dealing with the nuclear bomb, called "Making Hiroshima's Sky Pika" where we skywrote "pika (flash)" over the Hiroshima Peace Memorial. We had originally planned to show this in Hiroshima, but it became an issue in the production process, and we had to cancel it. We apologized to the atomic bomb survivors' organizations, and had an opportunity to converse with survivors afterwards, through this opportunity we learned a lot of things we wouldn't have, just by creating the piece. It is an important piece for Chim↑Pom.
Sakuta: The process afterwards became a book.
Inaoka: It's basically out of print, since we haven't reprinted it. We did test runs (to skywrite letters in the sky), but this is the only instant in which we actually wrote letters in the sky. We were checking the weather forecast for days, and we were also looking at wind and weather conditions on the day; this was really a one-shot deal.
Sakuta: What is your role within Chim↑Pom?
Inaoka: My role is to produce the paintings and exhibitions. I usually don't talk or explain the concept of our works; I'm part of the implementation crew.
Sakuta: And with "Ki Ai 100 (100 cheers)"?
Inaoka: I was in the huddle, cheering with everyone.
Sakuta: Mr. Okamoto, I'd like to ask you now. 
Read more ...
[Help wanted]
Inviting volunteer staff / pro bono for contribution and translation. Please
e-mail
to us.