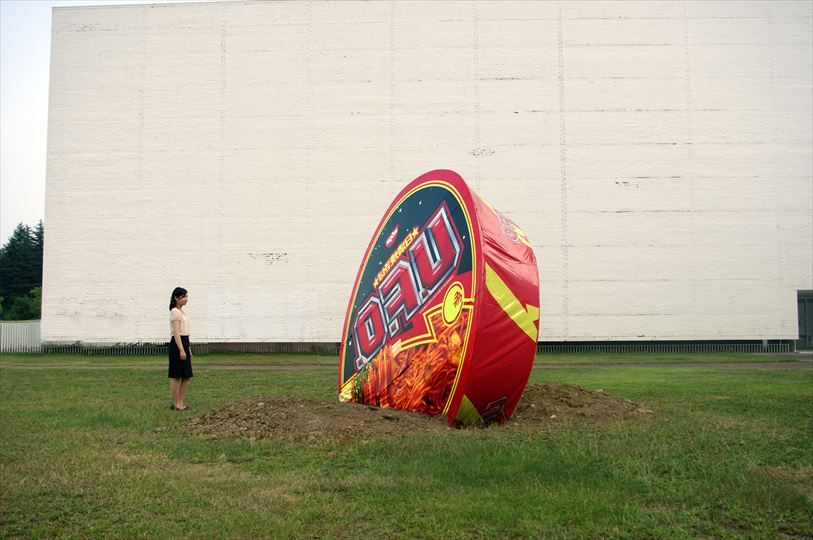 One of the most outstanding artists who challenges the social and copyrights problems is OKAMOTO MITSUHIRO. You might laugh with his works at first glance. For example, "Morechand" from the contemporary art gallery "eitoeiko" in Art Fair Sapporo 2015 makes us feel something beyond description, if you know the concept of the work. His works have background which is beyond the edge and makes people shut their mouths without even thinking. Many people are shocked by his works. We interviewed with Mr. Okamoto about his popular work in several years ago, his latest work and project.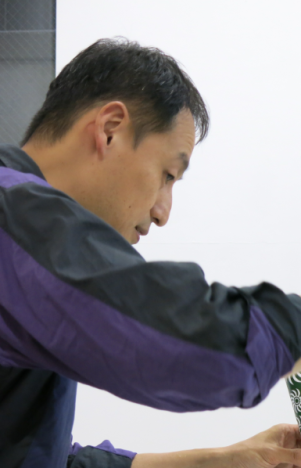 Firstly, please introduce yourself.
I was born in June 9th, 1968. I've participated various programs during I stayed in India, Germany and so on. I sometimes stayed at my expense and produced works. I've been an artist for 26 years and also a director of the gallery Kunst Arzt in Kyoto for 4 years.
Why did you choose to become an artist?
Because artist can show what people can't see in both terms of social and spiritual.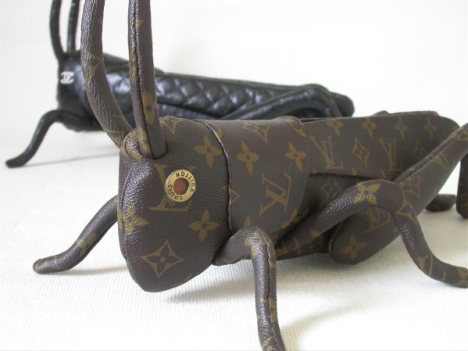 "BATTAmon" 2007, sewed with coated canvas of high brand
After graduated from Shiga university graduate school, you transferred to the The Art Students League of New York. How come did you choose New York and that school?
If I had to work as a part time worker to be an artist in Japan, it would be better to be so at the genuine field, I thought. I also heard Art Students League could issue visas smoothly. I'm not saying it badly but it's very hard to become an artist in Manhattan for one of the minorities like me because I hadn't graduated from art school nor had any connection with anybody. Furthermore, fortunately, I had chance to participate with the multiple production of minimal grid by Sol LeWitt and help maintaining his sculpture in the Oldenburg's office without knowing theirs greatness. Those experience were given because of New York.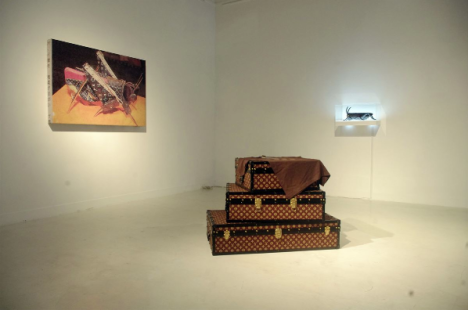 Right: "BATTAmon", Left: "BATTAmon no BATTAmon" printed an article of Dec. 1, 2012 Asahi Shimbun on canvas, Exhibition "Utsuwa to Ustushi" Kyoto Art center, 2015
"BATTAmon" was removed during the exhibition in Kobe Fashion Museum in 2010. Louis Vuitton claimed as it may encourage counterfeit and piracy however, oddly enough, they launched an object sewed in the shape of grasshopper, which was designed by English. How did you feel or analyze about this incident?
I was surprised because mine was not allowed to exist but they dared to cover it. I rather wanted to see more amazing work that my work would be totally erased with their financial power. My work couldn't rest in peace. Since it was my personal opinion, I tried letting people judge. I put "BATTAmon" and the image of grasshopper by Louis Vuitton : printed an article of Asahi news paper on the canvas together in the exhibition "Utsuwa to Utsushi" at Kyoto Art Center, December.
Read more ...
[Help wanted]
Inviting volunteer staff / pro bono for contribution and translation. Please
e-mail
to us.