Hyper Knit Creator Saki Chikaraishi who create works from small works which fit in your hand to large and powerful works like which conquer a city with a really charming smile. Her knit works more "create something new" than "knit installation." She knits with colorful yarn into familiar scenery and familiar things. Sometimes she conceals xiaolongbao made by knit in a dim sum seiro (steaming basket), or knits yarn to headset in the plane as if play comical pranks. Regardless of their size, her works rich in playful spirits give us "attachment" or "a tender glance" for the place and things. And then, they slide closer to our heart and remind us a sense of the childhood before we can use language well. I had an interview with her who joined "CowParade Niseko" started from July 1st as an election artist and stayed and created works in Niseko.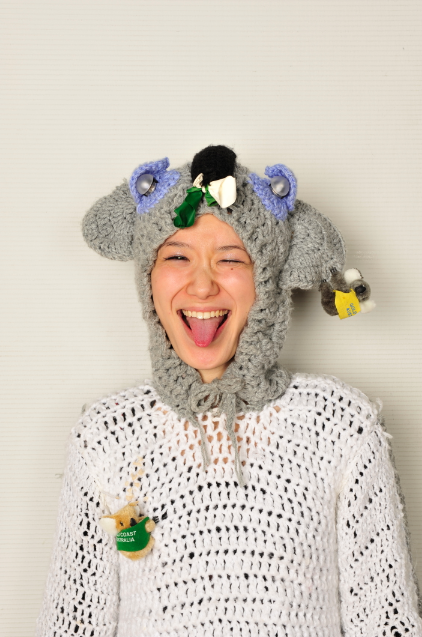 Saki Chikaraishi, Photo: Kazuhiko Tsuchida
First of all,please introduce yourself.
I was born in 1982. I'm a Hyper knit creator handle knitting as media of communication. I create installation knit cities or space and wrap them up under the theme of connecting the world gently. Graduated from department of Information Design, Tama Art University, Tokyo. Honored with the Grand Prize at the LUMINE meets ART AWARD 2014.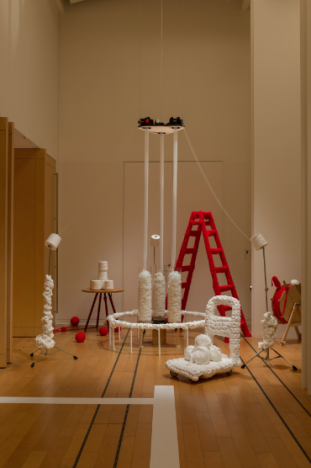 Installation "Knit Invader," Exhibition "ICC Kids Program 2014 Inspiring Questions – Questioning Inspiration," NTT InterCommunication Center[ICC], Tokyo, Variable size, Materials: Yarn, knitting machines, motors, etc, 2014, Photo: Kosuke Natatsuka
Please tell us about the title of "Hyper knit creator."
It means "I don't create what comes to mind when you hear KNIT," but I have not hit upon the title by myself.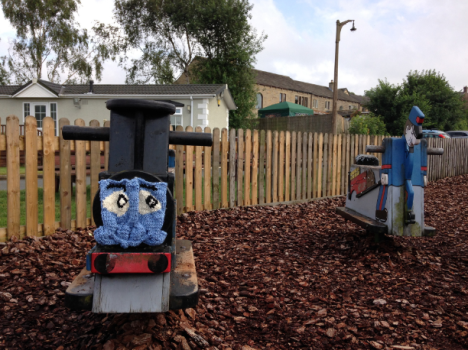 Project "Reality and Fantasy", York District(UK), 2014, Photo: Saki Chikaraishi
Have you used to being exposed to knitting since you were small? Please tell us the reason why you decided knit (wool yarn) for the way of communication.
I came across the knit in Spring vacation in 2003. I was third year university student. I've handled knit as a communication media and then carried out creative activities since 2009 that when I attended Artist-in-residence program in Australia. First, knitting is known by everybody of the world. Things which we imagine when we hear knitting conclude contents that are important for communication like "warm" or "connect." Characteristic of the techniques are flexibility and extemporariness. And they change any shape fit anything. During I stayed in Australia, I didn't have a lot of time so I always had woolen yarn and a needle, and I wrapped some familiar things by knitting and sewing in gap time. For example, driftwood which roll to the beach or chair of the downtown. Then, they changed sight and reactions from the people around them came to me immediately. No matter we can't understand each languages, knitting is common thing and everyone can imagine about it. So my works make us get along with each other. Also, this chain of extemporariness was so pleasant experience for me. Knitting has such properties so showing quickly in public view is more desirable than creating silently in house.

Project "Reality and Fantasy", Tokyo, 2012, Photo: Masafumi Maruyama
When I knit and wrap features, I observe their shape and size carefully, and I complete it while connecting the knit a few times in the middle. This is as it were, communication with the feature and me. Works what was born from them is connected other people, or connect people and people, or connect people and city. Like single yarn getting bigger and shaping plane surface by knitting, I hope various things connect through my works.
What kind of work "Manglobe" (2004) that was occasion of your knitting?
That was an interactive work of terrestrial globe. That was terrestrial globe made by knit, and its each continents has eyes, and when some people come, they blink them.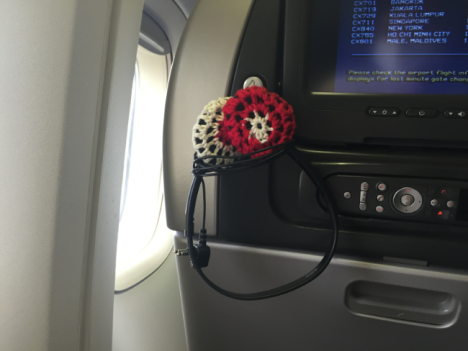 "Traveliving Project", Hong Kong, 2014, Photo: Ventola Milk
Please talk about "Traveliving Project" in a yamucha's steaming basket or headset in the plane and so on, your works has the sense of fun like "search for mistake" or "(familiar) hides behind casually." It is interesting but what's the concept? A kind of your lifework?
It's life work. Sometimes they has no concept. I knit with motifs I was inspired from features of the area or their living, or I knit from the shape of the object on a whim. For example, this staying in Niseko, I knitted things around the city little by little and wrapped it, but I knitted with flower motif somehow for a few days after going to Niseko cause there was actual nature there. One day I witnessed Ezo red fox, since then I tried fox knitting. I let knit Ezo fox emerge in the downtown.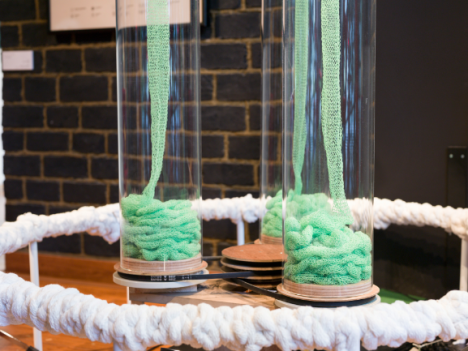 Installation "Knit Invader", Exhibition "COSMIC GIRLS", (marunouchi) HOUSE, Variable size, Materials: Yarn, knitting machines, motors, etc, Photo: Gosuke Sugiyama / Gottingham
My activity base is Tokyo, but when I go for a trip, I think that my senses feel sharper more than the daily life in Tokyo. And while traveling, I think "I might never come here anymore" so I am seized with feeling "I must do it here!"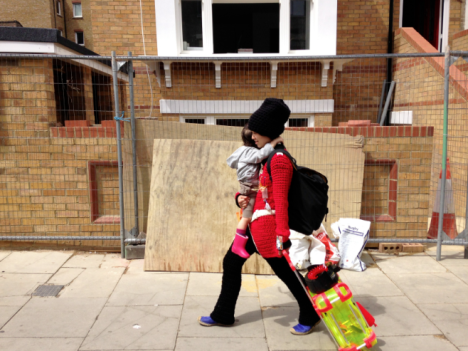 "Traveling Knitting Machine Project", London & Lake District & York District(UK), Machine body size: 31 × 80 × 24cm, Materials: Yarn, knitting machines, prastic, etc, 2014, Photo: Saki Chikaraishi
"Traveling Knitting Machine"'s machine looks like suitcase at a glance. Can it seriously make knit just to go down, and to roll it on foot? Please tell us your feeling for the project.
It is usually rare that I knit and wrap person, but this knit wrap some person's arm or neck. I wanted create works only by my moving cause I don't have a lot of time due to parenting, so I started the project. Knit is made when I roll this, and the length of the knit is proportional to the distance that I moved.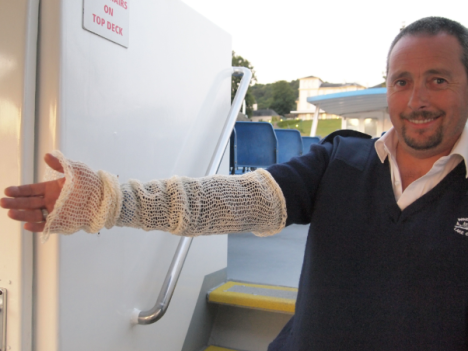 "Traveling Knitting Machine Project", London & Lake District & York District(UK), Machine body size: 31 × 80 × 24cm, Materials: Yarn, knitting machines, prastic, etc, 2014, Photo: Saki Chikaraishi
I walk around with the machine, if someone says me "what is this!?," I present for him the knit which was made by then. And I have him wrap his arm or neck or anywhere he likes. The concept is taking the person to the another place and connecting the person and place.

Project "Reality and Fantasy", Tokyo, 2014, Photo: Kosuke Natatsuka
You often do installation at outside. What kind of woolen yarn you usually use?
Yarn's material are various. I often use neon color.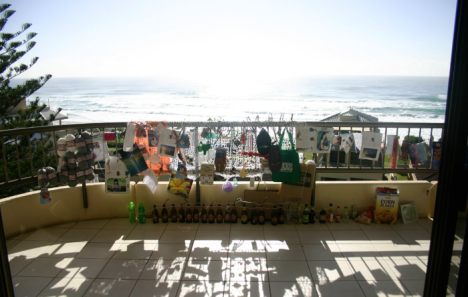 "Traveliving Project", Gold Coast(AU), 2009, Photo: Saki Chikaraishi
What have you become interested in recently?
I always would like to knit and wrap bigger object. I would like to knit some area but not a building or other single object. I want to try it at the Olympics in 2020. I want to invade athletic facilities'selves and a town of Tokyo during Olympics. I don't require having my own scenery in wrapping by knit, but I wish they individualize good points and the characteristic of the town. Invasion is knowing the city for me. And I want to watch what kind of relationship are born from the city and the person or person and a person in the unusual scenery of knit magic. But I can see the scenery only during the Olympic games cause it dues to magic. Though it is small and vain, it is always stay in the memory of the person who came there. I want to provide foreign and local people comes to Tokyo for such experience.
If there are person or phenomenon you affected, please tell me.
Mr. Shinro Otake. I really like him. I should create as many works as possible! I don't think, but just create!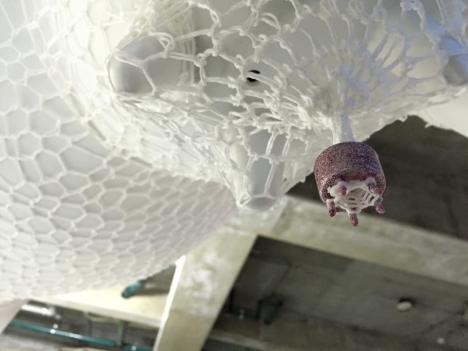 "Knitting Cattle Mutilation", CowParade Niseko, Niseko(Hokkaido), 2015, Photo: Saki Chikaraishi
Your work of "CowParade Niseko" you join now based life-sized cow made of the glass fiber. What kind of work is it?
I wrapped it by knit. Like cattle mutilation style. A small UFO conquers a cow from breast, please do not overlook it. I knit together.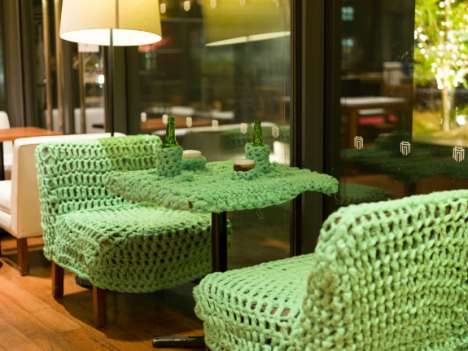 Installation "Knit Invader", Exhibition "COSMIC GIRLS", (marunouchi) HOUSE, Variable size, Materials: Yarn, knitting machines, motors, etc, Photo: Gosuke Sugiyama / Gottingham
Please tell me your new project or planning about works.
I joined media art festival "AMIT" and invaded the area of Marunouchi, Tokyo. I'll do my best at the project to knit an area like that. Also the project for the Olympics earlier. I'll keep using "Traveling Knitting Machine" for life. And I would like to make a new knit suit for my performance soon. I'm planning some exhibitions in Kansai area this summer for example, in Amagasaki, Hyogo from July 25th and at Takashimaya in Kyoto. Another exhibition is now being held in the Utsukushigahara Kogen Museum of Nagano until November. I do hope you will come. The details on information will appear in the top page of my official site at any time.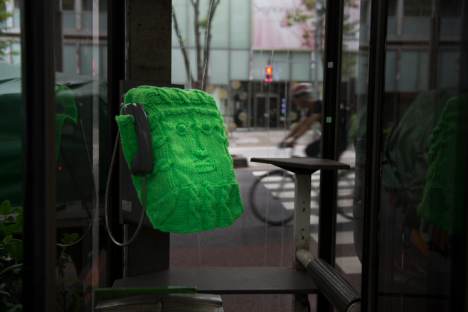 Project "Reality and Fantasy", Tokyo, 2013, Photo: Kosuke Natatsuka
Do you have any message you would like to send?
I want to do the project to invade some area in Hokkaido.
CowParade Niseko 2015
Date: July 1st – October 1st, 2015
Place: Many places in area of Kutchan and Niseko (Download MAP)
Artsits: Toshiya Kobayashi, Shuun, Chisato Shinya, Hiroaki Suetsugu, Saki Chikaraishi, Yumi Fuzuki, Ryo Matsuoka, Takuya Yonezawa, Wabisabi and more (all 47 cows)
Official app: Download here (free)
Organized by Niseko Promotions Board
Sponsors: Ikeuchi Group, Chalet Ivy, Ht Holidays, Niseko Grand Hirafu, Niseko Hanazono Resort, Deloitte Tohmatsu, Ki Niseko, Nisade, MnK, Explore Niseko, Fresh Powder Niseko, Silenti, evian, Sanctuary Niseko, Niseko Promotion Board, Ring Project, Skybus, Zaborin, Sekka, SkiJapan.com, the vale niseko, Niseko Town, The Niseko Company, Fubuki Townhouses, The Barn, Shiki Niseko, West Canada Homes, alpen ridge, The Niseko Supply Company, True Aussie Beef, Futaba Industry Co.ltd., Nakayama gumi, Iwata Chizaki, Shimizu Corporation
Tel: +81(0)136 21 2551
Free and open to the public
http://cowparadeniseko.com
Text: Aya Shomura
Translation: Akari Otomo

[Help wanted]
Inviting volunteer staff / pro bono for contribution and translation. Please
e-mail
to us.