Usual things can be reborn as unusualness by an act of "filing". The exhibition was filled with a bunch of small surprises and discoveries.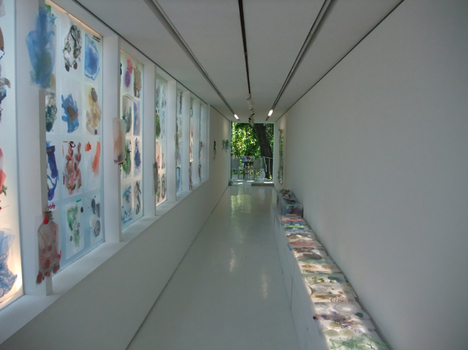 An exhibition by Yoko Segawa, "File" is now open at Gallery Monma ANNEX. The main display of this show were the A4 size clear files which filled the cozy space. Every day miscellaneous items which had been buried and dumped were filed. For example, a plastic bag, woolen thread, rubber bands, clips, paper bags, netting for fruits, rubber gloves, coasters, wrapping material, etc, and many more trifling things.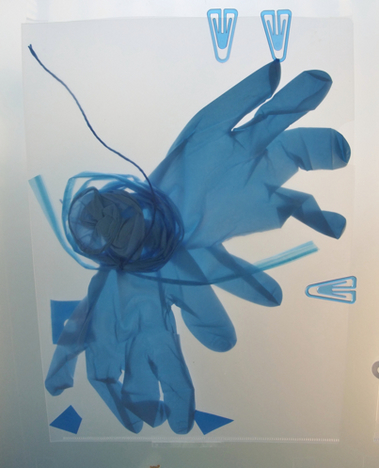 By putting them together, filed and lighted, all of these things mysteriously show us a totally different expression. The colors, the beauty of fabrics, interesting shapes, the throbbing pulse by continuation, and the shadow cast by piles… The artist explains these as being a "change from usual to unusual".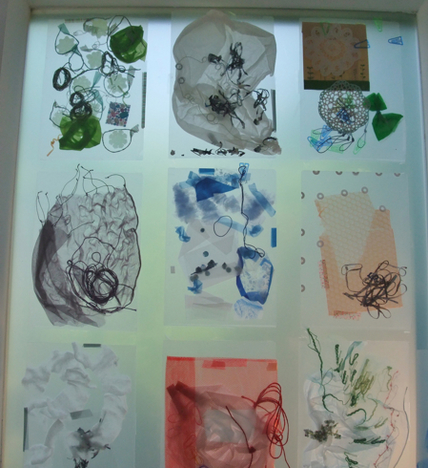 One of the characteristic points of Gallery Monma is that it has a long and narrow corridor-like exhibition space and light from a glass window on one side. By putting files on the window, this exhibition was able to use a lot of natural lighting. If these were shown at any other place, it would have reduced the charm by half.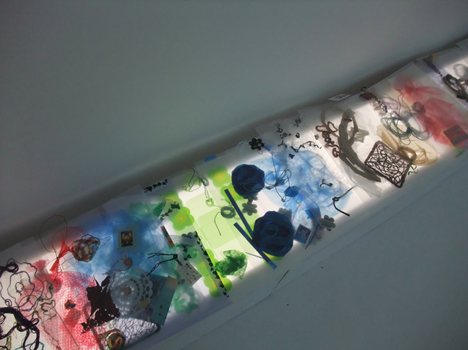 On the other side, a windowless wall had an oblong light box made by the artist herself. There are many files on it. The files are laid out as 2 or 3 pieces and give a different impression to those by the window. On the bottom of the laid files, the contents look quite dim. Contrary to those, the contents in the files of the upper layers look quite bright and clear. These contrasts create an illusory atmosphere.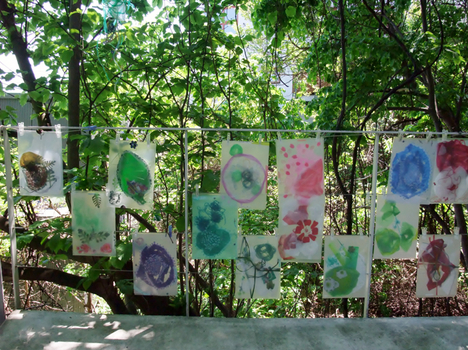 You will find other files in the inner terrace. You can see the works staged out amongst fresh green leaves.
When I visited this exhibition, I was able to interview the artist about her work.
How long did it take you to complete this?
I also paint. But filing was not the same as painting, and I could create pieces casually, almost every day.
It might be more like writing diary than actual work?
It is a similar feeling. I prefer making something that is a part of usual life little by little, day by day. I would like to try what I can do now in life with all my strength.
Filing your familiar things means that its impression changes quite diversely. Isn't it extremely interesting?
Yes, it is. I used the word "Usual things are reborn to unusualness" in the introductory text of this exhibition. Filing materials and lighting them created unintentional shadows. Piling files and changing the impression dynamically are so interesting that I moved the light box many times and took photos during those days.
I thought she herself really enjoys this exhibition. Furthermore, at the end of the interview, an incident happened. A man who had seen this exhibition visited the gallery and brought shavings of hinoki as another filling material. She gladly took it and even promised him to use it for her work. "Since I started this exhibition, my friends have been giving me things for it" Segawa told me. Segawa's viewpoint, searching for amusing points of familiar things, is well conveyed and it spreads easily to everyone who visits.
Discovering small things can make everyday life that much more exciting. This show really made me think again about my perspective of this. Each file has the artist's creativity. Please come to this space and discover something new.
Yoko Segawa "File"
Date: May 24th – June 9th, 2013
Opening hours: 11:00 – 18:00 (June 9th till 17:00)
Place: Gallery Monma ANNEX
Address: 2-3-38 Asahigaoka, Chuo-ku, Sapporo
Te: 011-562-1055
http://www.g-monma.com
Text: Eri Yamauchi
Translation: Fuyumi Saito
Photos: Eri Yamauchi

[Help wanted]
Inviting volunteer staff / pro bono for contribution and translation. Please
e-mail
to us.