In the globalised connected world of information, there is a surge of data, the constant need for new experiences and different stimulations. Yet nothing beats travelling across different continents to discover new places, spaces and customs. A relief from the daily routine of home. Yet, prolonged periods of disconnection from home brings forth new found anxieties, and the overhead announcement by the Singapore Girl, welcoming Singaporeans home always does the trick to calm those apprehensions.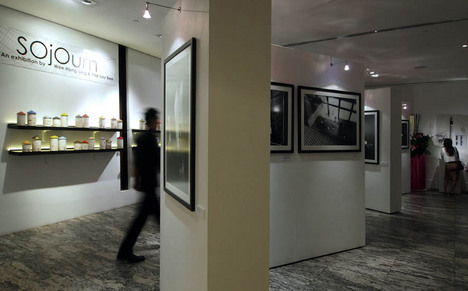 Sojourn by Yap Lay Bee
Sojourn makes that return after a showcase in London last year as part of the Pop-Up Singapore House festival during the 2012 Olympics. This joint exhibition features ceramics and photography by 2 Singaporeans, Dr. Wee Hong Ling, a celebrated ceramicist, the other Yap Lay Bee, a local urban designer. The former translates intent and experiences into form and objects while the latter invites viewers to see form and space through a moment in time, on a two dimensional plane. Juxtaposed in a single space, the common thread of place between the 2 works spark off a dialogue and conversation on the occupation of space, the creation of place and of home.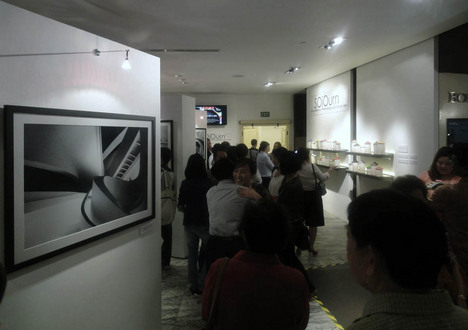 Sojourn by Leong Teng Wui
Wee's "Lulang Town," features a collection of coloured capped ceramic houses. Inspired by travels to Tibet, the architecture is reminiscent of the Hakka "Tulou" or Earthen Houses. With its slender doors and tiny fenestrations, one wonders who resides in these elusive fortresses. What is the community that lies behind what appears to be thick walls and guarded homes.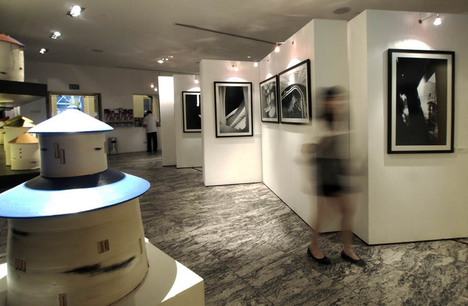 Sojourn by Yap Lay Bee
Yap's monochromatic photographs peel those walls away, as we peer into urban spaces spanning across Beijing, Singapore, Oslo and New York. An openness that inverts the heaviness of Wee's objects, one is invited to look beyond the walls and see the traces of occupants. An emphasis on form, light and shadow brings common, everyday subjects to the foreground. The framing of details, fleeting occurrences and moments of life are captured on film.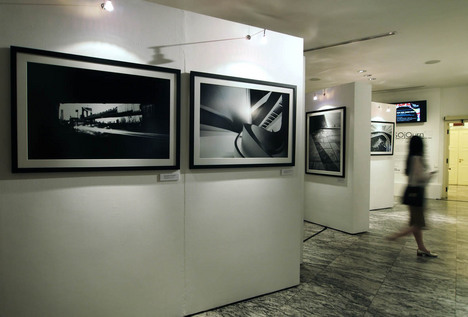 Sojourn by Yap Lay Bee
Both artists have spent a great deal of time traveling and living abroad. Sojourn documents that sentiment. Through the contrast of colour, of light and heavy, of guardedness and openness, envelop and container, past and present, the notions of place, home and space are brought to light.
There is a banality to the Global Citizen. Where they transpose and adapt readily in a new context. Place them home and you see the roots of their sentiments.
Sojourn
Date: April 4th – 21st, 2013
Place: The Arts House
Address: 1 Old Parliament Lane, Singapore 179429
Tel: +65 6332 6900
enquiries@toph.com.sg
http://www.theartshouse.com.sg
Text: Fann ZJ

[Help wanted]
Inviting volunteer staff / pro bono for contribution and translation. Please
e-mail
to us.