If you are interested in Chinese contemporary art, you should visit Shanghai on the first weekend of September.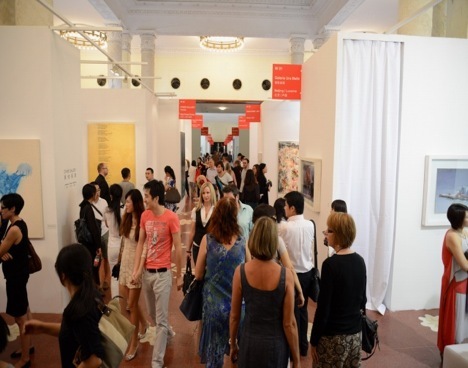 Exhibition view, Photo: SH Contemporary 2012
SH Contemporary (SHC) was held from September 6th to 9th of 2012 at the Shanghai Exhibit Center. Over the course of four days, the fair welcomed over 600 art collectors along with more than 35,000 spectators. Over 90 exhibit groups from 18 countries and over 30 Chinese contemporary art museums participated in the fair. Special projects and performances organized by important museums and galleries in the city were also held while the fair was happening.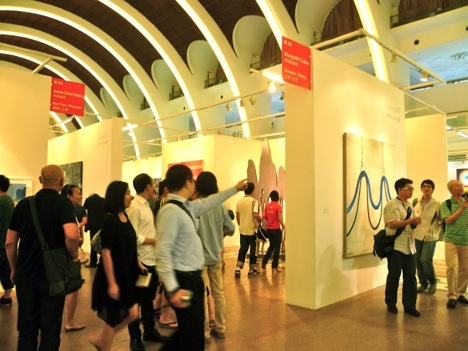 Exhibition view, Photo: Hiromi Nomoto
This year's SHC focused on featuring lesser known galleries and artists. Although the main gallery consisted of the same lineup, the participation of many galleries from Shanghai added new faces to the fair. Thanks to the newcomer's exhibition, visitors could discover more works of art and the interesting artists who created said art, than in past years.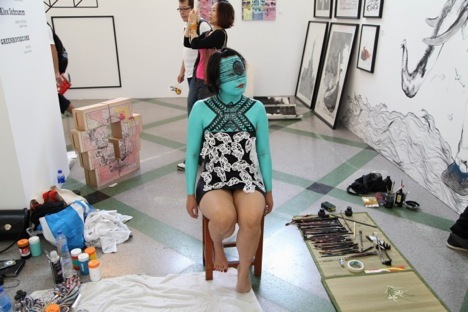 The space of "Rough Canvas" which is the group consist of members of various nationality was lively with performances. Photo: SH Contemporary 2012
It was obvious that the vibe of the fair was more exciting than the previous year. While many staff members mentioned in 2011 that "we don't have enough visitors," this year the staff was occupied with visitors at each booth and had almost no time for an interview.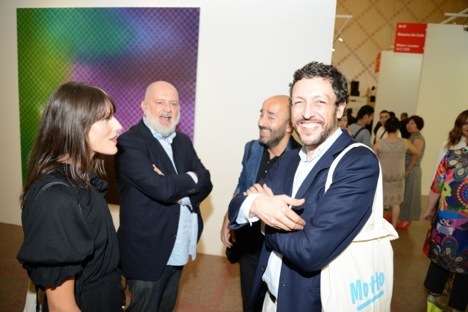 Massimo Torrigiani. Photo: SH Contemporary 2012
Massimo Torrigiani who has been in charge of curating the fair since the previous year mentioned about this year's SHC that "Exhibitor galleries were very well balanced to include ones from China, Asia and other international countries. We were able to have Middle Eastern galleries and this was very interesting. This helps us to come up with new ideas for the next year."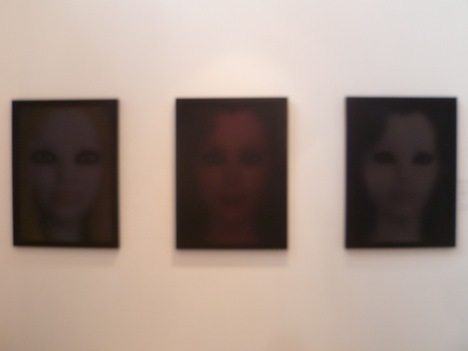 "Hidden Love" by Halim Al Karim from Iraqi artist. Photo: Hiromi Nomoto
Meagan Kelly-Horsman from XVA gallery in Dubai said "This is my second time participating in this fair. I am very satisfied with the response from this year's SHC. I would love to show all the visitors the wide variety of art done by Middle Eastern artists."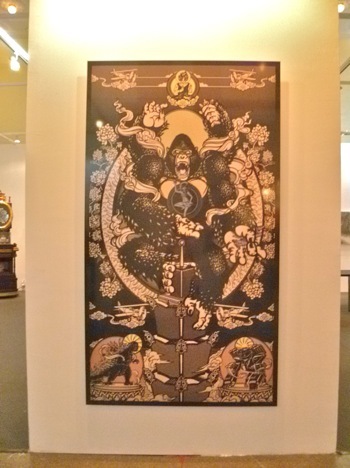 "Jataka Tale of Beloved King Kong Vajradhara" by Yang Mao-Lin based in Taiwan, looks like cartoon, attract lots of people. Photo: Hiromi Nomoto
Tina Keng, an executive director of the Tina Keng Gallery in Taipei, when asked why they participate in SHC every year answered, "Our galleries are in Taipei and Beijing. However, we also have clients and artists in Shanghai. Therefore, in order for me to keep a relationship with Shanghai, we come to SHC every year. We can also observe the changes in art trends and the acceptance of art in Shanghai."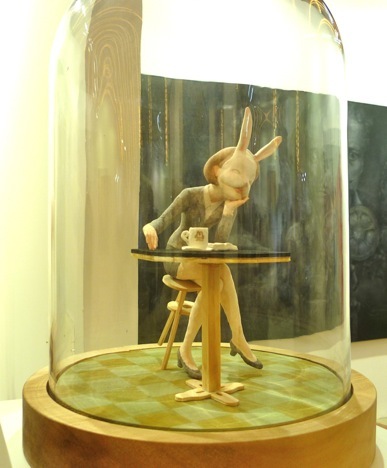 The artwork by Jin Nu who is the popular artist. Photo: Hiromi Nomoto
A staff member from the Star Gallery in Beijing who exhibit every year says "This fair helps our sales a lot. We did so well last year so decided to participate this year as well. Since our gallery is in Beijing, I always find the different art groups between Beijing and Shanghai."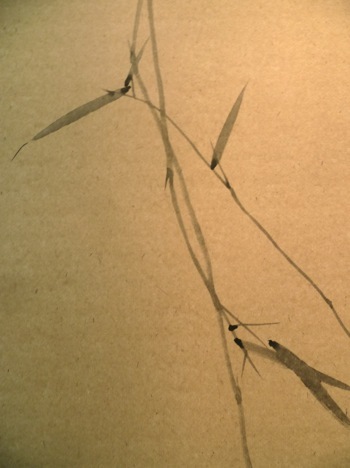 Some visitor stop in front of Shan Fan's work. Photo: Hiromi Nomoto
The "Now Ink" project featured Shan Fan's ink drawing and painting. This bamboo leaves which look like a sharp knife on ink drawings seemed like an Eastern version of Western realism.
By choosing many more galleries from both China and overseas, SCH was able to show a wider range of art compared to last year. On the other hand, there seemed to be less experimental art. The main purpose of an art fair is of course to sell art, so selling experimental art gets little bit harder since most visitors are not familiar with young experimental artists, are confused about the meaning of such art, or do not understand the purpose of such pieces. However, such experimental pieces usually leave a good, strong impression and could become one of the attractions of an art fair. Developing this point could be expected of next year's SHC.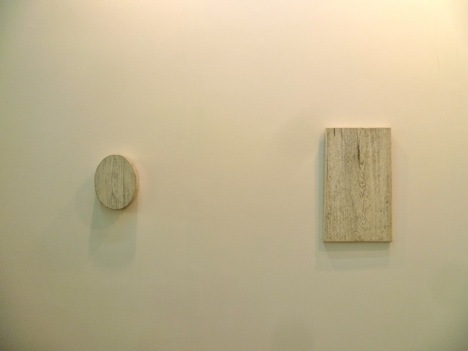 The works of "wood series" by Hu Xiaoxiao look different styles every time. Photo: Hiromi Nomoto
During SHC, people headed to SHC in the morning and afternoon and moved to parties held at galleries and museums. The atmosphere of opening parties at galleries and museums in Shanghai was like the following.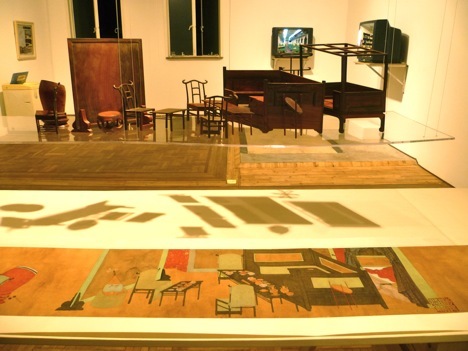 Exhibition view at AroundSpace Gallery, Photo: Hiromi Nomoto
AM Art Space which organized a group exhibit "Conscious Folly" had a performance art called "It must rain today." by Tang Dixin and left the place wet. The Around Space Gallery had a solo installation art by Zhang Xiang Xi that gave visitors the impression of seeing items from a picture scroll "Chinese Perspective." The Studio Rouge was holding the opening ceremony of "gold" by Wayne Warren, and another opening ceremony for "Personal museum" by Feng Mengbo at Three on the Bund. Up North, at Shanghai Bund had a party showing art by Italian artists Paola Pivi, and another big party at 18 Gallery for the group exhibit "Highlights."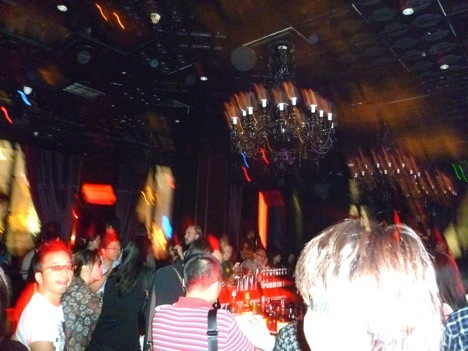 Party at 18 Gallery, Photo: Hiromi Nomoto
This year, Shanghai also hosts the Shanghai Biennale starting from October 1st. People still cannot take their eyes off from Shanghai art scene.
SH Contemporary 2012
Date: September 7th – 9th, 2012
Hours: 11:00 – 18:00
Place: Shanghai Exhibit Center
Address: 1000 Yan'an Road, Jing An Qu, Shanghai, China
http://www.shcontemporary.info
Text: Hiromi Nomoto
Translation: Yumiko Miyagawa
Photos: SH Contemporary 2012, Hiromi Nomoto

[Help wanted]
Inviting volunteer staff / pro bono for contribution and translation. Please
e-mail
to us.