A futurist in the 21st century
Super star of Chinese photography who many of celebrities such as Cindy Crawford, Faye Wong and Gong Li desired to be taken by her will make her first appearance in Japan at DIESEL ART GALLERY. Chen Man was brought up in Beijing, after she was in the news in the launch of a series of covers she produced for the Shanhai-based fasion magazine "Vision", she continued to express her world on her works by using her original visual language. Her works that expressed by using innovative way to collaborate with famous companies like Coach, Dior, Lancome, Adidas, and also expressed history and traditions she values.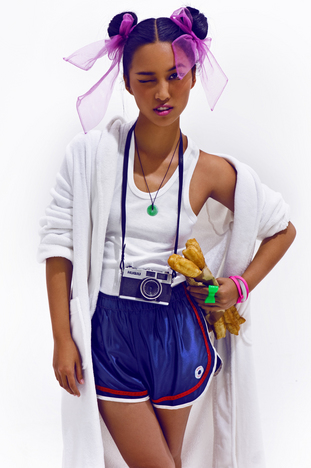 © Chen Man
What are you going to show in this exhibition at DIESEL ART GALLERY? Please tell us more about which point of the exhibition do you want the audience to see or feel most? Also please let us know more about the meaning of the title "Glamorous Futurist".
My works could generally divided into three major phrases; the first two is an explanation of myself. The first phrase is the "Vision" series; at the time I was still in collage. Until now no one has done anything quite like this. There were heavy postproduction used on this series with enthusiastically creational motivation of a young artist. Then I joined the fashion circle, however, people has a lot concerns against me, they feel that my works are weird in a sense because I use heavy postproduction. Therefore, I jump into the next phrase, which are beauty portraits like passport photo with super simplicity. These works tells people that postproduction is not my only strength; then slowly people starts to shoot with me, they helped me secure my fashion photography position within the circle. After this, I started to create fashion picture with modern Chinese backgrounds, these works meant a lot to me. I am the first among all to use these backgrounds and Chinese faces in fashion pictures.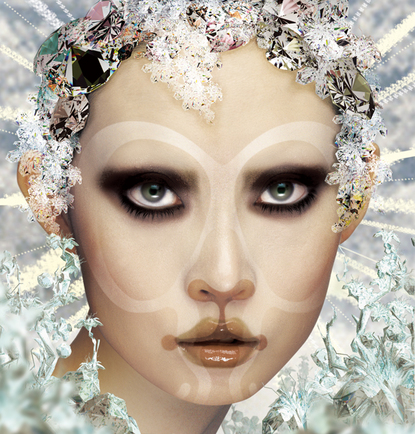 Vision – Year of the Monkey / 2003 © Chen Man
There are three major reasons that I could make these beautiful yet not cheesy. First, I am Chinese photographer had never studied abroad; Second, I am very familiar with visual creation tools; Third, I feel this is like my responsibility, not to repeat the history but to create the new image for modern China, "the funk great wall" series is the most established of them all. Also this is the first time a fashion magazine ever published something like this. Foreign media call this the revolution and the new face of Chinese fashion. The third phrase, is where I express the idea of Chinese philosophy, Western techniques, I mixed ancient Chinese values; environmental protectionism; inner heart; and outer world balance together, to carry out my ideas, my visual language.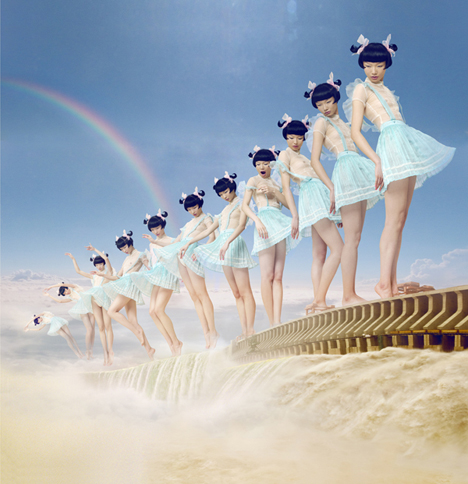 Young Pioneer with the Three Gorges / 2009 © Chen Man
The glamorous "photographs as tableau" that compressed and displayed the transition of futuristic beauty in the history of art / design of the West in the one work.
The title "Glamourous Futurist" expresses that a futurist in the 21st century, Chen Man appear from China after 100 years from "Futurist Manifesto" had been drafted by Marinetti.
Where does your inspiration come from?
Life is the source of my inspiration, I love traditional Chinese philosophies and values.; Chinese philosophy, Western techniques meaning Chinese values as the software, western culture as the hardware.
What kind of photograph works do you think great or admire of? Is there any artist whom you respect/favorite? Also please tell us the reason.
Everyone could be masters, from people taking passport photo to the professional photographer, masters could fail sometime, regular people could have their enlighten moment once in a while.
What's your aim to create your art works?
To use my visual language to explain the great dharma of human being working with nature.
Please let us know your favorite camera (maker and model) and the reason?
I love life in general, camera is just merely a tool, what is important is the heart behind the lens.
How many photos do you usually take for each work?
Tens to hundreds.
Please let us share the secret (?!) why you can take pictures that will attract audience a lot?
I am really good at express my inner spirit to the outerworld. My works are very mixed, they echo with our time, and I believe what is west is east, the present is the past.
What kind of subject do you want to take (pictures) most?
Subjects which concern with Chinese values, at least the beneficial part of them. Environmental subjects, balance between inner and outer world.
We could imagine that you have overcome many troubles or difficulty during creation. How do you get over a difficulty?
Problems are raised by your heart, at least we live in a rather peaceful world, enough is good, we need appreciate for everything we have.
What do you think the key to success?
Face yourself truthful.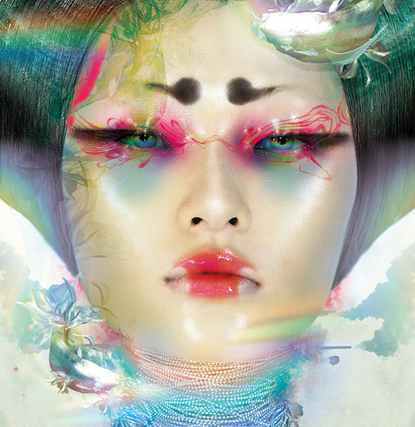 Vision – Golden Fish Goblin / 2003 © Chen Man
Please let us know your thinking on the VISION series which the one the model is licking is your first works.
Her own lips is my very first work. At the time no one is using postproduction on photos, and I was still a student, not a photographer, not an artist, therefore this work is very special for me.
What do you think of the original catalogue in Japan?
I love how Japanese preserve their traditional culture, also the development. The world should be more colorful.
Do you have any specified plan or goal in the future?
I am focus on expressing ancient thought in modern ways.
Please give your message to the Japanese audience/readers.
Face yourselves truthfully.
Chen Man "Glamorous Futurist"
Date: February 17th – May 11th, 2012
Place: DIESEL ART GALLERY (DIESEL SHIBUYA)
Address: cocoti B1F, 1-23-16, Shibuya, Shibuya-ku, Tokyo
Tel: 03-6427-5955
Open: 11:30-21:00
Holidays: non-regular holiday
Curator: ASHU
Supported by SunM Color Co.,Ltd. / ARTFREAK Co.,Ltd.
Cooperated by SHARP CORPORATION
http://www.diesel.co.jp/art
Text: Satsuki Miyanishi, Yuta Sakuraba

[Help wanted]
Inviting volunteer staff / pro bono for contribution and translation. Please
e-mail
to us.