MIKA & HIROKO NINAGAWA EXHIBITION
Photos and patchwork quilting, a collaboration between mom and daughter.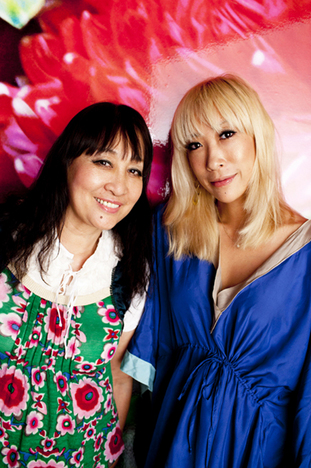 From February 8, 2012 the Mika & Hiroko Ninagawa exhibition is being held at the Laforet Museum in Harajuku (Laforet Harajuku 6th floor.)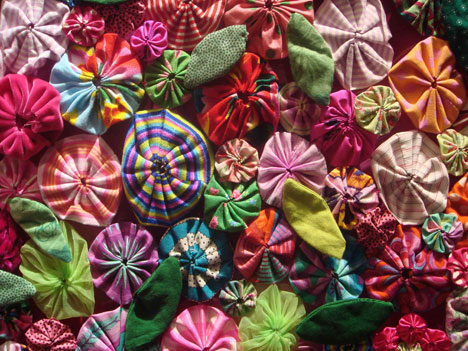 The day before the opening, a party for the people involved including the press took place at the same exhibition hall as the show itself. You can hear the cheerful sound of children's laughter as you walk in. Then a brilliant fuchsia sign that seems to symbolize Mika Ninagawa's vivid work welcomes those attending the show. In the Entrance, a great amount of flowers sent by celebrities as congratulatory gifts invite you to come inside.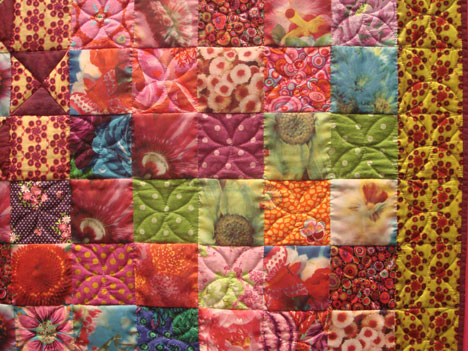 This show which first took place in Kanazawa and Osaka was planned to be a project of Mika Ninagawa for her mother Hiroko Ninagawa.
Mika Ninagawa had always wanted to dedicate a show to her mother Hiroko. It was last year, that she was finally able to successfully launch a show in Kanazawa and Osaka as a mother and daughter duo. Mika, who is also the eldest daughter of theater director Yukio Ninagawa has won many prizes during her career as a photographer, including the Kimura Ihei Prize.
At the same time she has shown her talents in the advertisement and fashion world and even directed a movie starring Anna Tsuchiya "Sakuran".
Furthermore, in 2008 she mobilized more than 180,000 people for her solo tour exhibition starting from Opera City Art Gallery of Tokyo and eventually throughout Japan. HIroko is an actress who along with her husband Yukio Ninagawa was a member of "Seihai", a theatrical production company. She appeared in plays and movies. It was after the birth of her child and while devoting herself to motherhood, she discovered the art of patchwork quilting as a new means of expression.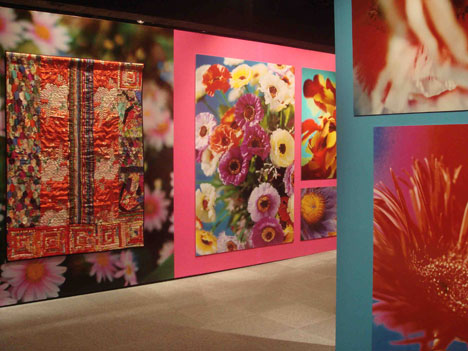 In the exhibition hall, the walls are filled with pictures of butterflies and glossy flowers in full bloom taken by Mika Ninagawa herself. Along with the photos hang pieces of patchwork quilting made by Hiroko Ninagawa. The brilliant pink, orange and blue wallpaper helps to bring the vividness of the two's artworks.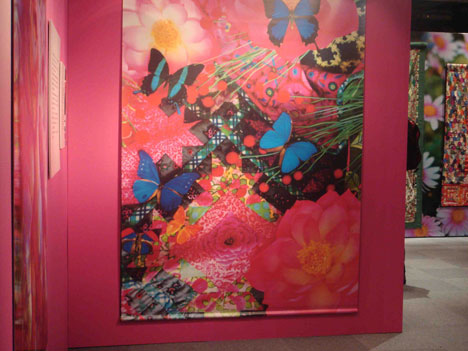 From a decorated room that could be interpreted as the mother and daughter's vision of the perfect children's room, to 170 carefully juxtaposed pieces including kimonos and collaborative artwork fill the entire exhibition hall.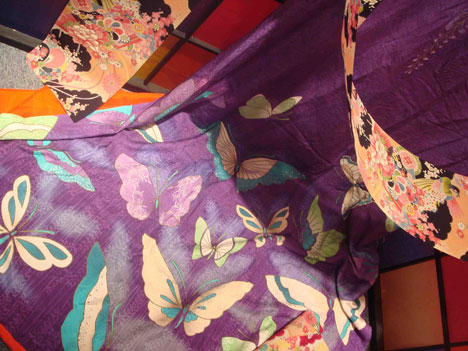 When Mika Ninagawa started photography she worked in mainly black and white. Her work took a big step forward when she decided to take pictures of unique colors that she had originally loved, echoing perfectly with her mother's work. It isn't surprising to think that the two are, for obvious reasons, subconsciously in sync with each other. It is difficult to ignore the sense of uncontrived unity between them.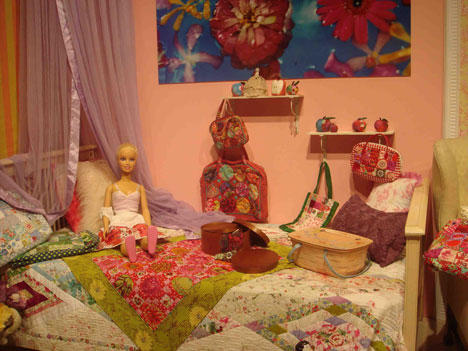 The shadows casted on the mixed media masterpiece by the carefully sewn pieces of patchwork quilting creates an undeniable contrast between the vivid color palette. This depth and dimension quietly suggests a feeling of tranquility.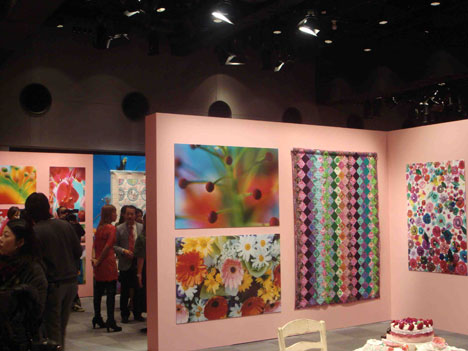 In the center of the exhibition space, both artists welcome the guests. The room is filled with happiness and positive energy. This energy represented by the powerful colors that is Hiroko and Mika Ninagawa will continue to fill the hall until the 19th of February.
Mika & Hiroko Ninagawa exhibition
Date: February 8th – 19th, 2012
Open: 11:00-20:00
Place: Laforet Museum in Harajuku
Address: Laforet Harajuku 6th floor, 1-11-6 Jungu-mae, Shibuya-ku, Tokyo
Admission: 600 yen, Students 400 yen
Tel: 03-3475-0411 (Laforet Harajuku)
http://www.lapnet.jp
Text: Noriko Yamakoshi
Translation: Franck Manguin, Noriko Yamakoshi
Photos: Noriko Yamakoshi

[Help wanted]
Inviting volunteer staff / pro bono for contribution and translation. Please
e-mail
to us.