Following his 2009 entry, Yasushi Hori's work has once again been selected to this years DOTMOV. His works are humorous and unique in some way, as they sometimes remind us to renew our understanding of Japanese identity using various media from 2D, 3D and moving images. We interviewed him about himself and his winning work "Brunch".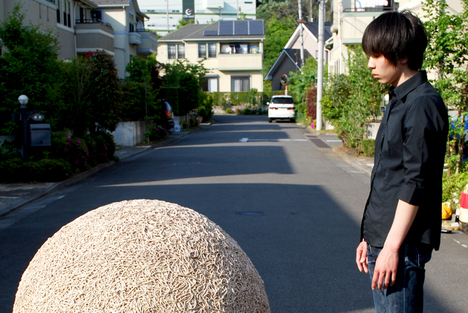 Please tell us a bit about yourself.
I was born in Saitama, Japan in 1987 and I'm currently studying art at university to be an artist.

"Brunch", Video, 2011
Your work has been selected to DOTMOV following your appearance in 2009. Please let us know about the selected work "Brunch".
In the beginning, I wanted to create the atmosphere that makes the audience feel calm and friendly, something like pets and children have on us.
I think it could be said that these feelings come from situations that lack seriousness, so combined this thought into the work.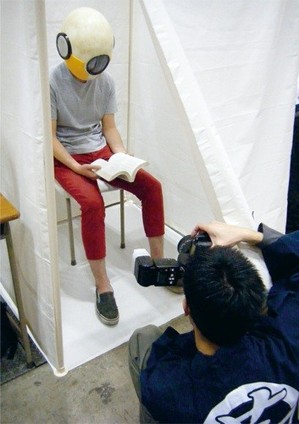 "Social Isolation Debut", Installation , 2009
You works are not only unique moving images, but also installations and other types of art works. Your work "Social Isolation Debut" seems to have a relationship with your other film works. What do you think about media that you use?
I always try to choose the most appropriate media that fits a concept best.

Fake Food in Japan "Soba Ball", Video, 2010
Could you tell us something about your work "Fake Food in Japan"?
I wanted to use something Japanese, so I came up with the idea to use fake food samples you often see in Japan. I didn't choose "ingredients" and "meals", however focused on the "principal (Japanese) food" as a main motif, to express a unique and quirky mood.
Your works are humorous and comical. Why do you enjoy making these kind of works?
I agree with a Japanese comedian Hitoshi Matsumoto's words "Food is not only to eat but has another purpose" and " I'm unhappy to be blamed by the audience about wasting food." I'm not trying to make my works comical on purpose but it always at the root of my mind.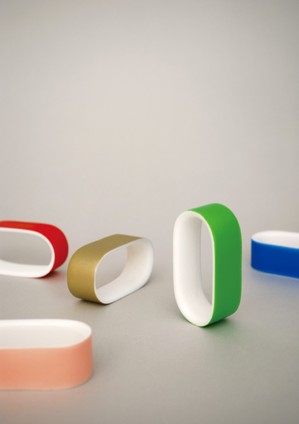 Origami "happy", Polymer clay, 2010
What is the concept of your other series "Origami".
The aim of that work is to renew an understanding of Japanese identity like "Fake Food in Japan". I wanted to expand an attraction that origami has through that work.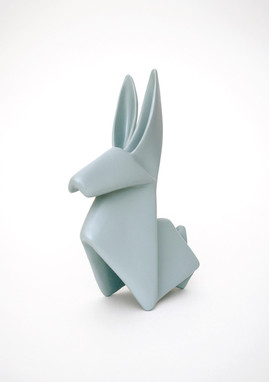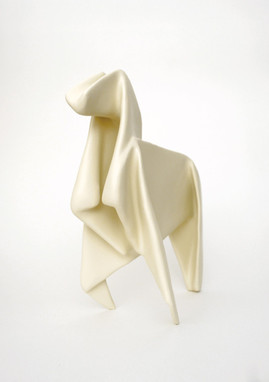 Origami (Right) "Rabbit", Stone dust clay, 2010 (Left) "Horse", Stone dust clay, 2011
Could you let us know about the cover design that you made for SHIFT?
This is the SHIFT version of the work that has been selected for DOTMOV.
Thank you for giving me the opportunity to make it.
Finally, please give us a message.
Thank you for reading this article. I'm too occupied with my own things at the moment, but it would be great if I contribute something to you someday.
Text: Ayaka Sato
Translation: Yumiko Isa

[Help wanted]
Inviting volunteer staff / pro bono for contribution and translation. Please
e-mail
to us.