Andy Warhol is synonymous with pop art. Rolland Berry, a street artist from Los Angeles, has been working actively as one of the third generation of Andy Warhol. His pieces are very colorful and challenging, and have attracted many people. Rolland has also made a name for himself in the fashion industry for a long time. With his fashion and art career in mind, he organized his solo exhibit at Diesel Art Gallery (DAG), in Shibuya, Tokyo.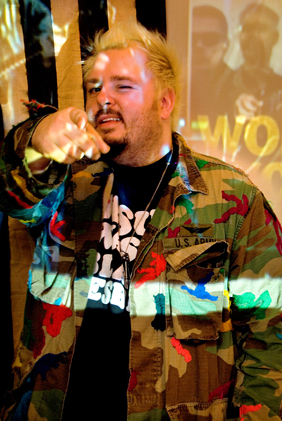 Could you tell us about the concept of this exhibit?
I wanted to show my entire history by presenting my work from the last ten years chronologically. When people enter the gallery, they will immediately be staring at the latest pieces. A piece painted on the wall is the one that I created here. The silk-screen pieces along the wall were mostly made after 2009. Any small pieces, I draw them between 2002 and 2005. With this way of displaying my work, you can see the changes from small pieces to big pieces.
You focus on the feel of colors while you are working on a piece. Why are you interested in colors?
Colors are like music to me. Music is universal and people react to music sensationally. I believe that colors are the same. Colors make communication easier and also help people to understand the things that they are looking at.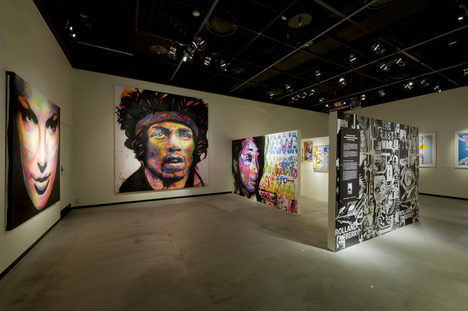 You made a piece on the wall at this gallery space, right?
Yeah. It took me only one day to finish it up. I'm a street artist, so I'm okay with getting elements from other people during my production process. Therefore, staff members at Diesel helped me out this time. This lady in the piece is one of them at Diesel. My production process is always improvised and does not have a definite direction, like playing Jazz music. My work process, so to speak, is that "No plan is the plan."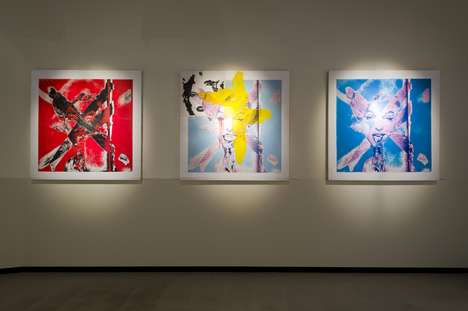 People say that you are the third generation of Andy Warhol?
Let me start explaining about the meaning of the third generation. There was an artist who worked at the Andy Warhol's factory. A student who was taught by the artist became interested in my work. I learned the skills of silk screening from the student. Therefore, this makes me a grand-pupil of Andy Warhol. I've taken after Warhol's skills indirectly.
It seems like you were influenced by Warhol as far as your motifs as well. You quite often use icons that represent American culture like Marilyn Monroe, don't you?
Marilyn Monroe is one of my favorite motifs to represent beauty. I try to make a comparison between beauty and ugliness by processing Monroe's face to an ugly face.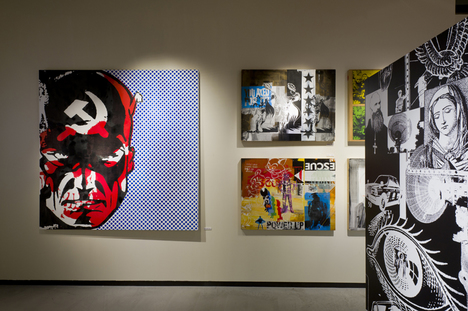 What is your belief as an artist?
My life as an artist is always to put a hurdle in front of me and keep challenging myself. I take care of design work for my fashion brand along with doing on my own painting work. Therefore, I usually do design work for the brand and the business part from 9:00am to 7:00pm. After then, I start working on my painting. It's usually from 7:00pm to 2:00am. Sometimes, I even stay up until 4:00am in the morning. Sometimes people call me a hard worker. But I live my life as an artist, so it's not a big deal to me.
Also, my belief as a street artist is to do stuff that other people don't, no matter how much risk I have to take. I do things like putting my pieces up on a wall during daytime at a place that gets lots of attention from people, or I leave a piece somewhere without hesitation, even if I spent more than a month to finish that piece.
For example, I once put up a silk-screen piece at a place on the wall behind a homeless man sleeping without waking him up. This piece would've sold at a gallery for a good amount of money. Giving away a high valued piece at a gallery to the homeless. I love this type of concept.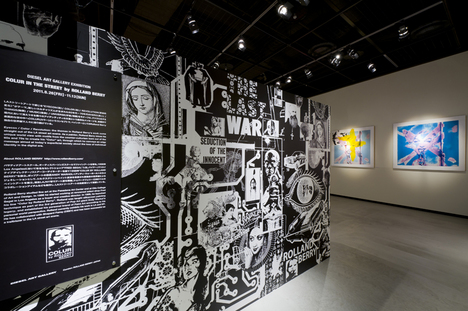 I believe that the police take your work off from the streets immediately after you put them up. Are you okay with that?
It's not a big deal to me if my pieces get torn or taken off. It means more to me if the pieces can talk to people's feeling and ask them a question even just for a moment.
I always put the focus on "challenging" things and continuing to work as an artist. The challenge is toward society and also toward myself. I will keep challenging without fear.
Rolland Berry "Colur in the Street"
Date: August 26th – November 13th, 2011
Opening Hours:: 11:30 – 21:00
Place: Diesel Art Gallery
Address: Cocoti B1, 1-23-16 Shibuya, Shibuya-ku, Tokyo
Tel: 03-6427-5955
http://www.diesel.co.jp/art
Text: Wakana Kawahito
Translation: Yumico Miyagawa
Photos: Ken Kato

[Help wanted]
Inviting volunteer staff / pro bono for contribution and translation. Please
e-mail
to us.