On August 9th, 2011, a press conference of the cultural reconstruction project, "ARK NOVA" was held at the concert hall KKL Luzerne in Switzerland. The project has been implemented by the worldwide music festival, Lucerne Festival and the music company, KAJIMOTO.
At the conference, there was a performance by the Lucerne Festival Orchestra conducted by Claudio Abbado and video was shown in real-time to the audience in Tokyo International Form in Japan.
The aim of the project is to visit the disaster areas in eastern Japan and hold a concert in a portable tent there to deliver hope to sufferers through music. "A horrible disaster occurred on March 11th that had a strong impact on all of us. We cannot remove all the pain and sorrow, but we would like to bring hope to the sufferers through music and art," said Michael Haefliger, the artistic director of Lucerne Festival.
The project started with a phone call from Haefliger to Masahide Kajimoto, a president director of KAJIMOTO. From their conversation, an idea of the movable concert came about and Kajimoto talked to Arata Isozaki, a leading architect of Japan, then Isozaki asked for help from his old friend, Anish Kapoor, who happily accepted the request. And this is how the great team was organized.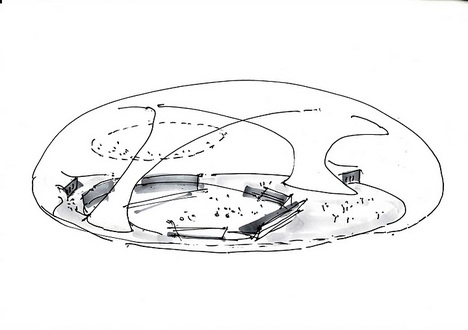 A sketch by Arata Isozaki © ARK NOVA 2011
To make a concert hall that could be set up and taken down at once, Isozaki thought of a shelter made of tent material filled with air, and inspired by Noah's Ark. The size is 72m x 40m(width) x 23m(height), and its capacity is from 500 to 700 people.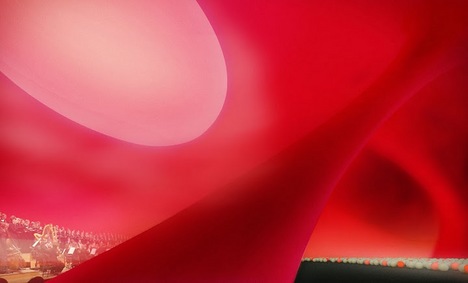 ARK NOVA © ARK NOVA 2011
Kapoor, who designed the shell of the hall, was born in India and moved to the UK. He created the shell another avant-garde art, conflating sculpture, architecture, and performance, and was awarded Turner Prize in 1991. He is now working on the monument "Orbit" to mark the London 2012 Olympic games.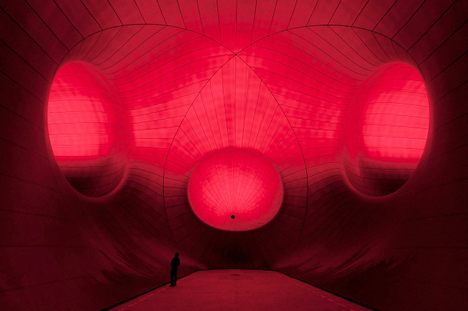 "Leviathan" 33.6×99.89×72.23m (Grand Palais 2011) © Anish Kapoor
The mockup images of the hall reminds us of Kapoor's "Leviathan" which was located at the Grand Palais in Paris this past May. It's easy to imagine that the finished hall will be regarded as art in its own right. Listening to live music there will be a great experience.
The sound design will be assigned to Yasuhisa Toyota of Nagata Acoustics and theatre consultant will be assigned to David Staples, a chairman of Theatre Projects, UK office.
Since the earthquake disaster, many events have been canceled and there was a series of cancelations by artists from overseas. Since the event level at the Fukushima Daiichi nuclear power plant was raised to level 7, there seemed to be no visitors from overseas. But many charity events have been held elsewhere in the world and some artists came to Japan to give the power of music against opposition.
In particular, the Indian conductor Zubin Mehta, who came to Japan by himself this past April, cheered up Japanese people with the following message: "I know that people in a serious crisis ask for peace across the board. And the peace lies in music. Us musicians exist to play music in front of those people". (Asahi Shinbun on April 18th)
Having the experience of standing on a podium during the Los Angeles earthquake and the Gulf War, Mehta believes that there will be a time to encourage people with the power of the music.
When we are confronted with the threat of a natural disaster and losing the things we believe in, we can still feel relief by hearing such confident words.
Now, 5 months after the disaster, the reconstruction is moving to the next step. Kajimoto is aiming to continue the project permanently and left us the following comment. "The scar brought by the disaster is too deep to be healed in a moment. We would like to give sufferers a delight that they can't experience in their everyday life by visiting their place with the ARK NOVA project. I believe that this concert hall will be used not only for the performance but also as a meeting place, a place to be inspired, and the hall will help to solidly support the reconstruction".
ARK NOVA's project varies from classical music to jazz, dance, multimedia and more. With investments by sponsors and supporters, the people in the disaster area will be able to enjoy the event for free. The concert hall is under construction and it will be ready to go round from the spring of 2012. The opening will be a special day for starting up the elaborate reconstruction project and hosting many art works to meet the eye.
Press conference of ARK NOVA – A Tribute to Higashi Nihon –
Date: 9th August 2011
Time: 19:00- (Japan time), 12:00- (Swiss time)
Place: KKL Luzerne (Swiss), Tokyo International Forum (Japan)
http://www.ark-nova.ch
Project Team
Architect: Arata Isozaki
Shell Design: Anish Kapoor
Sound Design: Yasuhisa Toyota(Nagata Acoustics)
Theatre Consultant: David Staples(Theatre Projects, UK office)
Director: Lucerne Festival, KAJIMOTO, Arata Isozaki Atelier
Text: Yuko Miyakoshi
Translation: Eri Tsuji

[Help wanted]
Inviting volunteer staff / pro bono for contribution and translation. Please
e-mail
to us.