Owing to strict laws on vandalism, Dubai is one of the few cities in the world without graffiti. So when the city held a street art exhibition recently, featuring renowned artists such as Banksy, it was strictly within the confines of the gallery.
The Street Art Without Borders exhibition was held from 9 March – 7 April at ProArt Gallery located on the laid back Jumeirah Beach Road.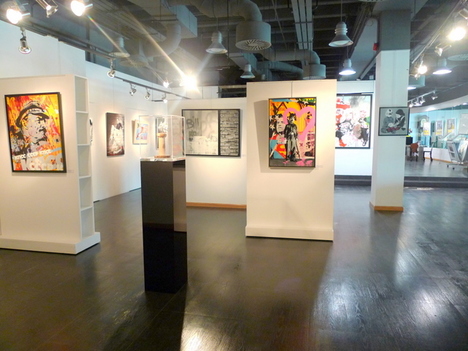 Courtesy of ProArt Gallery
At the opening reception, there was a rumour that Britain's most enigmatic street artist Banksy or Los Angeles-based French artist Thierry Guetta (aka Mr. Brainwash) would make a personal appearance, but neither materialised. Nevertheless, art enthusiasts were entertained by the works of 14 international street artists.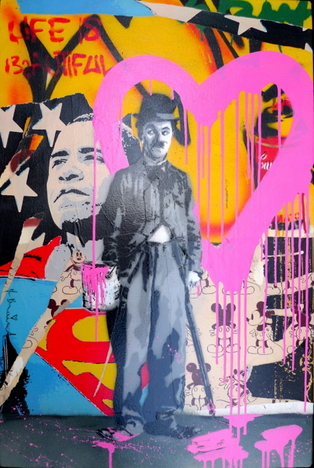 "life is beautiful" by Mr. Brainwash. Courtesy of ProArt Gallery
"We have no special contact with Mr. Brainwash and Banksy but some people, from Los Angeles and close to them, have visited the exhibition," said François Epaud, curator of the ProArt gallery.
The first exhibition of its kind in Dubai reflected well the fact that street art is going mainstream.
Tatiana Faure Director of ProArt Gallery explains: "There is as yet no simple definition of street art. It is an amorphous beast encompassing art which is found in or inspired by the urban environment. With rebellious undertones, it is a democratic form of popular public art probably best understood by seeing it in situ. It is not limited to the gallery nor easily collected or possessed by those who may turn art into a trophy".
Considered by some a nuisance, for others street art is a tool for communicating views of dissent, asking difficult questions and expressing political concerns.
Its definition and uses are changing: originally a tool to mark territorial boundaries of urban youth, today it is even seen in some cases as a means of urban beautification and regeneration.
"Whether it is regarded as vandalism or public art, street art has caught the interest of the art world and its lovers of beauty and this is why we feel Dubai would benefit from greater exposure", adds Faure.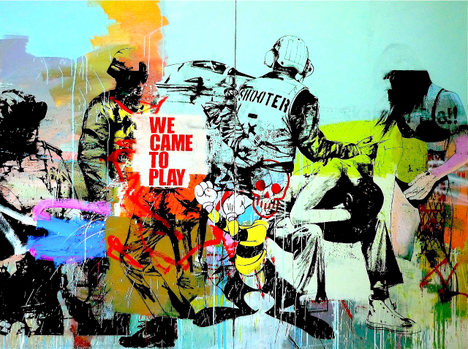 "Jesus blood never failed me yet" by Gwenaël Salaun. Courtesy of ProArt Gallery
The french artist Gwenaël Salaun made his debut in Middle East at the exhibition. His improvised and innovative paintings are reminiscent of the late Jean-Michel Basquiat. The Brittany born artist, who was originally a nightclub DJ by trade, decided to permanently switch off his spinning decks and solely devote himself to art by opening his own workshop in 2002.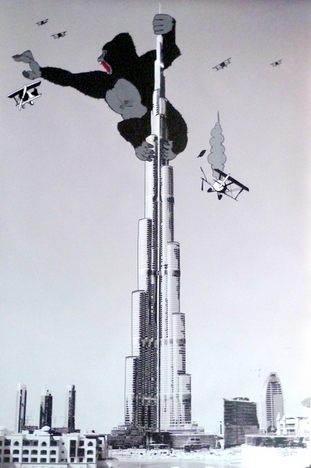 "King Kong Proof" by Safe. Courtesy of ProArt Gallery
Safe was born in Abu Dhabi and studies in Dubai, he is 20 years old and makes his first exhibition with Pro Art Gallery. The gallery have made an edition of six canvas prints of "King Kong Proof" and four were sold.
On the opening day, Banksy's contribution to the exhibition wasn't easily spotted. But on a second tour around the exhibition, a small wooden hand-curved sculpture caught our eye. We felt a little tricked by Banksy's playfulness, as the work diverges markedly from other street art on display.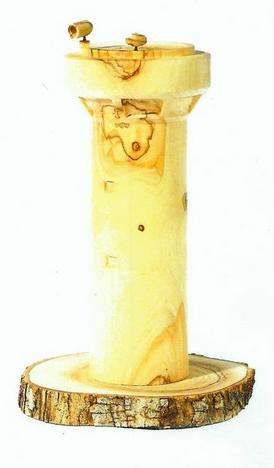 "Watch Tower" by Banksy. Courtesy of ProArt Gallery
But this "Watch Tower" sculpture is one of a 15-piece limited work by him and is now currently on sale for £12,495 on eBay.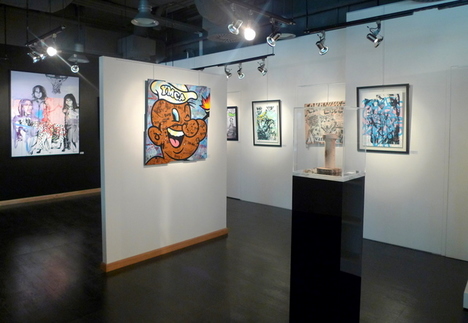 "Watch Tower" by Banksy on display. Courtesy of ProArt Gallery
Later during the exhibition, another Banksy work – this time more typical of him – was added.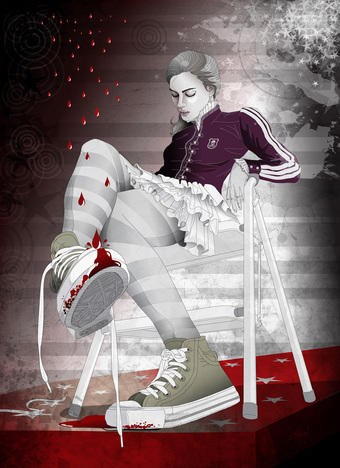 'A day after' by Liz Ramos Prado. Courtesy of the artist
My pick at the exhibition was 'A day after' by Liz Ramos Prado. Prado is a Peruvian Graphic Designer currently based in Dubai.
"'A day after talks' about guiltiness and the restraining of feelings [and that] the evidence will be always there like a mark that never goes," Ramos told me. This striking art is, as she says, a frozen scene in an untold story.
Ramos talks about beauty, fragility, sensitivity, and at the same time strength and power of women through her works. She adds: "I like exploring human feelings and characters who are full of complex qualities. [Their] personalities are the consequence of these thoughts.
"Dubai is a place where graffiti art is still developing and growing and the execution of this 'art' is restricted to a private areas," she says, adding that graffiti is only allowed in public areas if permission is granted.
The young South American woman doesn't define herself as a street artist. Street art, for her, is transgression, a form of a communication in open spaces where all people can observe what the artist wants to speak about, most of the times a critical view about political or social issues. "[I] have not seen yet at that level this kind of expression in Dubai but I'm sure we'll have more in the near future"
Following to their great success in March, the gallery will hold a second street art exhibition, Paper and Multiples, in late June. The gallery will receive 10 limited edition Banksy prints in this upcoming exhibition of street art before offering them for sale.
Some of the lithographs are signed and all will have Banksy's official certificate from the "Pest Control" team which acts on his behalf.
"For sure we will sell them all," said Epaud, a curator at the gallery to a local newspaper the National. "We have a waiting list of more than 50 people." "People are very interested in Banksy, because it's very good value at the moment. If you buy a Banksy now, you are sure that in 10 years it will be multiplied by 10 or more."
According to the National's report, originals by the enigmatic street artist have sold for as much as US$576,000 in auctions, but signed prints often fetch about $10,000 .
"The prices all depend on whether it's signed or not signed, the number of prints in the series and if it has a special story," said Mr Epaud.
Mr Epaud said there was a strong demand for street art, with several Emirati collectors. "At the moment street art is like pop art," he said. "You have big auctions in Christie's. Even if Banksy were to put his work on the street, it would probably still be sold for hundreds of thousands of dollars."
The concept or motivation of street art that Banksy and others are leading seems to be in transition. Perhaps that's because canvas is lot easier than some metre high wall, isn't that true, Mr Banksy?
The Street Art Without Borders exhibition
Date: 9 March – 7 April 2011
Opening Hours Saturday – Thursday 10:00 – 21:00
Place: ProArt Gallery
Address: Palm Strip Mall, First Floor, Opposite Jumeirah Mosque, Dubai
http://www.proartuae.com
Text: Mamiko Kawakami

[Help wanted]
Inviting volunteer staff / pro bono for contribution and translation. Please
e-mail
to us.