A composer, Ms. Eriko Nishimoto, who currently offers music to the film and fashion industries mostly in Tokyo and Paris. She released her first solo music album "DARK/LIGHT" from her own label in the name of the lico in March, 2011. This work brings a series of story that evokes a moving image. We interviewed her about her music concept and the album "DARK/LIGHT".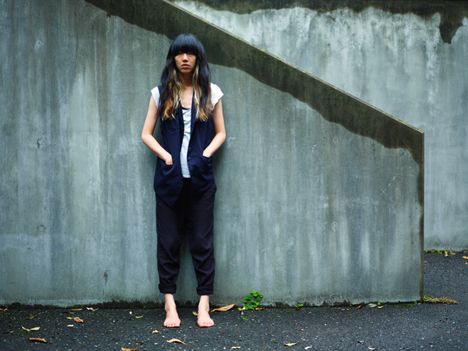 Photo: Toshiya Suda
First of all, please introduce yourself.
I make a music mostly for a film industry among other moving pictures and fashion shows. My favorite film directors are Wim Wenders, Julian Schnabel, Shohei Imamurra and Yasujiro Ozu. Now I am searching for a director who likes my music. A collaboration work that aims to be the fusion of "music and film" is in progress for a release in 2012.

"before birth" the lico x Tomoaki Hayashi (Engawa Films Project)
Speaking of your first album "DARK/LIGHT", how did you come up with this title?
It means literally "light" and "shadow". Inside myself. I sometimes feel I am forced to live in "dark" while having a great longing for "light". It sounds pretty contradictory, though… Because I chose myself to be in "dark" unconsciously. But then I wonder if I carry something inside that leads into "light". That is something that I wanted to reflect on my music. Thus, I chose "DARK/LIGHT" for the title.
Could you share something about the album production?
I've never produced music for particular person or thing. For me, a music production is as same as to throw up foods when I get sick. (In a good way)
I've been searching for the most comfortable place where I can belong. That is how this "DARK/LIGHT" was born.
How did you select the music as a media for the place to express yourself?
I cannot find the right answer for that question today. I've been with music since I was 3 years old, however, without music, I spend a pretty idle life. Probably, I am an eccentric person… Therefore I would say it has been there rather than selected. Same as you cannot choose your parents.
Please tell us about your representation besides music.
Basically, I shut myself away in my room but doing music. Watching films, reading books, and occasionally going out for taking photos. Still I always watch films. A couple of dozen a month. My representation besides music… difficult… After all, nothing but music. The others become just my pastime.
Although I don't listen to any other artist's music while my production is in progress, only while I am driving, Ry Cooder, Tom Waits, Sun Ra, Frank Zappa, The Lounge Lizards, and Captain Beefheart are my favorites.

"BLUE" the lico x Toshiya Suda (Photographer) x Yuki Mondo (Film maker)
What is it like to offer your music to a film or a fashion show?
I think that my music is unable to be composed of itself without coexisting with visual media like a moving image or a film. Or rather that is how I make a music. My expression may be misleading, but I don't intend to covey anything only with music so it becomes a piece of work when it comes with the visual media, I suppose.
Speak about politics! or save the earth is never anything that I intend to do through my music.
Although this is repeating what some says, to create something is totally the opposite to saving the nature, I guess. Just like this planet was born after the explosion and the destruction, nothing can't be created without destruction.
Do you think a life in France influence your music and production?
Before anything else, people have the freedom of expression. No restrictions. Even eccentric people have their own community. You can live as you are. You can feel mother earth while just walking. A feeling from the ground as walking slow but firm steps comes up from the sole of your foot to the top of your head. And yet, everyone is egoistic. This kind of vagueness and delicacy give me latitude in my production, I believe.
A homeless old man is playing an accordion. Nobody cares about him. It is too much vague and liberty.
In addition to that, it is always cloudy in Paris. I think that it casts a gloom over my production deeply.
What do you treasure on your music production?
To love yourself. To hate yourself.
To love whom loves you. Not to love whom loves you.
To love music. Not to love music.
To live decently. To live at your own will.
Whom do you want to listen to "DAKR/LIGHT"?
It is not negligent or anything but anyone. It could be someone who likes a picture on my album jacket that is done by a painter, OKUMA. One who doesn't give a damn about me. One who takes notice of it after watch a PV. I want everybody to listen to it, and at the same time, I don't want.
Please leave a message for SHIFT readers.
This is my positive comment. I think that human beings have a very keen sense of smell and it is a scent at the moment when you feel painful as much as your heart wrenching. I want my music like that.
It could be long afterward. Anytime. I hope you will fall into that kind of nostalgia when you listen to my music at the second time.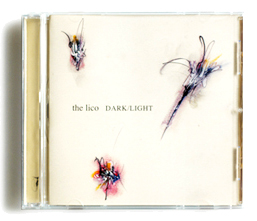 the lico / DARK/LIGHT
Contents: 12 tunes, total 48 min.
Release: March 2011
Price: 1575 yen (incl. tax)
Store: Book Club Kai (Tokyo), The Wapping Project (London)
http://www.thelico.com
Text: Julie Morikawa
Translation: Yoshitaka Futakawa

[Help wanted]
Inviting volunteer staff / pro bono for contribution and translation. Please
e-mail
to us.