"Doraemon has everything explaining our life."
Ryo Kaneko an Artist who takes his communication difficulties and turns them into assets through his art work by performing as Nobi‐ANIKI. You can see the active development of his work through his performances on the road, at galleries and art museums.
Following his exhibit at the Taro Okamoto Museum of Art, Nobi‐ANIKI will participate in the Sapporo Pre‐Biennale Contemporary Art Exhibition 2011 "Approaching Art by Leaving Art Behind – 9 days the Museum Disappears" from April 2nd. Despite difficulties Nobi‐ANIKI tries to develop. Take a look at his performance.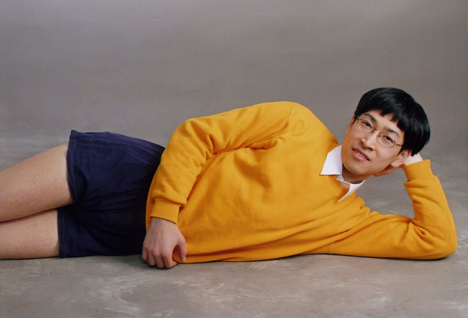 "Nobi-Aniki Head Shot lie down version" 2005
Please introduce yourself.
I'm an artist born in Iwate Prefecture in 1980. The Nobi-ANIKI character is a reflection of my own character. I have difficulty communicating with people and I am clumsy at everything just like Nobita, the main character in the famous Japanese manga/animation series "Doraemon." When I go out to the city for new meetings, for my work or whenever I have an exhibit, I appear with my work and try to communicate with the people I meet. I do so by wearing the Nobi-ANIKI (older brother of Nobita) costume a yellow sweater, white shirt and short blue pants just like Nobita.
What was the reason behind starting your art as Nobi-ANIKI?
In 2004, I worked for the Contemporary artist, Kenji Yanobe on a six-month project. Because I was so shy and clumsy, I was not much help and I gradually felt a distance growing between me, Yanobe and the rest of the staff. I have never been good at getting things done in a certain way since I was a child. The reason might be my shy personality. Anyhow, one day, out of desperation, I put on an outfit that represents the shy and clumsy "Nobita" character and everybody liked it. After that, whenever I did something wrong, people just laughed and said that it's nothing to worry about, it's just Nobita. Communication started and I have continued to wear the outfit ever since.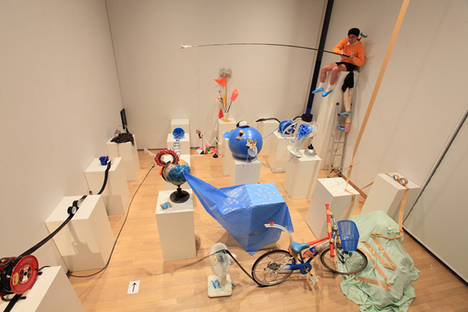 "Around movement Mountain operation" 2011 (The 14th Taro Okamoto award version) Photo: Kazuya Katou
What kind of projects are you working on right now?
I will attend the Sapporo Pre-Biennale 2011.
Also I was accepted to the 14th TARO Okamoto Contemporary art award exhibit which will be held at the Taro Okamoto Museum of Art, Kawasaki until April 3rd.
I am also a Japan Art Donation supporter. The contributions that are collected through Japan art donation will be used to restore the area where the disaster took place with cultural-related facilities. We are looking for donations to make the disaster area happy.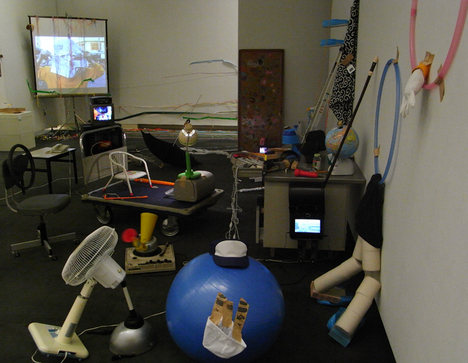 "Dekitaraiina" metamorphose Exhibition/ Takamatsu City Museum of Art, 2010
You said you have a hard time communicating with people. Why did you express this in your work and why do you appear in your own exhibit and try to communicate with visitors?
I am shy and have a hard time communicating with people, I am struggling. Even though I am serious, people look at me and laugh.
I took this shy side of me and try to use it to make people happy, and to increase my communication with others. I wish people could enjoy the gradual change where I develop as a person even if I am shy.
Sapporo pre biennale 2011 "Sapporo Pre-Biennale Contemporary Art Exhibition 2011 – Approaching Art by Leaving Art Behind – 9 Days the Museum Disappears" will start from April 2nd. What kind of work do you plan to show?
At the museum I will do a "pin pon dash" performance art, an act of running away when someone rings the doorbell.
People who visit the museum are welcome to ring the bell together! By the way, I will not be able to attend on April 3rd for personal reasons.

"Sleeping Nobi-ANIKI in the Sea" at Contemporary Art Space Osaka, 2006
What do you like to do other than your job?
I like to look at western art catalogs. Something that is far from what I do gives me more inspiration.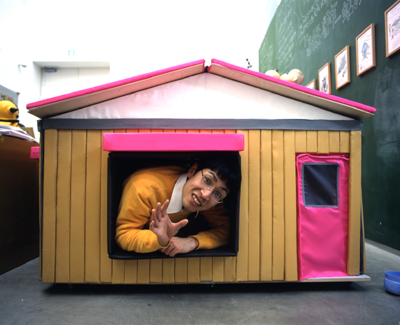 "Famous House -for nobi-" (created by archventer) 2005 Photo: Kenji Aoki
Do you have any one person or book or incident that inspire you?
"Doraemon" has everything explaining our life.
What is your concept for the SHIFT cover?
I made it to introduce myself to those who do not know me.
Do you have any further plans now?
I will have an exhibit at the Tokyo Wonder Site Hongou from June 4th to 26th.
Please give a message for the readers.
When you are in a hard situation, have you ever thought that "If you have something that allows you to feel you can try hard the next day?"
To me it was Art, I call this power for living that supports our life. It's explosive power.
Something that already happened a month ago, or might happen in the future, find it and share it with somebody.
Maybe you might not need it now but some people might need it now, in any case there will be a time when you need it.
I hope this explosive power of art will reach and help those living through the tsunami disaster right now.
Sapporo Pre-Biennale Contemporary Art Exhibition 2011
– Approaching Art by Leaving Art Behind – 9 Days the Museum Disappears
Date: April 2nd – 10th, 2011
Open: 9:30 -17:00(enter by16:30)
Closed: Monday
Place: Hokkaido Museum of Modern Art
Address: North 1 West 17, Chuo-ku, Sapporo
Admission: Adult 1,000yen, High School Student 600yen
Tickets: Doushin Play guide, Daimaru Play guide, 4choume plaza Play guide
Sponsored by: Sapporo Pre-Biennale Executive Committee
Cooperated by: Hokkaido, Hokkaido Prefectural Board of Education・Sapporo・Sapporo Board of Education
http://www.sapporo-biennale.jp
Text: Julie Morikawa

[Help wanted]
Inviting volunteer staff / pro bono for contribution and translation. Please
e-mail
to us.