For 90 years to be exactly you will now find the earliest sign of spring in Stockholm, Vårsalongen – translated the Spring Parlour– at Liljevalchs Konsthall. This yearly event is highly appreciated by the inhabitants of Stockholm and it is always a vibrant crowd of people in the gallery. This edition of the Spring Parlour you will find altogether 255 art pieces and 131 artists age ranged from 18 to 86 year and originated from all over Sweden. The Spring Parlour is open to anyone to apply and open to all different kinds of techniques creating a unique combination that is rarely found anywhere. Here you will really find a mix of everything regarding technique, young and old, crazy and classical, beautiful and ugly.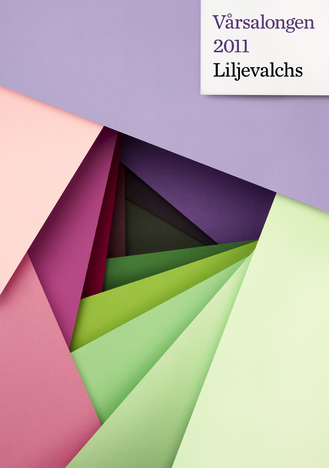 To the Spring Parlour you apply anonymously so your art piece is only judged by its appearance and not by any prejudices about the applicants age or gender. There is very few restrictions so anyone can apply, as long as you are over 18 years old and currently living in Sweden. Vårsalongen is always met with hard critique in Swedish press; as an example leading newspaper Expressen is writing "There is simply always something wrong with Vårsalongen. It is totally hopeless, 255 pieces of art with no consistent theme between them". And yes they are right! But that is also the accurate point of the Spring Parlour. There is no theme and no boundaries. In the Spring Parlour you find an art exhibition in its most open and honest form. Art to truly enjoy.
In addition to the Spring Parlour you will also find Ung Vårsalong, translated the Young Spring Parlour, downstairs at Liljevalchs. Here we find young aspiring artists that is exhibiting here with just one condition, to be under 18 years of age.
New this year is the try out of the QR code. QR is an app for your iPhone or it can be used with any other smart phone. With your phone you scan the QR code placed next to every art piece and through it download extra information. So why not turn your smart phone into an art phone?
Arabic orginated Sara Mirzajanzadeh has created on of this years edition of the Spring Parlours most visually alluring pieces. It consists of a huge chador (an arabic veil), glue and multi colored sequins and she calls it "Total Eclipse". The sequins falls down one by one, spreads all around the gallery and thereby also spreads Mirzajanzadehs art throughout the whole area.
Karola Messner is an autodidact, at least within art. In her professional career Messner is a neurologist. Here she has created two sculptures cut by hand out of two lime tree logs called "Circle of Life" and "Evolution". The are truly pieces of original craftmanship. As every other year all the art pieces are for sale and the prices are set by the artists themselves. Messner has prized her logs to 500.000 SEK each, wich is about 58.000 Euros with the quote "I dont want them to be sold, I want to keep them".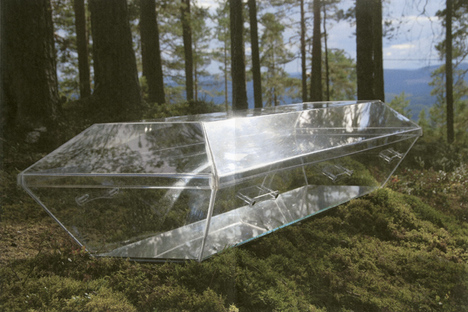 With her life size plexi glass coffin on living green moss Jini Hedblom wants us to think about death as present. Not to think of death as something that can possibly can happen to us but death as the only thing we can be sure of to happen.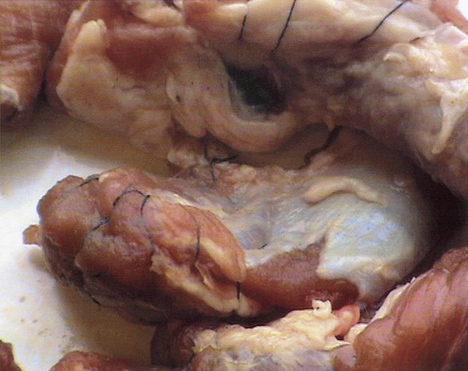 As well as Hedblom, Josefin Sjöström is also discovering the boundaries between dead and alive materia. Under to glass containers we find two pieces of raw meat that is moving slightly noticeable. The movements of the meat is controlled by an electro magnetic field creating a pulse and almost a living feeling.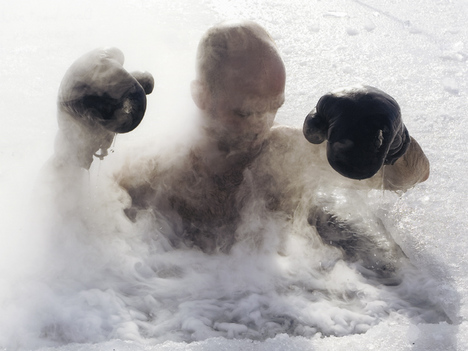 We saw Dan Lestander last year with a icy video of several ice holes with people singing as a choir in them. All shot in one take- at least as it seems to us. This year he develops the idea further with filming himself half down in a ice hole slowly turning his head. He explores the impossible.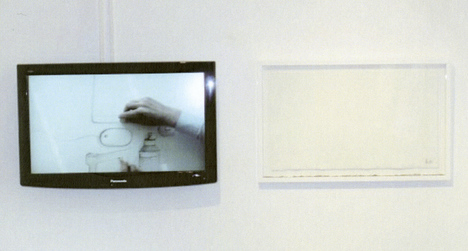 Diagram is a artist duo that has been exhibiting in the Spring Parlour before. This year they show a two piece installation. On the one hand there is a video and on the other there is a framed white paper. The video is showing two hands belonging to the two artists- one of them drawing and the other one erasing the same thing. With this installation Diagram wants to show that sometimes their collaboration ends up in a massive art piece and sometimes just like now- a blank white paper.
Vårsalongen 2011 / The Spring Parlour 2011
Date: January 27th – March 27th 2011
Open: 11:00- 17:00 (Tuesday and Thursday until 20:00) (Closed on Monday)
Entrance fee: 80/60 SEK
Place: Liljevalchs Konsthall
Address: Djurgårdsvägen 60, 115 21 Stockholm
Tel: +46 (0)8 508 31 341
http://www.liljevalchs.se/varsalongen/
Text: Sara Överengen

[Help wanted]
Inviting volunteer staff / pro bono for contribution and translation. Please
e-mail
to us.